Fueling up butterflies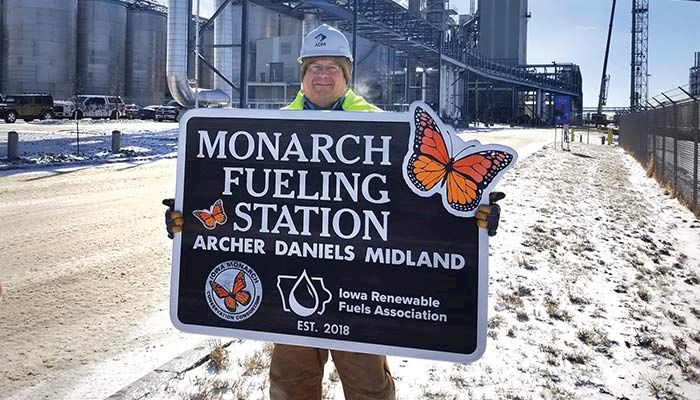 Just like how we need to fuel up our cars with gas and our bodies with caffeine before hitting the road, monarch butterflies need a place to refuel on their cross-continent journey.
The Iowa Renewable Fuels As­­soc­iation, a partner in the Iowa Monarch Conservation Con­sortium, launched the Monarch Fueling Station project in 2017 to help the state's ethanol and biodiesel plants establish monarch habitat on facility grounds.
Currently, there are 12 Monarch Fueling Stations, including biofuels plants in Cedar Rapids, West Burlington, Dyersville, Nevada, Coon Rapids, Merrill and Council Bluffs. Fuel retailer Star Energy FS is also planting four Monarch Fueling Stations at its locations in Iowa.
Iowa ethanol and biodiesel plants are perfect partners for establishing more monarch habitat throughout the state, explains Cassidy Walter, communications director for the Iowa Renewable Fuels Association.
Because of regulations, ethanol and biodiesel plants must maintain separation distances from adjacent areas. That land is usually planted with grass that must be repeatedly mowed. So it makes sense to instead turn those spaces into pollinator habitat, Walter says.
Plus, biofuel plants are located across the state, as is the migratory path of monarch butterflies in the summer through fall, she notes.
"We thought it would be a great fit," Walter says. "Iowa's ethanol and biodiesel plants make green fuel for our environment, and this is just a new way to give back and help improve the environment."
Iowa biofuel producers also see the Monarch Fueling Stations as an educational opportunity for their communities, Walter noted.
For example, the Poet ethanol plant in Coon Rapids is interested in working with local FFA and 4-H students to help maintain the pollinator habitat. "They are very excited about it," Walter says.
Iowa's First Gentleman Kevin Reynolds is leading the project as the habitat establishment coordinator. Reynolds helps the biofuel plants find the best locations and seed mixes for establishing monarch habitat and connects the plants with local resources to help with the seeding and long-term maintenance, Walter says.
"It's a great way for Iowans to come together to boost the population of the monarch butterfly on our own," she says.
For more information about the Monarch Fueling Stations, and Iowa's ethanol and biodiesel industry, visit www.iowarfa.org.
Want more news on this topic? Farm Bureau members may subscribe for a free email news service, featuring the farm and rural topics that interest them most!