Four candidates running for election as IFBF vice president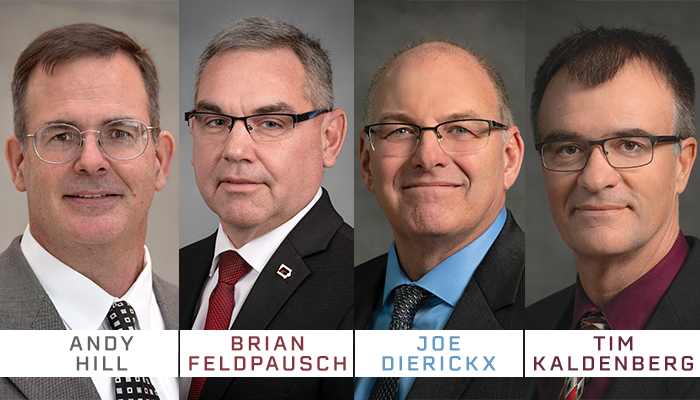 Four candidates are seeking to become the Iowa Farm Bureau Federation's (IFBF) next vice president, who will be elected during the organization's 2022 annual meeting Dec. 6-7 at the Iowa Community Credit Union Convention Center in Des Moines.
Candidates for the position are District 2 Director Andy Hill of Worth County, District 5 Director Brian Feldpausch of Grundy County, District 6 Director Joe Dierickx of Clinton County and District 8 Director Tim Kaldenberg of Monroe County.
Current IFBF Vice President Joe Heinrich announced earlier this year that he isn't seeking reelection for another term. Heinrich, a dairy farmer from Jackson County, has served as IFBF vice president since 2011 and previously represented District 6 on the IFBF board of directors.
The election for vice president will be held during the voting delegate session beginning at 12:30 p.m. Dec. 7. 
County Farm Bureau voting delegates will also elect directors in Districts 4, 6 and 8, as well as an Internal Study Committee member and nine delegates for the American Farm Bureau Federation annual convention Jan. 6-11, 2023, in San Juan, Puerto Rico. 
A reception for vice president and district director candidates will be held Dec. 6 at 6:45 p.m. District caucuses are scheduled Dec. 7 at 6:45 a.m..
Vice President candidates
Dierickx farms near De Witt with his brother, Paul, growing corn and soybeans in addition to custom planting, harvesting and spraying. 
He was elected to the IFBF board in 2019 to represent District 6 in eastern Iowa. Prior to that, he held several leadership positions for the Clinton County Farm Bureau and has served on the Farm Bureau PAC committee and IFBF Internal Study Committee. Dierickx and his wife, Barbara, have three children.
Feldpausch farms near Beaman, growing corn, soybeans and alfalfa along with raising hogs and cattle. 
He was elected to the IFBF board in 2021 to represent District 5 in central Iowa. Feldpausch previously served in numerous leadership capacities as a member of the Grundy County Farm Bureau and also served on IFBF's Internal Study Committee and legacy planning committee. He and his wife, Jen, have three children.
Hill raises corn and soybeans on his family's farm near Manly. He was elected in 2017 as District 2 director to represent north central Iowa. Previously, Hill held various leadership roles as a member of the Worth County Farm Bureau. Hill and his wife, Michelle, have two daughters.
Kaldenberg farms near Albia, raising a beef cow/calf herd and feeder cattle along with growing corn, soybeans and hay. He was elected to represent south central Iowa as IFBF District 8 director in 2019. He previously held several leadership positions with the Monroe County Farm Bureau and served as IFBF Young Farmer Committee chair. Kaldenberg and his wife, Cindy, have two children. 
District elections
Two candidates have announced their intention to run for the District 4 board seat, where incumbent Greg Jochum of Woodbury County isn't seeking reelection. Candidates for the position are Kyle Bennett of Ida County and Sharyl Bruning of Monona County. The district consists of 11 counties in west central Iowa.
Dierickx is running unopposed for reelection in District 6, which covers 11 counties in east central Iowa.
Kaldenberg is seeking a second term as District 8 director. Also running in District 8 are Deanna Brennecke of Decatur County and Dan Hanrahan of Madison County. The district includes 10 counties in south central Iowa.