Foreign Ownership of Agricultural Land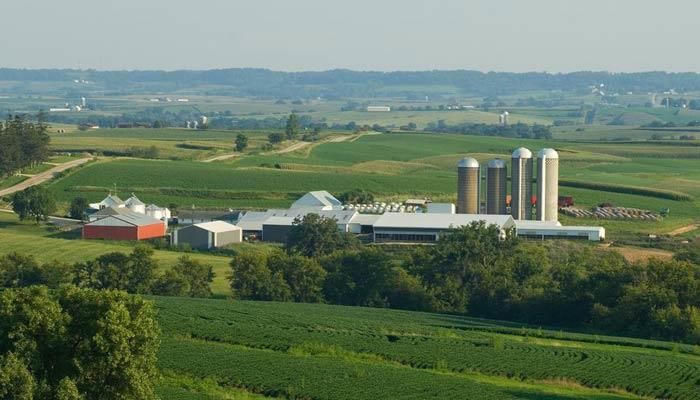 In 2020, there were 1.3 billion acres of privately held agricultural land in the U.S. Of these acres, 38 million acres, or 2.9%, was held by foreign ownership. Some states have a higher rate of foreign ownership than others. Figure 1 maps the percentage of agricultural land owned by foreign ownership in each state. In general states in the northern plains have lower foreign ownership rates of ag land than states in the southern portion of the country and along the coasts.  
Maine has by far the highest foreign ownership rate, pushing 19.5%. Hawaii, Washington, Alabama, and Florida round out the top five states with the highest foreign ownership rate of agricultural land. At the other end of the spectrum, Rhode Island has the lowest foreign ownership rate of agricultural land of less than 0.1%. Only 15 acres of Rhode Island land were reported to have foreign ownership interest in 2020, though Rhode Island is the smallest state with the fewest available acres for purchase. Connecticut, Massachusetts, New Hampshire, and Delaware round out the 5 states with the lowest foreign agricultural ownership rate. All these states are in the northeast and have relatively little ag land compared to the rest of the country.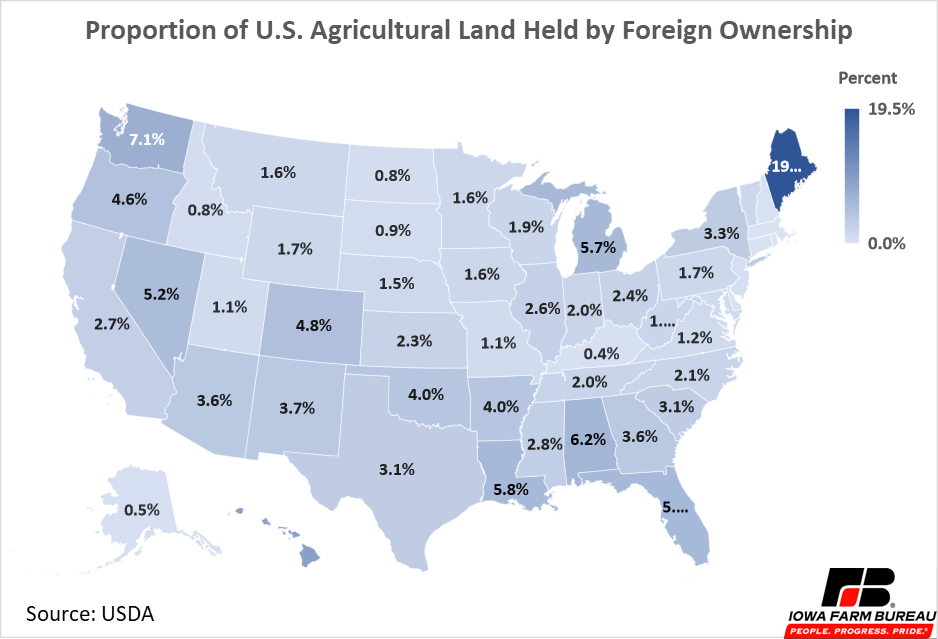 Figure 1. Proportion of U.S. Agricultural Land Held by Foreign Ownership 
Ownership of land is continually changing. To illustrate the recent changes in foreign ownership of agricultural land in each state, net acquisitions of agricultural land from 2011-2020 as a percentage of total agricultural acres are mapped in Figure 2. Foreign ownership increased 14 million acres from 2011 to 2020. This represents about 1% of all U.S. agricultural land, but as shown in the map, acquisitions of land were higher in some areas than others.  
The five states with the largest relative growth in foreign ownership during the period were Maine, Oklahoma, Michigan, Illinois, and Kansas. The five states with the lowest relative growth in foreign agricultural land ownership were Rhode Island, Alaska, Delaware, New Jersey, Nevada.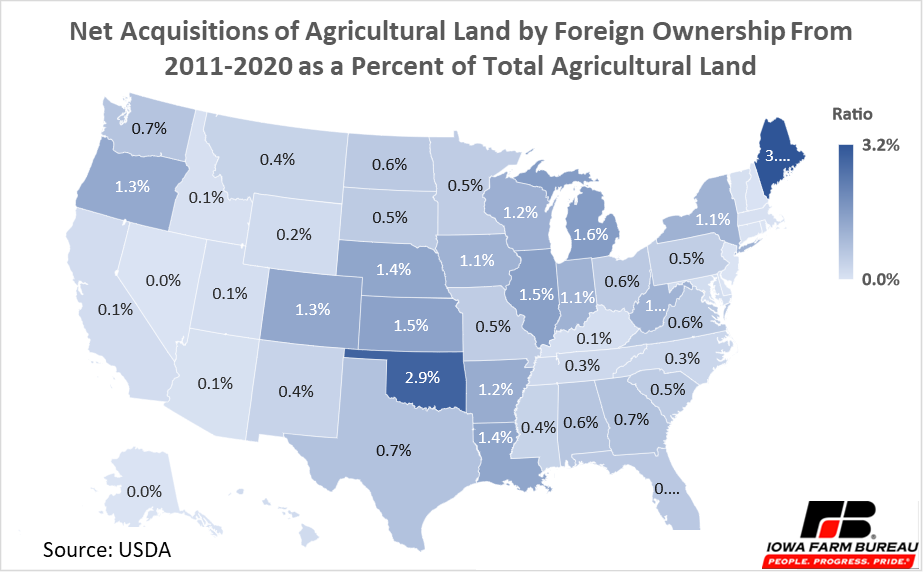 Figure 2. Net Acquisitions of Agricultural Land by Foreign Ownership From 2011-2020 as a Percent of Total Agricultural Land 
State laws related to foreign ownership of agricultural land vary by state. The National Agricultural Law Center maintains a list of states where foreign ownership is prohibited or restricted and where foreign ownership is permitted. Table 1 shows this list with states ordered so states with the largest increase in foreign ownership from 2011 to 2020 are at the top.   
States that have no laws prohibiting or restricting foreign land ownership are highlighted in the second column. Similarly states that expressly give permission for foreign land ownership are highlighted in the third column. In both cases, highlighted cells mean that states would be more likely to have foreign ownership of its land all else equal.  
Interestingly, state laws do not appear to be the only determining factor of where foreign ownership of agricultural land occurs. For example, Oklahoma and Nebraska both have restrictions on foreign land ownership, but Oklahoma had one of the largest increases in relative foreign ownership from 2011 to 2020. One the other hand, smaller states in the northeast like Rhode Island and Delaware allow foreign ownership but do not have a high prevalence of foreign ownership. It is possible that the limited acres, lead to limited sales so foreign owners have less opportunities to acquire land in these smaller states. 
Table 1. Overview of State Laws Related to Foreign Agricultural Land Ownership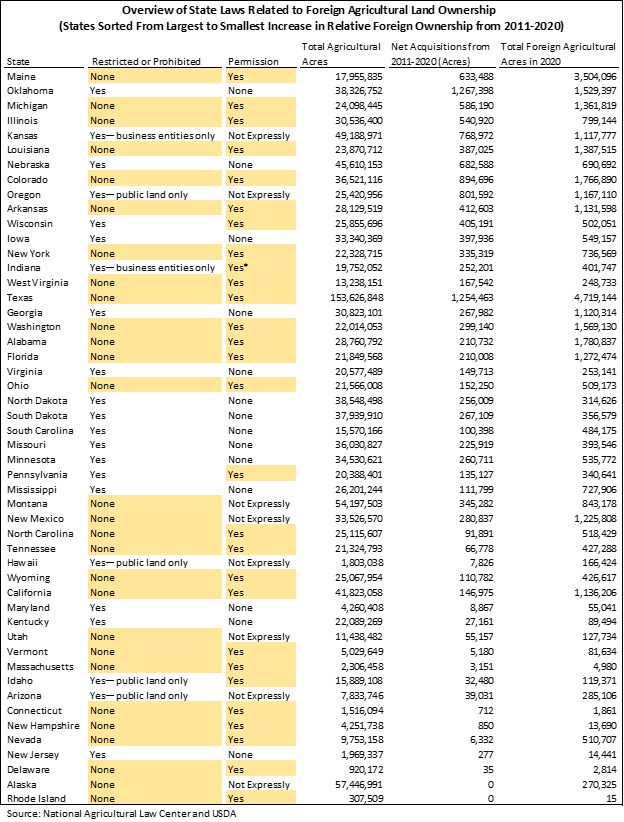 Iowa Foreign Ownership Restrictions 
There were approximately 549,000 acres of Iowa ag land under foreign ownership in 2020. Iowa Code chapter 9I places restrictions on foreign ownership of agricultural land. Nonresident aliens may not own agricultural land. Exceptions exist for land:  
Acquired before January 1, 1980 

Acquired by devise or descent (through a will), but must divest in 2 years after obtaining ownership 

Acquired by law for debts, foreclosure, forfeiture of deed, or any other procedure for enforcement of lien or claim on land, but must divest in 2 years after obtaining ownership  

Acquired for agricultural research purposes 
Up to 320 acres may be acquired for immediate or pending use other than farming, but must be converted to other use in 5 years 
All foreign ownership of ag land must be registered with the Iowa Secretary of State and all foreign acquisitions and leases of agricultural land in Iowa must be reported to the Iowa Secretary of State. Furthermore, foreign holders of agricultural land may not transfer ownership to other nonresident aliens except though a will.  
Land found to be in violation of Iowa Code chapter 9I may be reclaimed by the State of Iowa through court process and is sold in the same way as a foreclosure of a mortgage on real estate property. Funds from the sale of reclaimed land are used to cover court costs associated with reclaiming land and remaining funds are paid to person divested of land up to the cost they paid to quire the land. Funds remaining after payment are given to the county the land is in.  
Given the restrictions on Iowa land ownership, the increase of approximately 398,000 acres of  ownership in foreign ag land over the last 10 years has likely been due to research purposes, and to some extent, land acquired for development to another use.  
Economic analysis provided by Aaron Gerdts, Research Analyst, Decision Innovation Solutions on behalf of Iowa Farm Bureau. 
Note: This article was updated on October 18, 2023, to correct a typographical error regarding the number of acres of agricultural land under foreign ownership in 2020. Though the correct statistic was reported in Table 1, the text indicated there were approximately 598,000 acres of Iowa ag land under foreign ownership rather than approximately 549,000 acres as reported in Table 1.
Want more news on this topic? Farm Bureau members may subscribe for a free email news service, featuring the farm and rural topics that interest them most!