Farm environmental leaders honored by state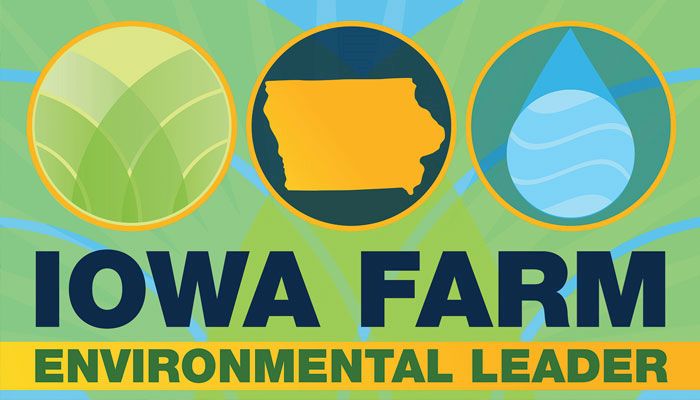 Delayed but not forgotten, 42 Iowa farm families were honored last week with the 2020 Environmental Leader Award from the Iowa Governor's office, the Iowa Department of Natural Resources and the Iowa Department of Agriculture and Land Stewardship, an accolade usually distributed during the Iowa State Fair each summer.
This year's award announcement was held back by the fair's cancellation due to the COVID-19 outbreak.
"Conservation and agriculture go hand-in-hand, and Iowa farmers play a vital role in protecting our environment and preserving our state's natural resources," said Iowa Gov. Kim Reynolds in the award announcement news release. "The 2020 Environmental Leader Award recognizes these family farmers for their outstanding stewardship and dedication to improving the land for future generations of Iowans. Congratulations and thank you for leading by example for your community and our entire state."
Award winners are chosen by a committee representing both ag­­ricultural and conservation groups. Award recipients are recognized for taking an active role in the state's ongoing conservation efforts, which rely on farmers, landowners and businesses working together to make a difference.
These practices enable farmers to maintain their operational productivity while being good stewards of the land and assisting the state in making progress towards the goals outlined in Iowa's Nutrient Reduction Strategy.
"I want to thank these farmers for their commitment to improving soil health and water quality," said Iowa Secretary of Agriculture Mike Naig. "The state of Iowa continues to be a conservation leader, and it's because of farmers, like these award recipients who are implementing practices on their land and encouraging their friends and neighbors to do the same."
Since the program was launch­ed in 2012, more than 650 Iowa farm families have been recognized with an Iowa Farm Environmental Leader Award.
Eric Andersen, Grundy County.
Sam and Danielle Bennett, Ida County.
Thomas and Linda Bindner, Cherokee County.
Kirk and Diane Den Herder, Sioux County.
Trent Dight, Floyd County.
Ra Ra Farms: Becky Dorale, Crawford County.
Rodger Fullenkamp, Lee County.
Jacob and Dellisa Geisler, Webster County.
Chris Henning, Greene County.
Jamie Hostetler, Jackson County.
Ben and Amy Johnson, Andy and Abbie Johnson, Floyd County.
Brent and LuAnn Johnson, Calhoun County.
Darin Goodman, Pottawattamie County.
Jim Kadner, Grundy County.
John Kerkove, Buchanan County.
Jim and Jody Kerns, Delaware County.
Glenn and Michelle Kreuder, Decatur County.
Rodger and Karen Krogmeier, Jefferson County.
Daryl Landsgard, Clayton County.
Lance Lillibridge, Benton County.
Loutsch Brothers Inc., Plymouth County.
Jeff and Shielly Monck and Family, Jones County.
Scott and Mary Beth Neff, Stan and Marianne Neff, Marshall County.
Brad Ohrt, Grundy County.
John and Jill O'Neal, Montgomery County.
Craig D. Pfantz, Marshall County.
David and Julie Rice, Jerry and Georgia Rice, Keokuk County.
Dan and Darlene Roth, Black Hawk County.
Greg and Aimee Shepherd, Henry County.
Charles (Phil) Short, Buchanan County.
Jeremy Sills, Tama County.
Adam and Lindsay Smith, Davis County.
Dennis and Patty Staudt, Floyd County.
Dennis Strother, Franklin County.
Steve and Tracy Pickhinke, Sac County.
Stanley Eric Price, Pocahontas County.
Austin Schulte, Benton County.
Stuart Swanson, Wright County.
Arvin and Carolyn Vander Wilt, Mahaska County.
Roger and Louise Van Ersvelde, Poweshiek County.
Kirk and Lynell Vorthmann, Kelby and Jennifer Vorthmann, Pottawattamie County.
Steve Wright, Taylor County.
Want more news on this topic? Farm Bureau members may subscribe for a free email news service, featuring the farm and rural topics that interest them most!