Farm Bureau to celebrate ANF Game Day Oct. 22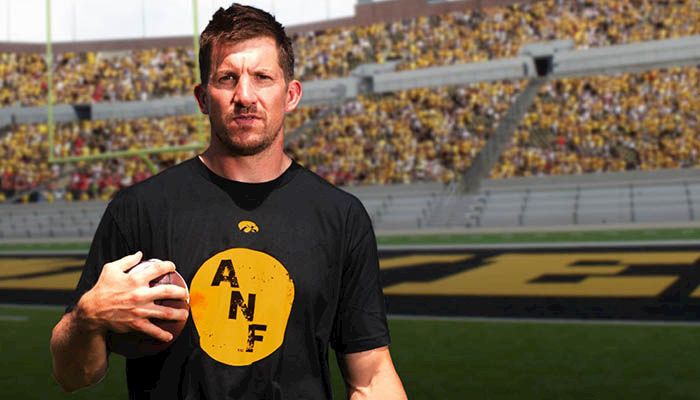 The Iowa Farm Bureau and University of Iowa will celebrate Iowa's farmers for the sixth annual America Needs Farmers (ANF) Game Day on Oct. 22 when the Hawkeyes take on Wisconsin. The nationally televised game will kick off at 11 a.m. at Kinnick Stadium.
The celebration of America's — and Iowa's — farmers begins with activities for friends and fans of the Hawkeyes at Iowa Farm Bureau's ANF Legends Tent from 8 a.m. to 10:30 a.m. at the Hawkeye Tailgate inside Krause Family Plaza, which is located immediately south of the stadium.
Fans have the opportunity to meet Iowa farmers and their families and play the high striker and tailgate-toss games for a chance to win ANF stocking caps, clear cinch bags and other ANF prizes. There will also be an opportunity for autographs from former Hawkeyes, including Dallas Clark, 2016 ANF Wall of Honor inductee, Chuck Long and Pat Angerer. Fans can also sign up for a chance to win ANF memorabilia autographed by Coach Kirk Ferentz.
The Big Ten Networks' new "BTN Tailgate" show will broadcast live from Krause Family Plaza from 9:30 a.m. to 11 a.m. Fans are encouraged to be a part of the show, showing their pride for the ANF movement to a national TV audience.
"The ANF program's 31-year history is a testament to farming, our proud heritage, where we've been and where we can go thanks to hard work and innovation," said Craig Hill, president of the Iowa Farm Bureau Federation (IFBF). "Agriculture's success is much like the hard-fought success of athletes such as Dallas Clark. We are proud to recognize Dallas as our newest ANF Wall of Honor inductee, and we thank him for lending his voice to help us reach new audiences who want to understand more about how their food is grown today."
Clark is the fifth recipient of the ANF Wall of Honor, which salutes former University of Iowa football players who exemplify the tenacity, work ethic and character of the Iowa farmer. Previous recipients include Casey Wiegmann (2012), Jared DeVries (2013), Bruce Nelson (2014) and Robert Gallery (2015).
Also on game day, ANF Farm Strong merchandise will be available at the Hawkeye Fan Shop locations around the stadium, with a portion of the proceeds from the sale of ANF Farm Strong merchandise going to support the Iowa Food Bank Association. Since the IFBF and UI teamed up for the ANF initiative, more than $100,000 has been donated to the Iowa Food Bank Association.
ANF was launched during the Hawkeyes' 1985 Rose Bowl season by head coach Hayden Fry during the 1980s farm crisis. For more information about ANF and Game Day activities, visit www.americaneedsfarmers.org.