Farm Bureau members gear up for 2022 cookout contest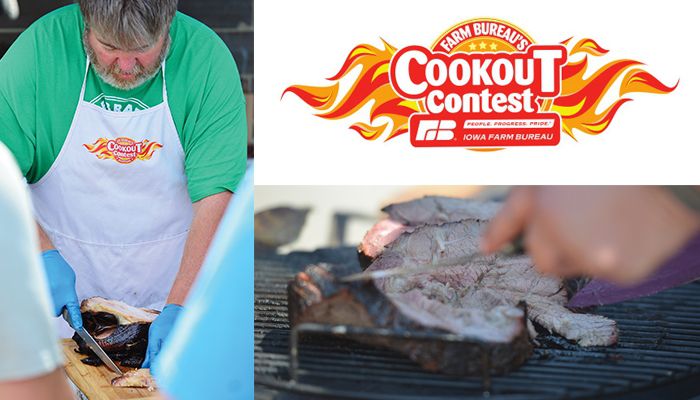 Randy Stamper chuckles a little when talking about his 2016 trip to the Iowa State Fair and the Iowa Farm Bureau's annual Cookout Contest. "I got down there in my old Caprice and pulled my $20 grill out of the back seat," he said.

Stamper, of Greenfield, remembers some of the competitors had very cool rigs, like the guy who converted an old anhydrous tank into a grill that burned wood and gas, complete with name and logo on the outside.  

"How can I compete with these guys," he thought. "Here I am with my $20 grill …, but you know, I won first place in beef!" he said.

That's the beauty of the Iowa Farm Bureau Cookout Contest, which is scheduled once again at the 2022 Iowa State Fair on the Grand Concourse Tuesday, Aug. 16. Anyone can be a winner.

Stamper and five others punched their tickets to the state fair contest by earning first-place honors at the Adair County Farm Bureau's Cookout Contest last month. Stamper took top honors again in beef with his roasted chipotle, garlic and pepper-seasoned flat iron steak.

The trick is to freeze the steak and then put it in the cold smoker to thaw before seasoning, he said. "The cold meat attracts the smoke," he said. It's cooked over wood after an overnight of marinating in the fridge with a little smoked paprika for added flavor.


State fair contest
Bob Pepin took first place in turkey at the Adair County event and is excited to return to the state fair. "Turkey has kind of been a multi-year project for me," he said. He lets the turkey sit in a brine of curing salt and brown sugar, garlic, herbs and apple juice for three days. It helps the meat retain its moisture when smoked, Pepin said.
It's great to see what others are cooking at the state contest, said Pepin, who will return for his fifth or sixth time. He earned second place in turkey one of the years. "It helps you perfect your own style, to kind of blaze your own path," he said.
Other winners in Adair County included Shannon Glaser in lamb, Isabella Rubio in pork and Kim Pepin in poultry and combo specialty.
Karen Stamper, who coordinates the Adair County Cookout Contest each year, calls the Farm Bureau event a great way to showcase local cooking talent.
Iowa Farm Bureau has held the annual Cookout Contest at the Iowa State Fair since the mid-1960s, promoting the preparation of real Iowa meats and outdoor cooking. More than 3,000 home chefs have competed for the top prize over the years.