Farm Bureau Documents Activities in Support of the Iowa Nutrient Reduction Strategy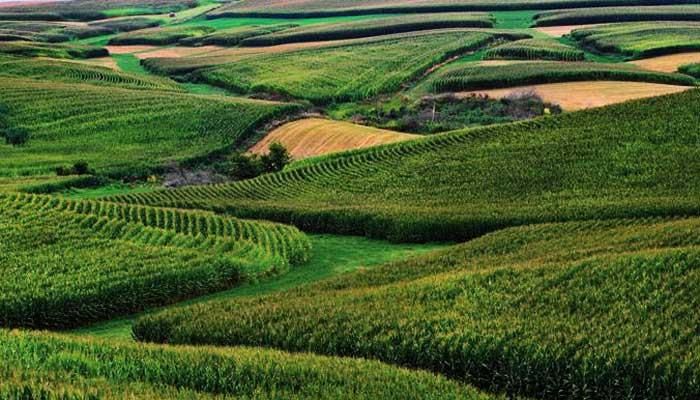 Conservation funding and the Iowa Nutrient Reduction Strategy (INRS) are top priorities for Farm Bureau members. Among the organization's activities in its periodic report to Iowa State University and the Iowa Department of Agriculture & Land Stewardship were:
State Legislation
The Iowa Farm Bureau Federation actively and successfully supported continued funding for Iowa's traditional water quality and soil conservation programs in the 2020 Iowa legislative session, including $10.575 million in annual funding for the state's Water Quality Initiative, $7.835 million for the soil conservation cost-share program, and $1.875 million for the ag drainage well closure program. This is in addition to the increased funding state agencies received in the 2021 fiscal year beginning July 1 from Senate File 512 (the long-term, sustainable funding for the INRS that was approved during the 2018 legislative session). As this funding continued to ramp-up, the Water Quality Infrastructure Fund (the nonpoint source fund created in Senate File 512) increase by $6 million this year, bringing the total to more than $15 million since 2018.
County Farm Bureau Activities
The Covid-19 pandemic significantly affected county Farm Bureaus' activities during the reporting period, essentially cutting planned activities and investments in half. However, in addition to the ongoing, regular promotion of soil and water conservation events that all county Farm Bureaus do, there were still at least 19 county Farm Bureaus that organized, participated in or cooperated in 22 virtual and in-person field days, trainings, demonstrations, meetings, tours or other events or campaigns in active support of the INRS's information, education and outreach activities during the last year. Among specific examples of these activities were: watershed project financial and promotional support; an ag mobile learning lab featuring a rainfall simulator; youth educational meetings; rainfall simulator demonstrations; Ag In The Classroom activities; teacher workshops; farmer workshops; local cover crop cost share programs; award program sponsorship; practice demonstration sponsorships; and legislative tours. There were more than 1,341farmers, elected officials and citizens participating in or attending these events. There was at least $28,250 invested in these local events.

IFBF Share Fund
The IFBF Share Fund provided $11,945 to three counties in March 2019 for new local soil and water conservation projects. The IFBF Share Fund supports specific watershed projects, adoption of soil and water conservation practices and outreach related to implementation of the INRS.
The Farm Bureau Spokesman
The Farm Bureau Spokesman had approximately 125 print articles on conservation issues related to the recommended practices of the INRS during the period. In addition, the March 25, 2020 Conservation & Water Quality supplement included 9 print articles specifically related to the strategy's recommended practices. The weekly circulation of The Farm Bureau Spokesman is 60,000. In addition, Family Living, with a circulation of 70,000, had 9 feature articles on conservation issues related to the recommended strategy practices.
Iowa Conservation Farmer of the Year Award

Mark Jackson of Rose Hill in Mahaska County was named the 2020 Iowa Conservation Farmer of the Year in July for his wide-ranging soil and water conservation efforts and decades-long commitment to promoting conservation education with fellow farmers. The award – in its 68th year - is sponsored by the IFBF and the Iowa Department of Agriculture and Land Stewardship. The award was presented to Jackson by Iowa Agriculture Secretary Mike Naig at the Van Wall Equipment dealership in nearby Oskaloosa. Jackson received free use of a John Deere 6E Series utility tractor for up to 12 months or 200 hours. The tractor prize is sponsored annually by Van Wall Equipment of Perry and John Deere, and valued at more than $12,000. The award and tractor prize highlight the many conservation activities of Iowa farmers and their efforts to implement the INRS. Seven deserving regional winners were also publicized statewide in Spokesman coverage, news releases and social media about the award.

Iowa Minute

Four Iowa Minute news features on conservation practices related to the INRS were produced by the IFBF in the reporting period. (Does Iowa have too much manure? 8/19/19; Innovation helps farmers build on conservation success, 9/19/19; Updated drainage leads to improved water quality, 11/7/19; and Working together to achieve Iowa's water quality goals, 3/12/20.)
These 60-second news features highlight the role that agriculture and Farm Bureau play in the lives of Iowans and shows the good work Iowa farmers are doing to protect the soil and improve their watersheds. The conservation-focused spots featured experts including: Dr. Daniel Anderson, ISU Biosystems Engineer; 2019 Conservation Farmer of the Year Jarad Weber; Dr. Michael Castellano, IOWA State University Agronomist; and Iowa Secretary of Agriculture Mike Naig, all sharing data and examples which highlight conservation improvement in Iowa. Each Iowa Minute runs approximately one month reaching 2.6 million households throughout Iowa, and parts of Omaha, Missouri and Illinois. Iowa Minutes are promoted and shared on multiple Farm Bureau websites and social media channels. The conservation-themed features also air nationwide on Rural Radio SiriusXM Channel 147 as informative news stories, not paid advertisements.

INRS-Focused News Releases

Six IFBF news releases focused on conservation and the INRS were sent to a statewide media list resulting in several interviews and more than 30 earned media placements and stories. President Hill's op-ed on 8/1/19, "Iowa farmers make true progress on water quality," corrected inaccurate claims made by the Iowa Environmental Council and highlighted improvements outlined in the INRS report and quantified collaboration and funding from SF512. On 11/15/19 a statement on behalf of IFBF commented on Iowa's impaired waters list and highlighted the removal of 27 impaired beneficiaries and enhanced monitoring efforts. IFBF's 2020 Iowa legislative priority news release 1/12/20 focused on the need for state-funded conservation cost share funding to help bolster farmer and landowner conservation investment. On 2/19/20 a joint news release with IFBF and IDALS announced open nominations for Iowa's Conservation Farmer of the Year. A news release on 7/2/20 called attention to the new INRS report showing the conservation progress led by Iowa farmers. On 8/3/20 IFBF sent out a news release highlighting Mark Jackson as the Iowa Conservation Farmer of the Year.
Digital Web Media

The pages and articles on ConservationCountsIowa.com received 54,622 pageviews. This includes the Conservation Counts Field Days & Events webpage that received 2,128 pageviews across the reporting period. Also, the local and statewide events listed by any Iowa organization on the IFBF webpage are highlighted in an email each week to at least 15,114 members. The most popular page was the article on how agriculture will reduce its greenhouse gas emissions – a co-benefit of the INRS practices - by 50 percent over the next five years with 4,929 pageviews.
The IFBF had 71 water quality/conservation Facebook posts that produced 898,687 impressions. These posts received 3,000 combined reactions (e.g. likes, loves, wows, etc.), shares and comments.

On Twitter, there were 82 IFBF water quality/conservation tweets that produced 142,255 impressions. Those tweets received 171 retweets and 433 likes.

On Instagram, the organization had 38 water quality/conservation posts and stories. These combined posts and stories produced 11,329 impressions and 125 likes.
Blog Posts
There were 11 blog posts in the 18-month period that discussed water quality and the nutrient reduction strategy. There were also 8 podcasts that touched on the INRS and related water and soil quality issues.
The periodic report covered actives by the organization from June 1, 2019 through December 31, 2020. The 18-months of conservation activities were a transition period from fiscal year reporting to a calendar year cycle.