FFA students encouraged to say 'yes' to ag opportunities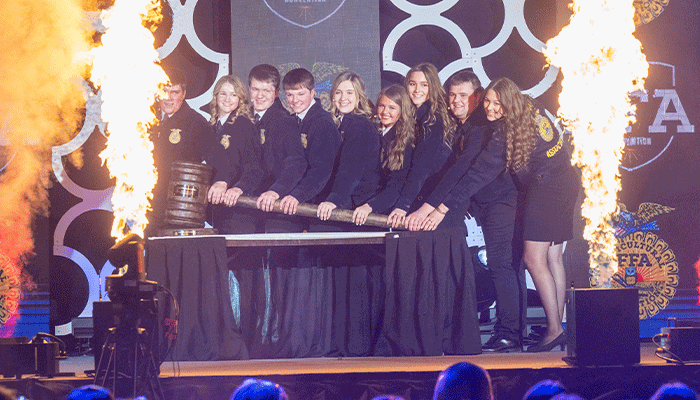 The Iowa Farm Bureau Federation (IFBF) presented its $1 million pledge to Iowa's FFA program and youth and ag education to rousing applause last week from nearly 6,000 of the state's brightest young minds at the 95th annual Iowa FFA Leadership Convention held in Ames.
Investment in the state's future agricultural leaders took center stage as IFBF President Brent Johnson shared a vision for the continued growth and success of one of the nation's premier youth organizations.
"You are the future leaders of our state," Johnson said. 
"I see the FFA as imperative to the future of Iowa and our country."
Johnson presented the donation to Iowa FFA President Sam Martin of Imogene and reporter Rachel Teunissen of Alvord. The three-day conference was sponsored by IFBF and the Iowa FFA Foundation.
Students from across Iowa gathered for the annual conference to participate in competitions such as parliamentary procedure, conduct of meetings or public speaking. There were workshops, leadership activities and even an FFA band performance and talent show.
Johnson said it seems not that long ago when he was sitting in these students' seats, wearing a similar corduroy jacket and questioning what his future may bring.
"I had one goal back then … , and that was simply to someday be a full-time farmer," he said. Yet his advisors and ag educators encouraged him to consider doing more, to where now he not only farms, but he also works with farmers across Iowa, influences policy, promotes Iowa agriculture worldwide and informs legislators and even the president of the United States about agriculture.
"I'm not sure I'd have been able to do all that without the influence of FFA and encouraging me to say yes," Johnson said. "It's truly everything I could have hoped for."
In a message Johnson has shared with many during his 1-½-year IFBF presidency, he suggested to the students that good intentions are worthless and tomorrow is overrated.
"Now is the time to turn intentions into actions, to help the FFA fill (their) needs ... to continue to make a difference to education and encourage our fellow FFA members to say yes.
"Nobody's life has ever been changed by good intentions or I'll get to it tomorrow. Give yourself the authority to say yes and take action because if not you, then who? And if it's not right now, then when?"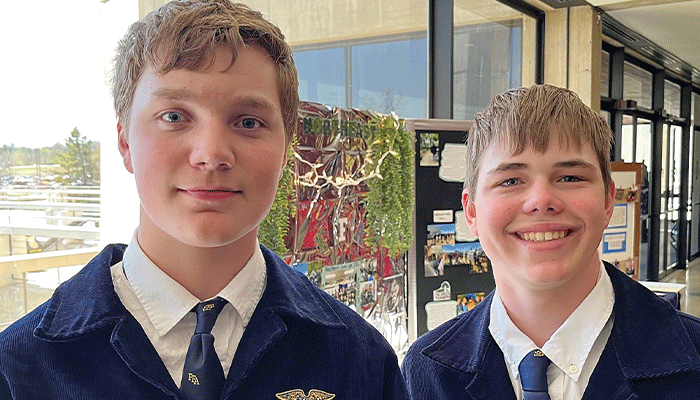 Pictured above: Jack Steenblock and Andrew Lamfers-Hill from Belmond-Klemme FFA said their ag safety day was a huge success. PHOTO / BOB BJOIN
Excited about agriculture
IFBF's donation is essential to support agriculture-related education opportunities, Johnson said, and to stem the loss of ag teachers across Iowa that has reached a critical point.
Johnson's conversation was ap­preciated by the students, who shared their excitement for the future of agriculture, their own FFA chapter activities and the opportunities they've been granted.
Chapter booths lined the concourse of Hilton Coliseum on the ISU campus highlighting the proud activities from the various schools.
Juniors Aria Rensink, Jozephine Kaufman and senior Sam Gaul from the Boyden-Hull FFA Chapter said their 40-member group may be small by comparison but has been active the past year providing everything from a teacher breakfast and farmer feed to a scarecrow competition for elementary students. The activities provide an opportunity for leadership, they said.
"Growing as a leader has been my biggest achievement," said Gaul, who plans to study animal science on a pre-veterinary medicine track at Iowa State University upon graduation. "I started as our chapter's student advisor and moved up to our vice president."
Andrew Lamfers-Hill, a senior, and Jack Steenblock, a freshman, from the Belmond-Klemme FFA said their chapter has been busy this past year with many activities but an ag safety day for elementary kids was especially successful.
"It was all about being safe on the farm," said Lamfers-Hill, who plans to study ag management at North Iowa Area Community College. "We had animal safety, food safety, cows, pigs, sheep, horses, lawn mowers, tractors … all for the elementary kids. It was really fun."
Benton Community FFA juniors Breck Coffland and Madi Colburn praised their chapter's veterinary camp, which saw approximately 20 elementary students take part. The chapter itself has grown to include 150-200 students from middle to high school.
"We had kids kindergarten-3rd grade register, and we offered stations like nutrition of animals, sutures and injections and explained what a veterinarian does," said Colburn. "We just wanted to try and help inform younger kids and get them to see what's within the veterinary field."
Added Coffland, "All of the kids were having fun getting to play with the vials … and they got to dissect fetal pigs and make dog treats."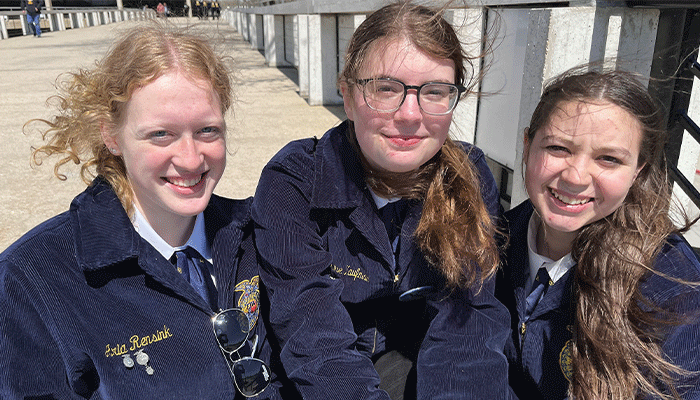 Pictured above: Aria Rensink, Jozephine Kaufman and Sam Gaul from Boyden-Hull FFA said participating in FFA helps develop leadership skills.  PHOTO / BOB BJOIN


Career fair opportunities
The overarching message from students was how FFA has helped them in leadership roles. While the conference gathered the students together for competitions, workshops and activities to share those skills, career fair representatives also were on hand to meet with the FFA students in a unique opportunity to visit one-on-one.
Madison Kimpling, a student recruiter with Growmark FS, was able to share information about the ag company with interested students.
"I enjoy seeing how students now are being able to learn, grow and explore different career opportunities as well as college opportunities," Kimpling said. Explaining about Growmark, the parent company to FS, an ag retail cooperative, was beneficial, she said.
"It's great to connect the dots and help them see that full circle moment of what we do have in agriculture," she said.
Kevin Butt, with the agriculture faculty at Ellsworth Community College, said students were very interested in the ag degrees offered at the college, from farm management and ag business to animal science, precision ag and pre-veterinary.
They want to know what chances they have of securing a job after graduation. "Almost 100% right now," Butt said.
"There are tons of opportunities out there. We crunch the numbers every year. For every student we have, we have six people wanting to hire that student."
That's great news, said Rensink. "They help you plan what you're doing with your life," she said.
Added Kaufman, "And be advised on what scholarships to look for."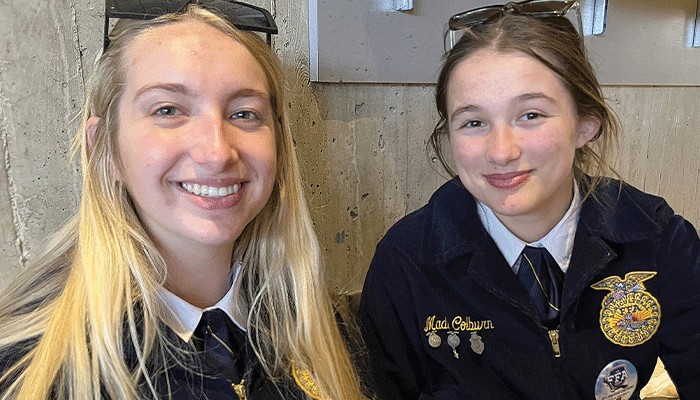 Picture above: Breck Coffland and Madi Colburn from Benton Community FFA said their chapter has grown to 150-200 students from middle to high school.  PHOTO / BOB BJOIN
Want more news on this topic? Farm Bureau members may subscribe for a free email news service, featuring the farm and rural topics that interest them most!