Even in Iowa, too many families struggle to get enough food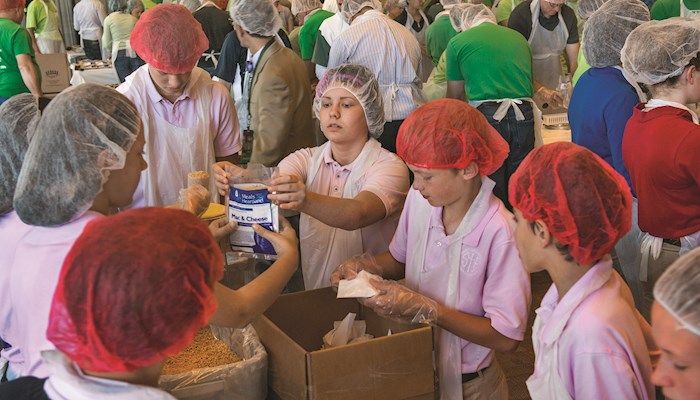 While last week's World Food Prize ceremony in Des Moines focused on global hunger initiatives, hundreds of Iowans also gathered before the event to share strategies for helping feed local families in need.
A record 780 people attended the fifth annual Iowa Hunger Summit Oct. 13, sponsored by the Iowa Farm Bureau and FBL Financial. The summit highlights local efforts to fight hunger both at home and abroad.
Kenneth Quinn, president of the World Food Prize Foundation, said the idea to launch the Iowa Hunger Summit came from a panel discussion during the World Food Prize. One of the panelists, who was from India, told Quinn that he never realized that there was hunger in America.
Quinn also shared a story about the late Norman Borlaug, founder of the World Food Prize and a scientist credited with saving 1 billion people from starvation by developing disease-resistant wheat varieties.
Borlaug once told Quinn that he first learned about hunger from living in the Midwest. When Borlaug was a student at the University of Minnesota, he saw homeless people sleeping in the streets of Minneapolis during the Great Depression. "That stayed with him all his life and led to his commitment," Quinn said.
"It's easy if you live in certain places not to see the hungry," Quinn added. "But we thought there needed to be a forum where we could bring attention to these issues. People can see what Iowans are doing to fight hunger, and that will inspire them to do even more."
Way too many hungry
The number of Iowans struggling with food insecurity has declined since the 2008 recession, but there are still "way too many Iowans" who don't have access to enough food, said Cory Berkenes, director of the Iowa Food Bank Association.
According to Feeding Amer­ica's 2014 "Map the Meal Gap" survey, about 12.6 percent of Iowans, or 389,250 people, are food insecure. This number is down from 13.5 percent four years ago and from the national average of about 16 percent.
However, Berkenes said: "Just because the economy may be getting better, hunger is not getting better. It's actually getting worse."
Hunger also isn't distributed evenly by age groups, Berkenes said. About 19.3 percent of children in Iowa are food insecure, according to Feeding America. That's one in five Iowa children.
Even though the overall number of food-insecure Iowans is trending down, the number of Iowa children who are food insecure hasn't declined over the last four years, Berkenes said. "That's just not right. It's outrageous. We need to do all we can."
Across demographics
The people who struggle with food insecurity aren't necessarily those you would expect. Berkenes said Iowa food pantries are seeing more grandparents who are raising children but don't have a consistent income.
Single-parent families, retirees and working couples with or without kids also turn to Iowa food pantries, he said. Many food-insecure Iowans find themselves choosing between buying food or paying off medical or utility bills.
"There are lots of trade-offs going on in the lives of people around you. And it's pervasive," said Lily French, senior policy consultant for the Iowa Policy Project, at the Iowa Hunger Summit.
Berkenes said Iowa food banks are partnering with local businesses and communities to better serve food-insecure Iowans, particularly those in rural areas.
For example, the Food Bank of Iowa and the Northeast Iowa Food Bank offer mobile food pantries that travel to small towns, providing food to families in need without having to drive long distances.
"We want to create this environment that we end hunger together. It's a joint effort. It takes collaboration on all levels," Berkenes said.
Want more news on this topic? Farm Bureau members may subscribe for a free email news service, featuring the farm and rural topics that interest them most!