Engaging students in ag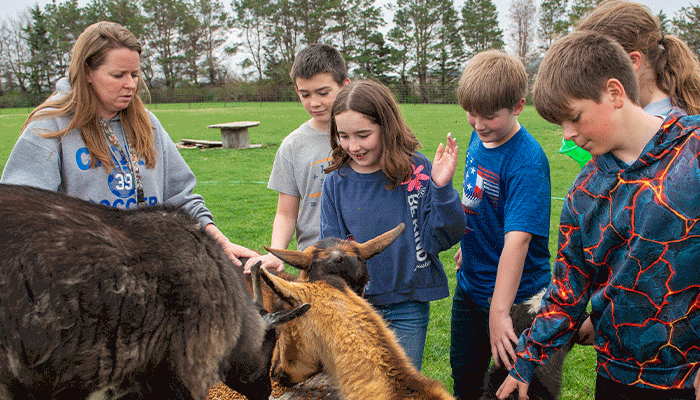 Take a stroll through the CAL (Coulter-Alexander-Latimer) Elementary School in Latimer, and you'll discover a collection of plants and animals the PK-6th graders tend to and explore through an innovative ag-related program.
In the science room, students plant vegetables and flowers. Down the hall, there are tortoises, turtles and hermit crabs to manage, while around the corner there's an axoloti, dart frogs and a chameleon along with multiple aquoponics systems and freshwater and saltwater aquariums.
Head outside to the raised garden beds and see students weeding or prepping flowers in the greenhouse for the annual Mother's Day sale, while the older students feed the goats, pigs and chickens.
It's all complemented by a stunning selection of available technology that includes robots, iPads, virtual reality goggles and computers.
Jill Craighton, Farm to School and science coordinator, can't help but smile as she watches the students grow in their learning, and notes how much the program has developed in four years.
"I'm always amazed how much fun they have with this," said Craighton. "We live in Iowa and are surrounded by agriculture ... so to be able to build the connections and make the students more aware of where their food comes from and how we grow food is (critical).
"We really have made it our initiative to incorporate ag learning all across the curriculum … to find ways to integrate ag learning every day all the time."
All grade levels
The farm was born in 2019 with the help of a U.S. Department of Agriculture (USDA) grant along with other funding sources and is maintained with grants, product sales and the school district's own financial commitment.
Craighton coordinates the program along with innovation teacher and instructional collaborator Kelsey Enslin. Students are instrumental in the daily operation and success of the ag curriculum, blended across all subjects from science and math to social studies.
"All our life science standards we can connect to the farm or the animals and plants that we have," Craighton explained. "We hatch chicks almost every year … The kids get to see that start to finish. They research life cycles, choose an animal, create posters and teach another grade about the animal."
In preschool, students are learning to code. In fourth grade, they're studying erosion and weather as well as animals that have specialized structures like bird beaks. Students research a native Iowa bird and its feeding habits, then build bird feeders while also making posters, writing reports and giving presentations. 
A field trip to nearby Lime Creek shows the birds in natural habitat.
"Second-graders are learning about the Oregon Trail," Craighton said. "They're coding robots to pull wagons through an Oregon Trail that we set up. 
"They get points if they make it to their checkpoint, and have to make choices like what they buy before the trip, make decisions along the way and are learning social studies concepts like supply and demand or wants versus needs. It's all wrapped together."
In the outdoor learning spaces, students study animals and gardening, with much of the produce and meat utilized in the lunch program or in the classroom. Eggs are collected and sold to the staff, with plans to provide them to the community in the future.
"It's a good opportunity for them to learn animal husbandry," Craighton said. "How do you look at an animal and know it's healthy? What can we do for our animals?
"And the kids start our vegetables from seeds …, plant hanging baskets for the City of Latimer every year. Marigolds they take home for Mother's Day."
Kindergartners plant cucumbers and come back in first grade to make pickles. First-graders plant potatoes in the spring and make mashed potatoes and French fries in the fall. The students also grow tomatoes and zucchini.
Local, state support
Being a small school, with roughly 175 students PK-6, has its advantages. Craighton said all students are involved in the ag curriculum, regardless of whether they have a farming background.
Administrative and community support has been instrumental, said Craighton.
Iowa Secretary of Agriculture Mike Naig recently toured the facilities and called the Farm to School program fascinating.
"The CAL School District has developed an impressive, innovative and effective model for incorporating agriculture into so many elements of its curriculum and learning processes," Naig said.
The state has prioritized such programs — a STEM (science, technology, engineering, math) scale-up grant via the Iowa Governor's Stem Advisory Council has funded Beebots, Story Time STEM, Ioponics and drones, to name a few.
A larger grant received in January through the STEM Best program will provide additional CAL opportunities, including converting the greenhouse to solar, purchasing more drones, ag software and ag literacy materials, and supplementary staff training.
Community businesses and org­anizations (H-D-CAL FFA, Franklin County Conservation, Carlson Tree Farm, Healthy Harvest of North Iowa, North Central Iowa Ag in the Classroom and Dillon Muhlenbruch with Bayer Crop Science) are invited to help students explore ag careers.
Franklin County Farm Bureau also is a resource for the CAL ag program.
Valerie Plagge, a Franklin County Farm Bureau leader who farms with her husband, Ian, near Latimer, volunteers as a liaison to the CAL ag program.
"Franklin County Farm Bureau puts importance on introducing young people to agriculture in the county, so this is a great partnership," Valerie said. "It is important for the students to meet the farmers behind the food they eat, as well as see all of the jobs behind what they are learning."
Continued growth
Craighton said future plans include expanding the gardens; creating community gardens, a corn maze and pumpkin patch; and hosting a fall festival. Animal additions could include turkeys.
"We hope to grow more things and then allow the kids to find things to do with what they grow — a way to market and share them, too," Craighton said.
The program's importance couldn't be more evident when talking with those impacted the most — the students. They're hooked, said Craighton.
"I like the planting in the spring because I like seeing things grow," said Maxx Velasco.
Second-grader Ruby Alonzo added, "I enjoy feeding the chickens on our school farm."
Sarai Rodriguez likes building bird feeders and exploring the farm, while Lyla Hefti enjoys feeding vegetable scraps to the goats.
"I really like learning about the animals on our farm," added Aiden Sanchez. "It's special because we get to spend time with animals that we wouldn't normally get to see."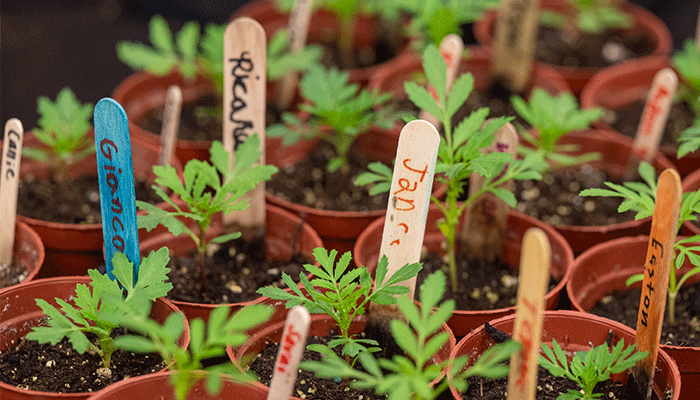 Pictured above: Students at CAL Elementary plant vegetables and flowers as part of the district's ag curriculum. PHOTO / CONRAD SCHMIDT
Want more news on this topic? Farm Bureau members may subscribe for a free email news service, featuring the farm and rural topics that interest them most!