Encouraging more involvement a goal for young farmer chair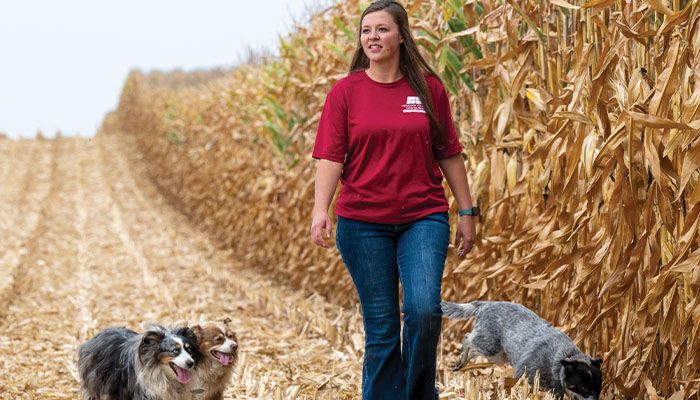 Managing a farm, an off-farm career and raising young children is no easy feat. Having a well-structured plan is an essential tool to ensure that nothing gets lost in the shuffle, says Vanessa Trampel, chair of the Iowa Farm Bureau Young Farmer Advisory Committee.
Trampel and her husband, Kody, farm southeast of Garner, where they raise corn, soybeans, alfalfa and cattle. They also both have off-farm jobs. Vanessa is an occupational health nurse, and Kody is a regional sales manager for Latham Hi-Tech Seeds. 
"Every Sunday we sit down and we literally have a whiteboard in our kitchen that we write out the week's plan — what days I'm going to be at the clinic, what things we need to get done on the farm and what days Kody is going to be gone on the road," she explains. 
"We know it's not black and white; it can change. In the world we live in, you've got to roll with the punches. We take every week, one week at a time."
While their careers and farm keep them plenty busy, the Trampels make time to volunteer in their community, including Farm Bureau. 
Farm Bureau has been part of their lives since they were dating, with each serving on the Hancock County Farm Bureau board. Their involvement deepened after attending the annual Iowa Farm Bureau Young Farmer Conference, and they were selected to represent District 2 on the Young Farmer Advisory Committee (YFAC) in 2021. This July, Vanessa was elected YFAC chair, and Kody was elected vice chair, which allows them to share the responsibilities of the positions.
"We both wanted to run for chair, and we decided I might have a little more flexibility for time commitment," Vanessa ex­plains. "It's been great. We both are enjoying it."
Long family history
The couple has farmed together for five years, carrying on long family histories on both sides. Vanessa is the seventh generation of her family to farm, and Kody is a fifth-generation farmer. They have a 2-year-old daughter and 3-year old son, who are already venturing into showing animals at the county fair. 
One of Trampel's goals as chair of the Young Farmer Advisory Committee is to encourage other young farmers to get more involved in Farm Bureau as well as building their network of peers and bridging the gap between generations of farmers.
"One of the biggest goals that I have is getting that young farmer involvement on the local county boards, because that's where it started for me," she says.  
"My involvement started when I was 19, and I can honestly say I think that I was late to the ballgame. So don't be afraid to get involved, because you never know where it might take you and what it might do for you."
She emphasized that there is a place for everyone in agriculture, regardless of their background or level of experience. 
"We want all walks of life. We want the farmer that's on the farm every day, and we want the kid in town that's dying to be on the farm all day."
Young farmer challenges
Trampel notes that many young farmers face similar challenges as they begin their careers in agriculture, especially the high cost of buying farmland. 
Farming might look different than they envisioned, but there are opportunities for those who have a passion for agriculture, whether it's returning to a family farm, setting out on their own or working off the farm. It might not be feasible for a young farmer to buy farmland, but they could find a role in agriculture by working for another farmer or diversifying with specialty crops on a small parcel of land. 
"I am known for the word pivot," Trampel says. "Young farmers, we think we have this great plan — 'I'm going to farm the family farm.' But you know, (if) that's really not panning out, let's pivot. Let's put a pumpkin patch here. Let's diversify.
"I think that's something that young farmers are known for. We have to pivot and do what it takes to keep us on the farm."


Volunteer work
In addition to her role as committee chair, Trampel is involved in agricultural education activities, particularly through Ag in the Classroom programs. She believes it's crucial to educate the next generation of both farmers and consumers, helping them understand where their food comes from and fostering a connection with agriculture.
"We live in a small town, and I think as farmers, we assume everybody knows what we do but that's not necessarily true," she says. "If I happen to be wearing something that represents that I'm a farmer, I do get people that will stop and ask questions about (farming). I like being the bridge between the farm and the consumer." 
Trampel says the Young Farmer Advisory Committee is already planning the 2024 Young Farmer Conference, which will be Feb. 2-3 at Prairie Meadows Events and Conference Center in Altoona. The conference will include tours of ag businesses, educational seminars, the young farmer discussion meet and Grow Your Future Award competition, which features young farmer entrepreneurs competing for cash prizes to grow their businesses. 
Watch for more information about the Young Farmer Conference at www.iowafarmbureau.com.
Want more news on this topic? Farm Bureau members may subscribe for a free email news service, featuring the farm and rural topics that interest them most!