Easing the storage crunch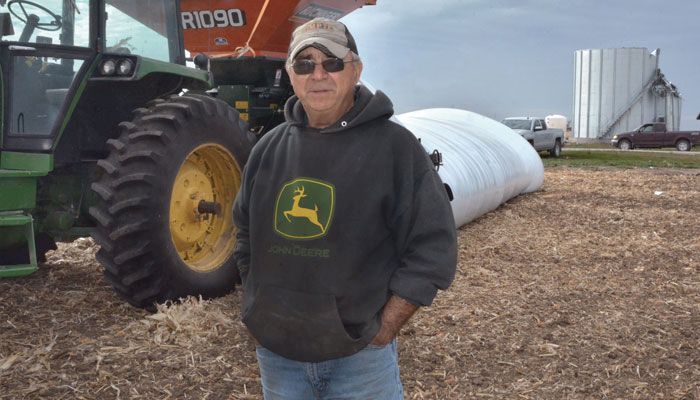 The worst weather in Iowa seems to always bring out the best in the state's farmers and Farm Bureau members. Denny Wobeter knows that from first-hand experience.
After the Aug. 10 derecho rip­ped through his farm, the Toledo farmer faced a tough dilemma about where to store his upcoming harvest. Along with battering his corn and severely damaging his home, the storm's 100-mile-an-hour-plus winds wrecked his nearly new grain bins.
"I didn't know what we were going to do with the crop, and harvest was coming on fast," said Wobeter, a Tama County Farm Bureau member.
After searching all over his area to find available storage, Wobeter heard some very good news. Cordt Holub, another Tama County Farm Bureau member, called to say that a grain bagger system was available.
Donated to ease crunch
Best of all, use of the equipment was free because it had been donated by Justin Dammann, a Page County Farm Bur­eau member.
Dammann, who operates a grain bagger dealership on his southwest Iowa farm near Clarinda, donated the use of two of the bagging systems after hearing about severe storage problems after the derecho. "We saw that there was so much damage and that the need was there, so we really felt obligated to help," he said.
In all, the derecho battered crops in 57 counties from border to border in Iowa, with the most severe impact occurring on 3.57 million acres of corn and 2.5 million acres of soybeans primarily in 36 central and east central counties, according to the Iowa Department of Agriculture and Land Stewardship.
The department estimated that more than 57 million bushels of commercial grain storage was seriously damaged or destroyed in the storm.
Tens of millions of bushels of on-farm storage were also lost or de­­stroyed in the storm, it said.
Looking to help ease the im­mediate need for grain storage, Dammann contacted Rob Pangburn, the Iowa Farm Bureau regional manager whose territory is in the heart of the derecho-damaged area. Pangburn, in turn, worked with area farmers, including Holub, Josh Henik and Brad Buchannan, to locate farmers who needed storage because the storm had destroyed their bins.
A lot of need
"There was certainly a lot of need out there," said Henik, a Linn County Farm Bureau member who farms and is an ag instructor at Kirkwood Community College. "We wanted to be able to target the equipment to those farmers who needed it the most. It ended up being a big help for them."
Several farmers in the area hit hardest by the derecho were able to use one of Dammann's bagger systems to store grain, Henik said.
Others planned to use the bagger, but didn't need to because their crop was zeroed out by their crop insurer and was ultimately disked under, he said.
Dammann has used the grain bagging systems on his farm for more than a decade and has been a dealer for three years. He sells and rents Richiger bagging equipment, which was pioneered in South America as a quick and cost-effective way to store crops.
A typical bag, which is 10 feet wide and expands to 300 feet long, can store approximately 15,000 bushels of grain.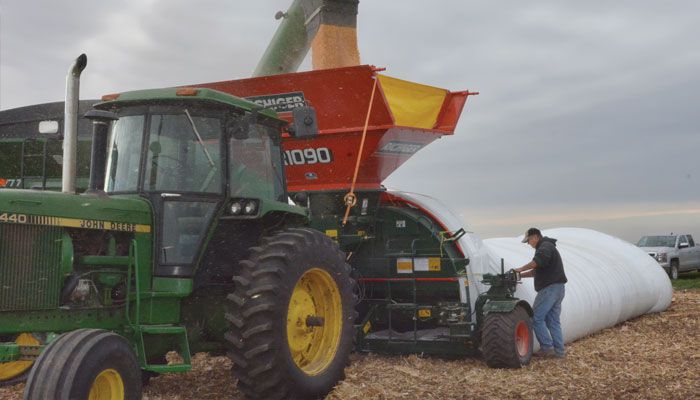 (Photo above: Denny Wobeter monitors the bagging system as it's loaded with newly harvested corn. The bags, which are typically 300 feet long, can hold approximately 15,000 bushels. PHOTO / Dirck Steimel)
A great tool
The bagging system, Dammann said, is a great tool to provide farmers with flexibility in storing crops.
"They work well in conjunction with bins and when crop storage is tight, like it has been after the derecho," he said.
For Iowa farmers hit by the derecho, like Wobeter, Dammann's grain bagger donation was a huge help during a very tough time.
"We are so thankful for everybody who helped with this," said Wobeter. "It was such a big help for us when we really needed it."
Want more news on this topic? Farm Bureau members may subscribe for a free email news service, featuring the farm and rural topics that interest them most!