Dry fall helps farmers add conservation structures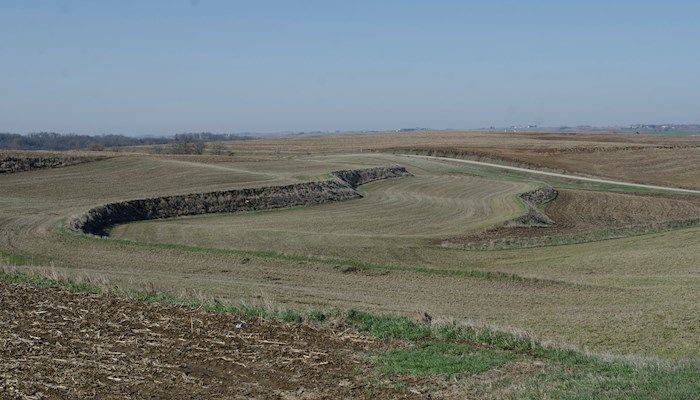 Aided by a warm, dry fall, Iowa farmers and landowners are hustling to build, or have contractors install, additional terraces, grassed waterways and other structures, contractors and agriculture officials said last week. That work, they said, will continue the trend to reduce soil erosion in Iowa and improve water quality.
"The dozers are working hard every day around here," said Dan Rasmussen, a Buchanan County land improvement contractor who is also executive director of the Iowa Land Improvement Contractors Association. "Every­body I know has been very busy this fall building waterways and other things."
It's been the same in southern Iowa, said Steve Hofmann, who farms and operates an excavating company in Decatur County. "There is a lot of conservation work going on this fall, especially with the open weather we've been having," he said.
Repairing damage
Some of work is building new terraces and other conservation structures, but many farmers have also hired contractors to repair structures damaged by heavy rains over the past couple of years, Hofmann said. "Farmers want them repaired so they can continue to do the conservation work they were designed for."
In far western Iowa, David Flewelling of Woodbury County said he is seeing a lot of conservation work, both new construction and remodeling terraces to work better with today's larger equipment. "Some of the farmers may have pulled back a little because of the low commodity prices, but we're seeing a lot of landowners step up to finance the work," he said. "They are interested in improving the land."
The push to improve conservation structures is the continuation of a multi-year trend to improve the land to reduce soil loss and improve water quality, said Iowa Agriculture Secretary Bill Northey. He expects Iowa's conservation projects in fiscal 2015, which ended June 30, 2015, to be on par with strong results in fiscal 2014.
In fiscal 2014, Iowa farmers invested $13 million of their own money to install conservation practices, which was augmented by $9.5 million in cost-share and administrative support provided by the Iowa Department of Agriculture and Land Stewardship (IDALS).
"It's great to have these im­­provements, like terraces, installed because they are permanent and reduce erosion for a long, long time," Northey said.
He also noted that most of the investment in conservation work is coming from farmers and landowners. "They are putting up their own nickel, because they think conservation is very important."
A 2013 survey of the Iowa Land Improvement Contractors Association, completed by Carroll-based Agren, showed that about half or more of most permanent structures are financed solely by farmers or landowners and are built without cost-share. That means the actual work is likely much greater than figures released by IDALS.
Reducing erosion
The conservation investments, along with no-till farming and other soil-saving practices, are having a positive impact, according to a report on land use and resources released in August by the U.S. Department of Agri­culture (USDA).
The USDA report showed that soil erosion in the United States declined 44 percent between 1982 and 2012. Water (sheet and rill) erosion declined from 1.59 billion tons per year to 0.96 billion tons per year, while erosion due to wind decreased from 1.38 billion tons per year to 0.71 billion tons per year, the report showed.
Iowa and other Corn Belt states show some of the most dramatic reductions in soil loss, the USDA report showed. The erosion reductions were particularly apparent in western and southern Iowa counties.
Iowa's erosion rate on cropland decreased 26 percent from 1982 to 2012 and is now estimated at slightly more than 6 tons per acre (for sheet and rill erosion.) There has been a slight uptick in water erosion in the most recent five-year period which has been attributed to the frequent and very heavy spring rains in the state.
(The USDA report can be found at http://1.usa.gov/1jAwjyq.)
Want more news on this topic? Farm Bureau members may subscribe for a free email news service, featuring the farm and rural topics that interest them most!