Dawnette Richards' 'Sage Buttered Turkey' claims championship crown at the 53rd annual Iowa Farm Bureau Cookout Contest during 'Farm Bureau Day' at the State Fair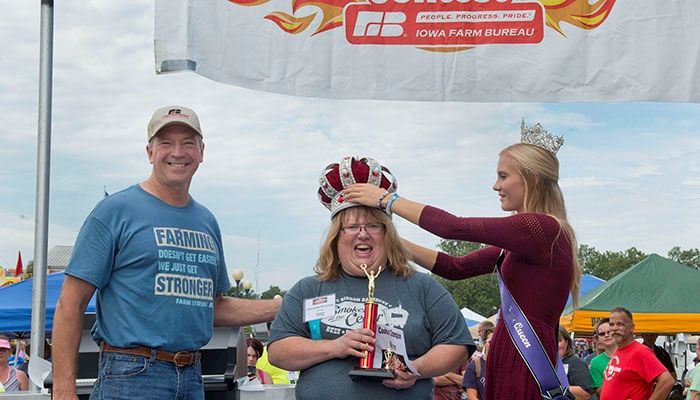 Click here to download the 2016 Cookout Contest Recipe Book
Dawnette Richards of Vinton beat the heat of the Iowa Farm Bureau Cookout Contest competition to claim the crown and coveted title of 'Cookout Champion.' Richards' winning entry from the turkey category topped 60 other grillers from around the state to win the 53rd annual contest, held on the Grand Concourse at the Iowa State Fair. Competitors in the Iowa Farm Bureau Cookout Contest first had to qualify by smoking, grilling, or barbecuing their way to victory in a county Farm Bureau contest in one of eight categories: Beef, Combo/Specialty, Lamb, Pork, Poultry, Turkey, Team, or Youth. Richards qualified from the Benton County Farm Bureau Cookout Contest.
The Iowa Farm Bureau-sponsored contest always brings a diverse array of entries. Richards' winning slow-cooked turkey beat out traditional entries including prime rib, barbecued pork ribs, and smoked chicken, and some more exotic entries like BBQ chicken pizza, bacon-wrapped lamb burgers, smoked cornish game hen, and others.
"The annual Iowa Farm Bureau Cookout Contest is a great way to showcase the diversity of Iowa's livestock industry and the best outdoor cooks from around the state," said Craig Hill, Iowa Farm Bureau Federation (IFBF) president. "Farm Bureau Day at the State Fair is a great time to celebrate family, and with so many youth participants this year, it's clear that grilling is a great family activity."
Richards won first place in the turkey category before being selected by celebrity judges, Ed Wilson, WHO-TV13 Chief Meteorologist, and Susan Stapleton, Des Moines Register food writer, as the contest's overall winner. She received $200, the champion's crown, and a permanent trophy as the 2016 Iowa Farm Bureau Cookout Contest Champion.
Other first place winners and their categories were: Randy Stamper of Greenfield, beef; Rylan Crowley of Cascade, lamb; Brian Halstead of Vinton, pork; Shannon Glaser of Bondurant, poultry; +and Scott Degeneffe of Boone, combo/specialty. All category winners won $150.
Second place finishers and their categories were: Allen Kenkel of Panama, beef; Lynn Pakala of Dike, lamb; Dusty Wilson of West Point, pork; Justin Meredith of Vinton, poultry; Jennifer Kunz of Davenport, turkey; and MacKenzie Hermanson of Indianola, combo/specialty. All second–place finishers received $100.
Winners in special categories were youth first place – MacKenzie Hermanson of Indianola and youth second place – Rylan Crowley of Cascade; showmanship – Roger Benton of Greenfield; and team – Lisa Gilliatt, Audrey Meyer and Brian Meyer of Marion. Hermanson received a gas grill valued at $1,000 and $150; Crowley received $100. Youth prizes were donated by the Iowa Propane Association. Benton received $150, and the team winners received $200.
Prize sponsors for the Farm Bureau Cookout Contest include: IFBF, Farm Bureau Financial Services, GROWMARK, Inc., Iowa Propane Gas Association, Iowa Pork Producers Association, the Iowa Beef Industry Council, the Iowa Turkey Federation, Iowa Poultry Association, and the Iowa Sheep and Wool Promotion Board.
Click here to download the 2016 Cookout Contest Recipe Book