DMACC students get real-world experience in conservation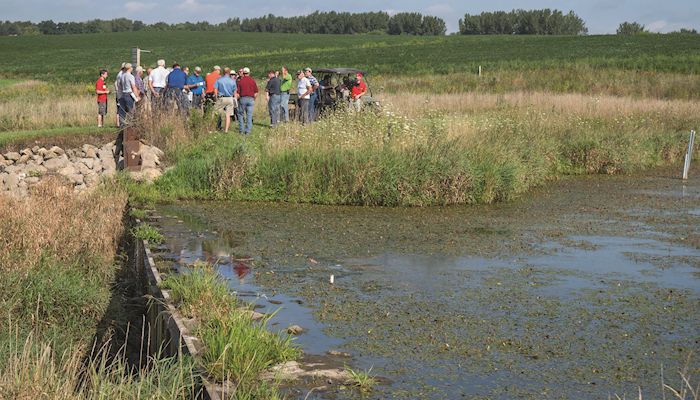 Iowa farmers have been experimenting with growing cover crops on their farms. They're learning what type of cover crops work best for their fields, which application method provides the best establishment and how they can use those cover crops in their farming operations. The student-run Des Moines Area Community College (DMACC) farm is no different.
Since 1999, DMACC's Dallas County farm has provided real world, hands-on experience for its students.
And since the beginning, the farm has been adapting its practices to keep up with the latest technologies and practices.
In 2005, DMACC took over a lease of 325 acres of pasture, tillable fields and farm buildings.
There were a variety of reasons to plant cover crops on the farm just north of Adel, said Travis Lautner, DMACC farm coordinator.
"We started off planting the cover crops for image," Lautner said. "We thought bare ground looked ugly. Historically this was a county farm, so there's a lot of eyes on it in the county," he said.
Besides that, black soil in the ditches meant that soil was washing out of the fields.
Adding cereal rye
So rather than leaving the soil exposed, the students decided to seed some rye into their field.
"The first couple of years, we baled it (the rye)," Lautner said. "But it was hard because in early May we didn't have good drying conditions. We were less than impressed with our bales."
So the students, who work within a farm budget and make decisions for their farm as part of a program, decided it would be better to bag the rye.
The ryelage makes great feed for their cows, Lautner said.
After chopping and bagging the ryelage, the students can no-till soybeans into it. "It seems like rye does a good job of choking out the weeds or keeping them in check," Lautner said.
Like other farmers in the state, the students are looking at some potential research projects for their farm. Lautner said they are looking at researching different types of rye on their farm.
"Usually we just plant whatever rye we can get, but maybe there are better types of rye," he said.
Another option for the farm, Lautner said, is to look at planting turnips or something they could use for grazing.
Lautner said the farm is a great way to teach students about real scenarios they would encounter on a farm in the future.
The students also raise cow-calf pairs and have a sow operation. They process the meat at Kirkpatrick Locker in Winterset. They sell their beef and pork to area customers, many of whom return for more.
"We try to make it (farming) as real life as we can," Lautner said.
Working with a budget and real money from their livestock and grain operation, students work to make decisions that are best for their farm.
"The advantage we have is that we actually have the farm," Lautner said. "We can talk about it … and … actually go and do it."
Want more news on this topic? Farm Bureau members may subscribe for a free email news service, featuring the farm and rural topics that interest them most!