Creating a win-win situation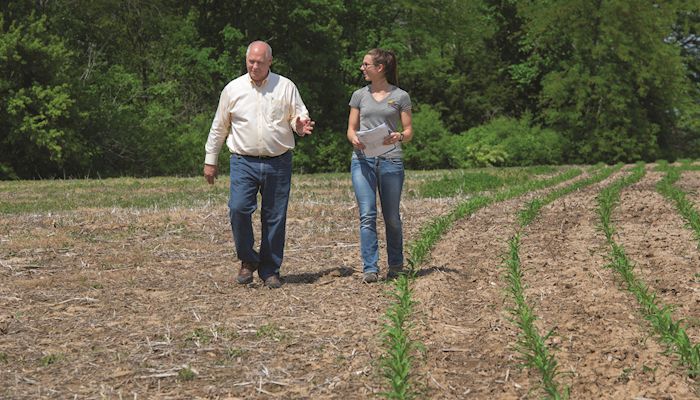 As he struggled to farm the crooked fields and dogleg turns of the fields on his Des Moines County farm on the uplands west of the Mississippi River, Jeff Burgus knew there had to be a better way.
That led Burgus to visit his local U.S. Department of Agriculture Natural Resources Con­­servation Services (NRCS) office and to begin working with Erica Yost. A farm bill biologist with Pheasants Forever, Yost helped Burgus develop a plan to make his farm more efficient by enrolling a limited number of targeted acres in the Conservation Reserve Program (CRP) to plant a permanent native prairie seed mix.
Those acres will, in time, help support wildlife, pollinators and monarch butterflies.
"It's a profit thing for me," said Burgus. "I just didn't think that it made sense to keep farming the way I was. I needed to take out some of the curves and get more efficient in my use of inputs."
The plan for the Burgus farm will help straighten the fields and eliminate many point rows, reducing costs and headaches of planting, spraying and harvesting. The acres enrolled in the CRP on the edges of fields will, in turn, provide habitat for wildlife and pollinators, while providing other conservation benefits.
"It's a win-win for the farmer and for adding diversity to the landscape," Yost said. "We listen to what the farmer's or landowner's goals are, whether that is efficiency, water quality or habitat. Then develop a plan that uses CRP and other programs to accomplish that."
Creating a win-win
Pheasants Forever, the nationwide group that promotes wildlife conservation through habitat improvements, is working to create that same type of win-win situation for farmers all over the state, said Josh Divan, the organization's monarch coordinating biologist in Iowa.
Pheasants Forever has 13 biologists around Iowa who are dedicated to working with farmers to provide advice for eligibility and applicability of federal and state conservation programs, such as CRP, the Environmental Quality Incentives Programs (EQIP) and the Conservation Stewardship Program (CSP). Those positions are made possible by federal, state and local partnerships.
The goal for Pheasants Forever, Divan said, is to help more farmers use the programs that make financial sense and add diversity to the landscape. The organization is working with farmers to enroll acres that are frequently not very profitable to farm, but have plenty of potential to support wildlife and pollinators, he said.
"There are a lot of different programs that farmers can use, but it's often hard for a farmer to know which one is the right one for their operation," Divan said. "That's where our biologists can help by working one-on-one with the farmer or landowner to develop a plan."
Working with NRCS
The Pheasants Forever biologists have been a great resource for NRCS, said Paul Goldsmith, the EQIP program manager for Iowa. "They bring the expertise in wildlife and the ability to work one-on-one with a farmer to design programs. That's been very valuable."
Pheasants Forever has long embraced the slogan of "farm the best, conserve the rest," and that is reflected in the types of projects they commonly assist landowners with. Most of those habitat projects are on marginal cropland acres and not on large tracts of productive cropland, Divan stressed. "We want to target the enrollment to parts of the farm that are not making money. That's where we can add value by helping farmers utilize conservation to improve their bottom line."
Pheasants Forever biologists are also working with farmers who have land enrolled in the CRP under an existing contract, Divan said. Pollinator and prairie mixes can be added when farmers complete the required mid-contract management of CRP acres, he said.
"We can use that opportunity to add more diversity to the landscape," Divan said. "The idea is less grass in favor of a more-diverse species mix."
Pollinator mixes, which have become very popular in the past few years, work well at providing food and habitat for wildlife, Divan said. The insect population attracted by the pollinators help to provide food for game birds and other wildlife, he said.
The Pheasants Forever biologists can also help a farmer or landowner with technical information on planting the wildflowers and other seeds in the mix, Divan said. That includes making sure native seed mixes are well-balanced and are suitable for the site.
Finding cost share
The biologist can also help farmers find cost-share programs that can help offset the cost of planting prairie or pollinator mixes and help ensure plantings are installed correctly, he said.
Burgus, who is president and CEO of the Mediapolis Savings Bank, is excited to plant the prairie mixes on the fields he farms near Sperry that have been in his family since 1863.
"We've always been conservation minded with a lot of terraces and no-till," he said. "This will help us increase that effort and make the farm more profitable at the same time."
Want more news on this topic? Farm Bureau members may subscribe for a free email news service, featuring the farm and rural topics that interest them most!