Cover crops offer a range of benefits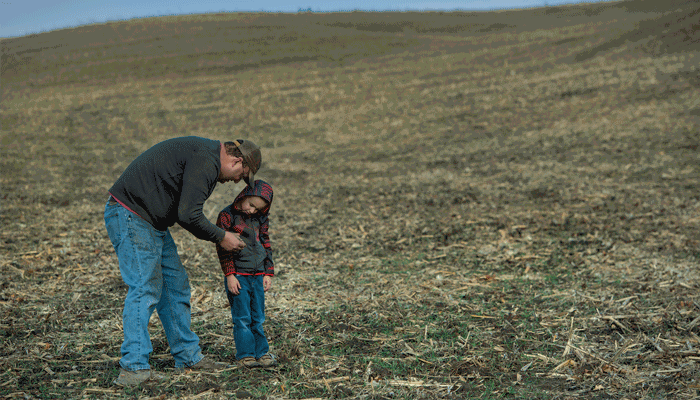 Eric Fynaardt believes that growing cover crops just makes a lot of sense on the rolling southern Poweshiek County land he farms with his father, Gary.
As he sees it, growing a rye cover crop builds organic matter and reduces compaction in wet years by drying out the farm's heavy clay soils before spring planting. And most importantly for the Fynaardts, cover crops help stabilize the soil on their rolling fields, reducing the potential for erosion.
"We were just sick and tired of losing dirt year after year," said Fynaardt, president of the Poweshiek County Farm Bureau, who farms near Searsboro. "Cover crops add another tool to our toolbox to help control soil loss. There are just a lot of benefits, overall, and that's a big one."
The Fynaardts typically plant crops on a three-year rotation, growing corn two years followed by a single year of soybeans. They've been using conservation tillage practices on their farm for decades. They started planting cover crops about six years ago, adjusting practices year to year to determine what works best for their fields.
Planting green
Like many Iowa farmers, the Fynaardts are discovering the benefits of leaving the cover crop growing in the field at planting time.
Depending on the conditions, they often wait until corn or soybeans are planted before terminating the rye.
That means planting into standing rye that's anywhere from 6 inches to 4 feet tall, Fynaardt said. "We want to be as flexible as possible and to be able to respond to the challenges on the ground each spring."
Planting corn or soybeans into a standing cover crop provides a longer window for the cover crop to grow in the spring, Fynaardt said. That helps to hold the soil and reduces compaction at planting time, he said.
However, in a dry year, the Fynaardts will terminate the cover crop early, before planting, to conserve the moisture in the soil.
"You just have to be willing to do the intensive management that's needed and react to the different circumstances in the field each year," he said. "We don't feel we are losing any yield by planting into green like we are, and we are gaining so many things from the conservation side."
Modifying equipment
Fynaardt, who also operates a crew that builds grain bins, has modified his planter specifically for planting into green cover crops. Those changes include the addition of equipment to apply liquid fertilizer beside the row to give corn a boost.
"We want the corn to have access to nitrogen immediately so it can get a good start," Fynaardt said.
In addition, the Fynaardts have added crimpers to their planter to give them the option to mechanically terminate taller cover crops, if needed.
Using conservation tillage and planting directly into cover crops means the Fynaardts can get a quick start in the spring, planting just as soon as the soil is ready. 
"It's just the two us. So it really helps to have everything ready when it's time to plant," Eric said.
He expects that timing to be critical at planting time this year. His crew has been extremely busy building grain bins to replace those damaged or destroyed by last summer's derecho, so there will be no time to spare.
A cover crop legacy
It was Gary Fynaardt who led the farm into planting cover crops, Eric explained.  
"We raised pigs outdoors, and Dad needed bedding for the livestock, so he would plant 30 acres or so of oats to get the straw," Fynaardt said. "Then he'd plant sweet clover as a cover crop after the oats were cut."
By rotating those oat patches around the farm, Gary could see that the cover crops were bringing big benefits to the quality of the soil and controlling erosion.
"We've got to stop looking at the cover crops as a new thing. It's actually an old practice that is returning," Fynaardt said. "The modern equipment and other technology just allow us to do it more effectively now."
Want more news on this topic? Farm Bureau members may subscribe for a free email news service, featuring the farm and rural topics that interest them most!