County FB's effort bringing ag curriculum to elementary students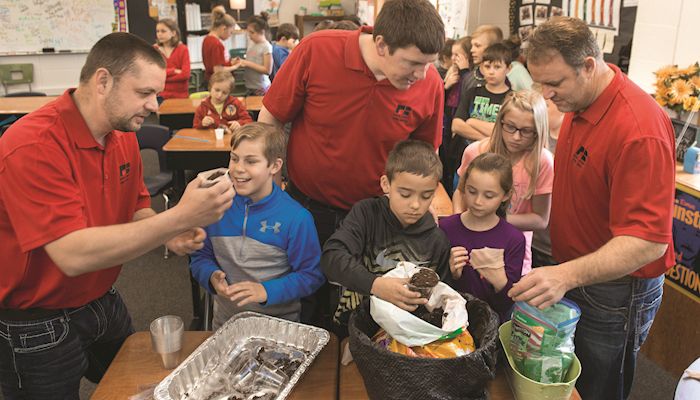 The Cedar County Farm Bureau set a goal of teaching every student in their local schools about agriculture.
What the group of farmers has since discovered is a strong network of support here in Iowa to help achieve their goal.
Over the past few months, the Cedar County Farm Bureau has moved forward with plans to launch an Ag in the Classroom (AITC) program to introduce ag curriculum to area elementary schools.
The county Farm Bureau is looking to hire a AITC coordinator to start working with the schools this fall, explains Noah Coppess, a Cedar County Farm Bureau member and farmer from Stanwood who helped jump-start the effort to expand ag education in the county.
"A very small percentage of the kids in the school districts actually live on a farm — or get to be on a farm," Coppess says. "So we are trying to help everybody else understand where their milk and bread comes from."
Cedar County is one of several county Farm Bureaus across the state that are expanding AITC activities and delivering ag curriculum to more Iowa students.
Adding AITC lessons
In the last three years, the number of students reached through county AITC efforts increased 375 percent, from 16,000 K-12 students in 2013 to 60,165 students in 2016, according to the Iowa Agriculture Literacy Foundation (IALF). Overall, ag literacy efforts by county AITC programs and the IALF reached 41 percent of Iowa K-6 students in 2016.
In addition, the number of staff and volunteers involved in AITC and ag literacy efforts increased from 275 people in 2013 to 1,095 in 2016, the IALF reports.
While most AITC activities are volunteer-driven, at least 35 counties now have staff working on AITC programs. Linn County Farm Bureau hired a new AITC coordinator last year. Siouxland Ag in the Classroom recently hired a second coordinator for its seven-county region in northwest Iowa. Buchanan and Delaware counties joined together to hire a new AITC coordinator, as did Harrison, Shelby and West Pottawattamie counties.
The growth in AITC activities was sparked, in part, by the launch of the Iowa Agriculture Literacy Foundation in 2013. With a full-time staff of three based at the Farm Bureau headquarters in West Des Moines, the IALF serves as a central resource for educators and volunteers who want to teach Iowa's students about agriculture.
County FB initiative
However, it's the county Farm Bureaus that have taken the initiative in expanding AITC programs throughout the state, says Cindy Hall, education program manager for the IALF.
"A lot of the support where we've helped is just by sharing those (county AITC) success stories, sharing ideas. (Counties) don't need to reinvent the wheel as far as the model of how you are going to do it …," Hall explains. "It's knowing you've got some support or help and somebody you can call and ask questions."
Restarting the program
In Cedar County, the county Farm Bureau women's committee used to visit local elementary schools to teach AITC lessons. However, about three years ago, the remaining women's committee members decided to retire and leave a path open for a new program, explains Mark Hotvedt, Iowa Farm Bureau's Region 7 manager.
Cedar County Farm Bureau President Devon Schott set a goal to boost public relations and outreach efforts. At a county board meeting in November, Coppess suggested forming a committee to look into re-launching an AITC program in the county.
Coppess, a recent graduate of Iowa Farm Bureau's Ag Leadership Institute, organized a planning meeting, asking committee members to brainstorm what they want the AITC program to achieve in the future.
"We thought the biggest influence we have is at a young age," Coppess says. "We want to reach every student that comes through the schools at some point, that they are familiar with and can remember Ag in the Classroom."
He and the committee members, who included Amy Glick, Devon Schott and Mark Farrington, also invited IALF's Hall to meet with them one-on-one to share ideas. In turn, Hall invited the committee to attend a regional workshop of AITC coordinators from northeast Iowa in January, where they learned from those who are already teaching in classrooms, Coppess says.
"From there, we came home, we put together what we thought we needed, what we thought would work for Cedar County. And then we presented that to our next board meeting in February ..., and everybody was just really excited about it," Coppess said.
The committee also worked with Hall to create a job description for a AITC coordinator, which they plan to hire before school starts in the fall.
An AITC model
In addition, the Cedar County Farm Bureau successfully applied for a SHARE grant from the Iowa Farm Bureau to purchase equipment for FarmChat, an educational program that connects students in the classroom to farmers in the field using mobile video technology.
"Cedar County is a model for other counties of how to move forward (with AITC)," Hotvedt says. "They sat down with a commitment that this is what we want to do. They reached out to the Iowa Ag Literacy Foundation. Now they are hiring a coordinator who will focus on getting into schools to gain momentum."
Hall says the IALF offers ready-made lesson plans that comply with Iowa Core standards to help volunteers and staff looking for classroom activities for all grade levels.
"The standards can be overwhelming if you don't have the background in education, but that's kind of what we do. We can interpret that," she adds.
Reaching out to districts
Hall encourages county Farm Bureaus or volunteers interested in expanding AITC activities to reach out to local schools and explain how agriculture can complement whatever they are already teaching — whether it's science, social studies, math or language arts.
"If they know a teacher, a sister-in-law, whoever it is, start there to open the door and grow from there," Hall says.
County Farm Bureaus and AITC volunteers can also contact IALF's Cindy Hall and Will Fett, executive director, for ag literacy ideas — no matter if it's a multi-county AITC program or a one-day community event. Call the IALF at 515-331-4182, or email info@iowaagliteracy.org.
"Here's a group that is ready to help, ready to facilitate this type of thing," adds Coppess. "(The AITC project) was so easy for us to do because of all the support and such that was ready to go, to just know that you can call and ask."
Want more news on this topic? Farm Bureau members may subscribe for a free email news service, featuring the farm and rural topics that interest them most!