Cookout Champion Crowned at 52nd Annual Iowa Farm Bureau Cookout Contest During 'Farm Bureau Day' at State Fair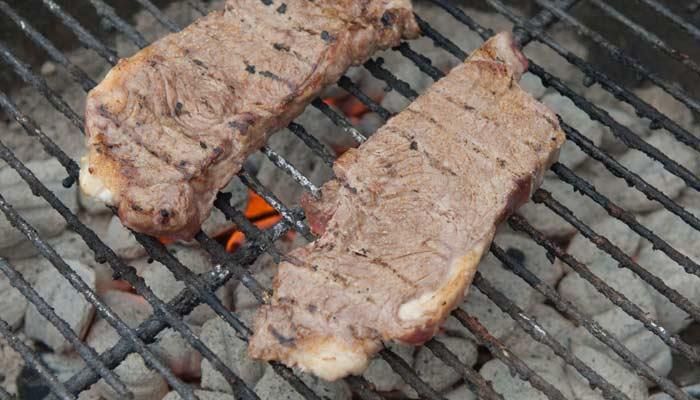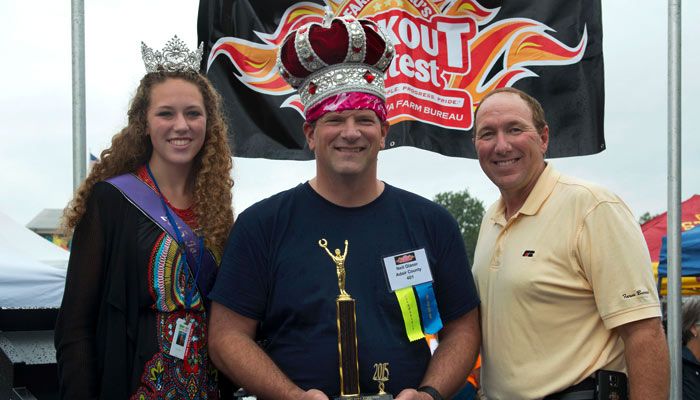 Neil Glaser, representing Adair County, was crowned the 2015 Iowa Farm Bureau Cookout Contest winner. Glaser's winning entry, Neil's Stuffed Pork Loin, beat out 53 other grillers representing counties from around the state, to win the 52nd annual contest, held on the Grand Concourse at the Iowa State Fair. To compete in the Iowa Farm Bureau Cookout Contest the amateur grillers qualified by winning a county Farm Bureau contest in one of eight categories: Beef, Combo/Specialty, Lamb, Pork, Poultry, Turkey, Team, and Youth.
The Iowa Farm Bureau-sponsored contest featured outdoor chefs, with varying levels of experience, using their best grilling, barbecuing and smoking techniques and top-secret rubs and marinades to impress the judges with their dish. Glaser proved that years of experience isn't necessary to take home the top prize by winning the crown in his first attempt. "Oh my gosh, this was totally unexpected," Glaser said after receiving his crown and first-place trophy. "This was the first time we'd entered a county cookout contest and the state contest, so it's very exciting." Glaser's family was in attendance to cheer him on, and following the contest, his wife, Theresa, added, "Our family has always known Neil is a great cook, now everybody knows it."
Glaser won first place in the pork category before being selected by the judges as the contest's overall winner. He received $200, the champion's crown, and a permanent trophy as the 2015 Iowa Farm Bureau Cookout Contest Champion.
Other first place winners and their categories were: Robert Harms of Alden, beef; Steve Heaberlin of Indianola, lamb; Jeff Whitson of Mt. Auburn, poultry; Denny Hanson of Alden, turkey; and Shelana Laing of Clive, combo/specialty. All category winners won $150.
Second place finishers and their categories were: Dawn Richards of Vinton, beef; Nick Siedelman of Linden, lamb; Troy Anderson of Ft. Dodge, pork; Mike Anderson of Murray, poultry; Michelle Bruce of Vinton , turkey; and Andy Wilson of Salem, combo/specialty. All second–place finishers received $100.
Winners in special categories were youth first place – Macy Grein of Wesley and youth second place – Josie Herwehe of Prairie City; showmanship – Jason Kula of Central City; and team –Roger Benton and Louis Ninoit of Greenfield. The youth winner received a gas grill valued at $1,000 and $150; the second place finisher received $100. Youth prizes were donated by the Iowa Propane Association. The showmanship winner received $150. The team winners received $200.
Prize sponsors for the Cookout Contest include: the Iowa Farm Bureau Federation, Farm Bureau Financial Services, GROWMARK, Inc., Iowa Propane Gas Association, Iowa Pork Producers Association, the Iowa Beef Industry Council, the Iowa Turkey Federation, Iowa Poultry Association, and the Iowa Sheep and Wool Promotion Board.

View the 2015 Farm Bureau Cookout Contest recipes here.