Conservation partners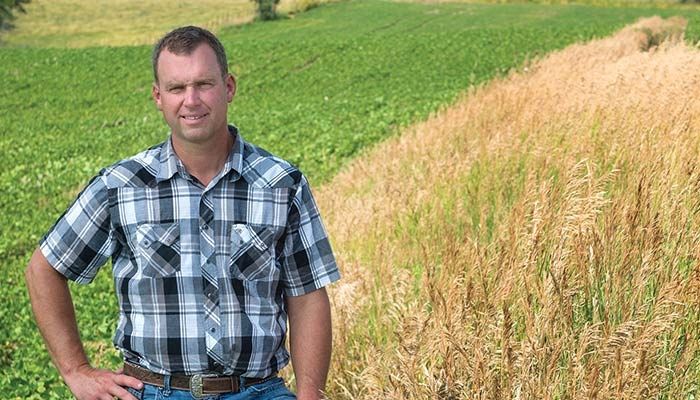 Improving Iowa's water quality and conserving our state's precious soil requires hard work, an innovative spirit and a lot of collaboration among farmers, communities, state agencies, agribusiness and others.
Visitors to Farm Bureau Park at this year's Iowa State Fair will get a first-hand look at how that collaboration is taking shape and making a real difference.
They'll also get a great look at the progress that farmers and others are making by using science-based strategies to improve water quality and save soil.
In addition, fairgoers will also be able to visit with Farm Bureau members who have taken the initiative to plant cover crops, install bioreactors and adopt other conservation practices.
Conservation and water quality are hot items in Iowa agriculture. Farmers from every part of Iowa are taking the initiative to improve water quality in collaboration with agribusiness, Iowa State University (ISU) and government agencies under the framework of the state's comprehensive plan to improve water quality, officially called the Iowa Nutrient Reduction Strategy.
Those efforts are improving Iowa's water quality and protecting our rich soils, while maintaining the crop production that America and the world needs.
It's an ongoing and continuing process. But Iowa farmers, working with others, have already made significant progress. Here are some of the highlights:
Iowa farmers have sub­stantially changed their tillage and other farming practices in the past decade to conserve topsoil, reduce nutrient losses and improve water quality, according to a recent scientific poll conducted by ISU. The poll also showed that farmers have invested as much as $2.2 billion in the past 10 years to make those conservation improvements.
Iowa farmers planted ap­proximately 472,500 total acres of cover crops in the fall of 2015. That's an increase of 35 percent compared to 350,000 acres in 2014, and up dramatically from less than 10,000 acres in 2009. Cover crops grow during the late fall and early spring, after the fall harvest of corn and soybeans and before the next spring's planting. They have shown to significantly reduce losses of nitrates and phosphorus that could otherwise end up in surface water.
Buffer strips, grass water­­ways and wet­lands, which protect water­ways from soil and nutrients, are also on the rise in Iowa. In fact, Iowa farmers have enrolled more acres than any oth­er state in the federal gov­ernment's targeted, con­tin­uous Conservation Re­serve Pro­­gram. This program helps offset the cost of planting buffer strips and in­stalling other conservation structures.
Farmers' efforts are starting to show results. Nitrates levels in the Raccoon River of northwest and central Iowa have trended lower in the past 15 years despite a significant increase in corn acres in the watershed during that time.
In addition, a new study shows that farmers' conservation and water quality practices in Iowa and other states in the Upper Mississippi River watershed can reduce nitrogen in­puts to streams and rivers by as much as 34 percent and phosphorus by as much as 10 percent.
To learn more about Iowa farmers' water quality and conservation ef­­forts before you head off for the Iowa State Fair, click onto the Iowa Farm Bureau's Conservation Counts website at
https://www.iowafarmbureau.com/conservation-counts
. At the recently updated site, you can find videos, articles and infographics demonstrating how farmers are stepping up for water quality and conservation.
It's a great story, and Iowa Farm Bureau members can't wait to share it with you and your friends at the fair. See you there.
Want more news on this topic? Farm Bureau members may subscribe for a free email news service, featuring the farm and rural topics that interest them most!