Connecting farm to table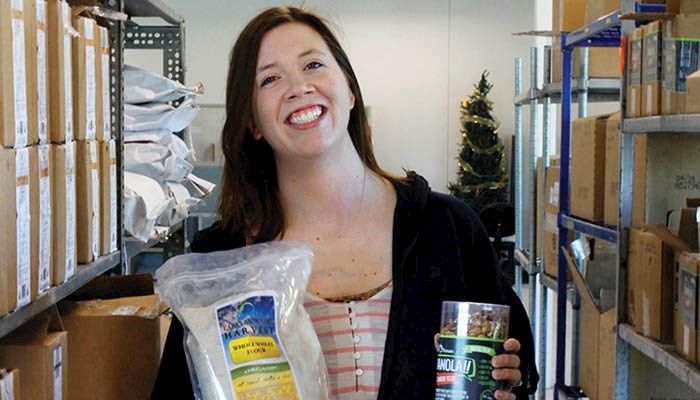 There's a story behind the start of every business. Ellen Walsh-Rosmann of Har­lan is an example of an Iowa entrepreneur who had one of these "a-ha moments" not long ago. In short, she was struggling with the time, energy and cost of delivering product to her customers and thought there had to be a better way to do what she was doing.

"I was a farmer and got tired of driving to Omaha to deliver my sweet corn," explains Walsh-Rosmann. "This is why we started FarmTable Delivery. We want to help farmers scale-up and grow their markets so they can concentrate their efforts on growing high-quality products."

Though the idea initially took shape a couple of years ago, Walsh-Rosmann says they didn't officially start doing business until February of last year. Since then, however, the business has "grown organically," and sales have dramatically increased. In fact, she believes continued growth is definitely on the horizon, especially with the addition of a 6,000-square-foot warehouse facility in Harlan that will allow them to work with more products and keep some inventory on-hand throughout the year.

"We had sales of around $42,000 last year, but this year, sales have already tripled, and year-to-date we're at about $191,000 in sales," says Walsh-Rosmann, who co-owns the business with her husband, Daniel Rosmann.

What's the formula for success for FarmTable Delivery? Well, it's pretty simple: They buy products directly from local growers and producers, add a small mark-up and then sell those products directly to customers in the area, like schools, hospitals, grocery stores, and restaurants. At present, their regular client list includes the Des Moines Public Schools, Gateway Market in Des Moines, a handful of Hy-Vee locations and some restaurants in the Omaha/Lincoln area.

"Our main markets right now are customers in the Lincoln, Omaha, Des Moines and Iowa City areas, so it's mostly cities along the I-80 corridor. We take pre-orders from retail and institutional clients and then fill the orders by sourcing products from local suppliers, most of whom are located within a 200-mile radius of Harlan," explains Walsh-Rosmann.

Presently, FarmTable Delivery works with about 40 different producers, most of whom are from Iowa. And the number of different products they sell goes well beyond the sweet corn that was part of the original inspiration for the current business model.

"We carry a wide variety of products, including tomatoes, popcorn, nuts, flours, apples, green beans, melons, peppers, beef, chicken, pork and even dairy products," explains Walsh-Rosmann. "The biggest demand is usually for fruit, so I'm always looking for more fruit growers. But we've also been selling a lot of eggs lately."

Walsh-Rosmann predicts heirloom vegetables will continue to be strong sellers for them in the future, as will herbs and quality dairy items. Berries are also top-selling items, especially since she said their prices are competitive to what you would pay for products shipped from California.

"What our customers want changes from week to week," explains Walsh-Rosmann, who says she regularly meets with customers to get feedback and keep tabs on what their anticipated needs will be. "We're also getting new inquiries every week, from both producers and potential clients."

In fact, Walsh-Rosmann says it's not uncommon to get calls from people who want to convert hay ground into land for high-value crops, so they contact her to get input on what they should be growing based on current marketplace needs.

"With plans to offer processing and packaging space for small growers to use in our new warehouse, I believe the sky is the limit in terms of growth for us," comments Walsh-Rosmann. "We just want to keep helping producers scale-up and make money."

Yontz is a freelance writer from Urbandale.

Want more news on this topic? Farm Bureau members may subscribe for a free email news service, featuring the farm and rural topics that interest them most!