Collaborations help Storm Lake lead on water quality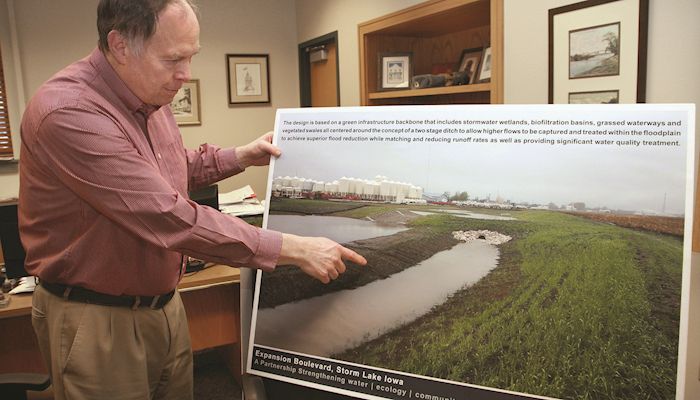 When heavy rains propelled flood waters as high as a car's door handles in parts of Storm Lake a few years ago, James Patrick, city manager, knew something had to be done. What started as a flood control plan has evolved into innovative water quality enhancement strategies that are bringing urban and agricultural interests together.
"Storm Lake is located at the headwaters of the North Raccoon River," Patrick said. "Our goal is to work with the ag community and do our part to reduce the nutrients getting into the water."
This goal took root after Patrick moved to Iowa in 2010 and observed bioreactors, saturated buffers and other conservation practices during a field day at the Smeltzer Farm southeast of Fort Dodge. "I was so impressed by what I saw," Patrick said. "I want to learn more about how these tools can help meet nutrient reduction goals."
These insights proved invaluable when the Iowa Economic Development Authority chose Storm Lake in 2014 for a pilot project to develop a city-wide plan for improved urban water management.
The process started with studies to identify flood-risk areas in the city and analyze sources of excess nutrients in the water.
Dealing in facts, rather than emotion, is essential for improving water quality, Patrick said. "Partnerships are also vital, because rural and urban communities are in this together. It's not city water or ag water; it's all our water."
Green infrastructure
Storm Lake's city-wide plan emphasizes green infrastructure practices that mimic natural processes and can be replicated and scaled to any size city. This "green infrastructure toolbox" includes:
Bioreactors: Storm Lake has installed three of the 53 bioreactors in Iowa, and the results are impressive. "We've seen a bioreactor remove 45 percent of the nitrates coming off agricultural land in the area," Patrick said. One bioreactor is located on the northwest side of town near a sports complex and treats water from approximately 560 acres, while two additional bioreactors are located near the airport southwest of town.
Bioretention cells: These structures help remove contaminants and sedimentation from stormwater runoff. "Bioretention is a fancy name for a farm pond," said Patrick, who noted that one of Storm Lake's bioretention cells is located on the golf course.
Around the bioretention cell, water flows through a "shelf" of land containing 80 percent sand and 20 percent iron filings before entering the cell. As the iron filings rust, the rust helps remove about 95 percent of the phosphorus in the water. "These bioretention applications have helped tremendously to improve water quality," said Patrick, who added that the iron filings have no oil residue and are projected to last 25 to 30 years.
Permeable paving: The permeable pavers installed around Storm Lake's municipal building help prevent ice buildup, which means less salt is needed in the winter. This not only helps the city save money in the long run but helps protect water quality, Patrick said.
Naturalized swales: These areas are strategically-placed ditches that help manage runoff before the water is discharged into the stream. The swales are planted with prairie plants that can take up nutrients and withstand drought conditions, making the swales fairly low maintenance.
All these nutrient reduction efforts have allowed Storm Lake to participate in a pilot program to create Iowa's first water quality credit-trading program. "I think there's value in trading nutrient credits," Patrick said. "We want to be a national leader in this new opportunity."
Working with farmers
Storm Lake has also hosted "reverse field days" so farmers, soil and water conservation groups and others can see the progress that's being made in the city.
In addition, Storm Lake is heading up the North Raccoon River Watershed Management Authority. The group includes farm organizations, county and city officials, the Department of Natural Resources, and local soil and water conservation districts that are working together to see what can be done collectively to protect Iowa's water quality.
"Storm Lake is a leader in working collaboratively to make water quality improvements," said Bill Northey, Iowa's Secretary of Agriculture. "The mayor and city manager have been extremely proactive in reaching out to a broad cross-section of the community, including farmers, landowners, agribusinesses, homeowners, the business community and others. I truly believe that when we work together, we can make significant progress on this important issue."
Cities across America and around the globe are interested in learning more about Storm Lake's water quality improvement efforts. In 2016, the International City/County Management Association showcased Storm Lake's innovative strategies during a meeting in Kansas City, Patrick said.
"There's growing excitement from cities about adopting commonsense strategies and being part of the solution for improving water quality."
Maulsby is a freelance writer in Lake City.
Want more news on this topic? Farm Bureau members may subscribe for a free email news service, featuring the farm and rural topics that interest them most!