Collaboration, education key to water quality efforts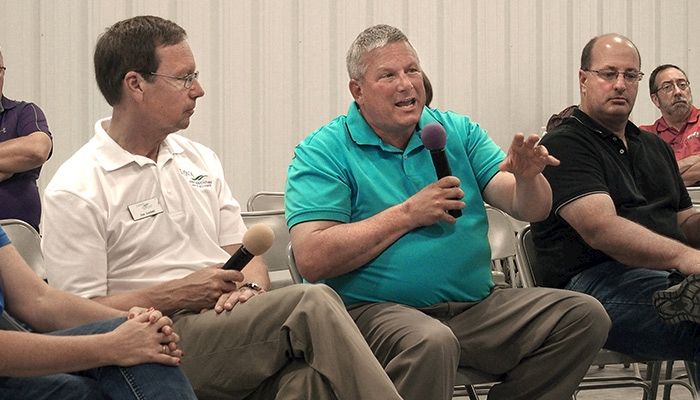 As farmers look to improve water quality in the state, partnerships and education are key, farmers and other leaders said last week at a field day in Rembrandt.
Leaders of the Headwaters of the North Raccoon River Water Quality Initiative Demonstration Project in Buena Vista and Pocahontas counties gathered to celebrate one of the original Iowa Water Quality Initiative demonstration projects funded by the Iowa Legislature to help implement the Iowa Nutrient Reduction Strategy.
Since the project was organized three years ago, the U.S. Department of Agriculture's Natural Resources Conservation Service (NRCS) be­­gan the Regional Conservation Partnership Program (RCPP) to help the federal government fund these state and local watershed projects, which were mostly focused on nutrient reduction.
The Iowa Department of Agri­culture and Land Stewardship (IDALS), with the leadership of the Iowa Agricultural Water Alliance, applied for RCPP funding to match with state and local funding to help project partners further implement conservation practices that reduce nutrient loss.
The NRCS awarded $9.5 million to Iowa earlier this year to help the state further implement its Iowa Nutrient Reduction Strategy in the headwaters of the North Raccoon River Water Quality Initiative Demonstration Project and other similar state projects.
Gaining momentum
In the four years of the Water Quality Initiative (WQI), more than 9,440 farmers have tried water-quality practices that have protected more than 932,000 acres of farmland, according to officials.
Iowa Secretary of Agriculture Bill Northey said cover crops and other projects are gaining momentum in the state.
"We had more people sign up for first-time users of cover crops this year than we had any of the previous four years. We had over 900 farmers. That tells me we have momentum," Northey said. "Folks are trying to engage. Folks are doing this for the long-term. So we're excited to see that."
Mike Ehlers, a farmer near Rembrandt, added cereal rye cover crops to his corn-on-corn acres just last year. As a hog farmer, he's also looking at ways he can apply liquid hog manure to his ground without disrupting the cover crops.
"The unique thing about hog manure is how do you terminate (cover crops) in the spring and how do you make the (manure hauling) rigs not destroy it in the fall," Ehlers said.
He's been working with low-disturbance manure equipment to utilize the hog manure from the farm while implementing cover crops and growing corn.
"We're trying new cover crops, learning a lot and learning things that don't work … We're using cover crops and strip tillage and tying it in with the low disturbance hog manure," he said.
Buena Vista County Farm Bureau member Kevin Jesse, a farmer near Storm Lake, is in his sixth year of planting cover crops. "For me, it's been a huge learning curve," Jesse said. However, conservation has been a natural fit for the family's farm, he said.
"It's been kind of a natural progression," he said. "My dad and uncle did reduced tillage in the '70s and '80s, and we're moving to filter strips to improve our soils."
Nitrogen management
One of the biggest learning curves on the farm has been nitrogen management, Jesse said.

"My opinion is that one important issue you need to address is nitrogen management. If the cover crop is doing its job, it's holding up the excess nitrogen," he said.
Sarah Carlson, Midwest cover crop research coordinator for Practical Farmers of Iowa, said that's been a big challenge for cover crop users. Research shows corn planted into cover crops may need a shot of starter fertilizer in the spring.
"Nitrogen is a really big issue. We're not saying (apply) more fertilizer. We're saying move some of that nitrogen from the fall application to the planting window," she said.
Farmers are also trying to figure out the best ways and techniques to get their cover crops established, she said.
"Drilling is the most consistent stand you can get, (but) we're really busy in the fall and might not have access to a drill or labor during harvest. So we need to tweak our plan and either prioritize our early soybeans for drilling those fields or getting a high-boy or a plane or use a mix of options to get it established correctly or more consistently," she said.
Terminating the cover crop ahead of planting corn has also been a challenge for farmers, Carlson said. "We are so anxious to plant in April, and it is cold and herbicide doesn't work on rye. We have to be really patient in the spring if we're going to do rye before corn," she said.
Promising effects
However, farmers said they are noticing some promising effects of planting cover crops, including better water infiltration and weed suppression.
This year, it appears that the use of cover crops may have helped to combat some sudden death syndrome in soybeans. Carlson said Practical Farmers of Iowa will be doing more research in collaboration with Iowa State University to confirm the link.
Seeing more momentum for cover crops is promising, Northey said. And the infrastructure surrounding the practice will need to build to support the practice, he said. "We have a momentum around cover crop use that is very visible … That infrastructure needs to build because I think that momentum will continue to grow," he said.
Carlson said the demand for cover crop seed is great in Iowa.
"For 12 million acres of cover crops, we need 400,000 acres of seed production," she said.
Want more news on this topic? Farm Bureau members may subscribe for a free email news service, featuring the farm and rural topics that interest them most!