Cherish the experience at Wapsie Pines Tree Farm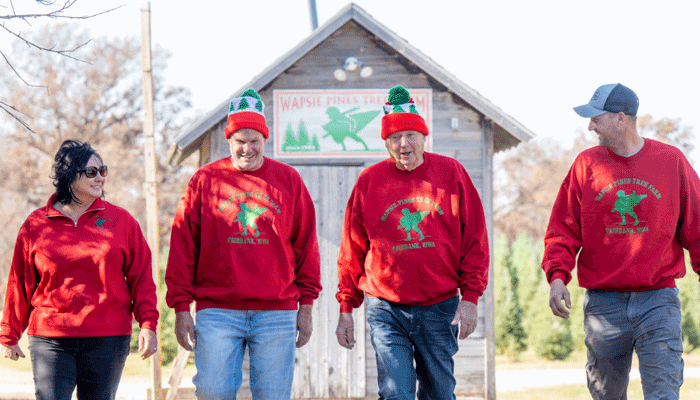 Bob Moulds chuckles as he recalls some of the memorable moments he has witnessed over the years on his Wapsie Pines Christmas Tree Farm in Bremer County near Fairbank.
"We've had some crazy stories," he said.
It's common for a group to drive in their first time at the farm looking to cut down that perfect 6-foot tree. "That's what they want, a six-foot … then they'll bring back an eight-footer," he laughed. "They don't look that big in the field."
Then there was the time a family's 4-year-old twins were worried there wouldn't be any goodies because it hadn't yet snowed. "The only reason they wanted to come out was to get the cookies and hot chocolate," he said.
By far the wackiest tale "is almost hard to believe," Moulds said. It was roughly eight years ago when a customer stopped in the shop after searching for their special tree on the farm and let the staff know she had lost her diamond ring somewhere out on the 27-acre ridge.
"We took her name and number and promised to notify her if somebody should find it," Moulds said. "The very next day, a lady comes in and said, 'Hey, I found this ring in the tree.' It was literally inside the tree.
"While looking over the tree, she was pulling some limbs back and saw a ring just sitting on the limb of the tree."
Moulds called the owner to relay the good news. "She was really excited … couldn't believe it," said Moulds.
It's been 42 years since Moulds first decided to plant Christmas trees on his northeast Iowa farm, developing from a few acres of Scotch and White pines to now nearly 35,000 trees that also include Fraser, Concolor and Canaan Firs. 
A labor of love that began as an eventual retirement income project, Wapsie Pines has grown to become one of the more popular and larger tree farms in Iowa.
Coupled with his son Danny's Kris Kringle Christmas Tree Farm in Cedar Falls, the two have more than 60,000 growing trees, and each has become a family destination spot from November's Black Friday through mid-December each year.
"The whole deal for me is to produce a quality tree," said Moulds, "and provide the experience for the families who come each year."
Making family memories
Visitors to Wapsie Pines are in for a treat. From cutting down a special tree to take home and decorate to sharing that memorable gift request in front of the fireplace with Santa Claus or sitting by the firepit sipping hot cocoa and munching on sugar cookies, there's something for the entire family.
Small sheds have been transformed into Santa's Village, with shops for perusing garland, wreaths, Christmas arrangements and crafts for sale.
"This will be all lined with wreaths," Moulds said pointing out one of the sheds one day in early November.
With 15,000 to 20,000 visitors annually between the two locations, the tree farms are some of the busiest in the state. Wapsie Pines expected to sell upwards of 600 trees on Black Friday alone. During the 17 days Wapsie Pines is open through November and December, customers will snatch up 1,000 wreaths and nearly 3,000 feet of garland, all made from trees on the farm.
On the first day, around 30 gallons of hot chocolate is usually distributed. For the season, 600 dozen cookies come fresh out of the oven for the visitors.
"There is a parade of cars coming in," Moulds said, and traffic will stretch for a mile in each direction on the first day, lining up at 7:30 a.m. for opening at 9 a.m. "Grandma, grandpa, their kids and the grandkids will all come out to pick one tree, take photos. It's the experience.
"We've got third-generation families buying trees."
Bob will dress up in his red suit and hat and direct traffic. Those who have been to the farm before are provided a saw and guided to the location to find their favorite tree. Newcomers have the chance to view a display, a sample of each variety of trees, to see which tree will be best for their needs before heading out.
Fir trees have become the most popular. "They're now 60-70% of our sales," said Moulds.
Twenty-five employees support the effort during the busy sales time, from selling and bundling the trees to handing out hot chocolate or making wreaths and garland out of the 400 trees used just for greenery each year.
Farm sees steady growth
Moulds, now in his 70s, retired at age 59 after a successful career with John Deere, where he worked on everything from developing tractors and service to managing worldwide tractor engineering as vice president of corporate engineering.
All the while, he was a weekend warrior, managing the tree farm he began growing in 1980 by planting 3,000 initial trees.
"We had soil that wasn't good for anything, and I thought we could do a nice job of raising trees," Moulds said. "It was going to be about a 10,000-tree farm, but it just kept growing, adding a little more ground.
"We sold the first trees in 1986, just a handful … 20 trees, and we basically doubled our sales every year until we got up to 1,500." Now the annual sales top 2,000 trees, he said.
His engineering background helped on the farm, where he and his family also grow row crops. Moulds bought 100 acres in 1971 and now has 450 acres in total, with 27 acres dedicated to the Christmas tree farm located along the Wapsipinicon River. 
His son Dustin farms corn and beans along with Bob's brother, while son Brian and his wife, Susie, work on the tree farm and are set to take it over in the future. Son Danny owns and operates a successful landscaping business in Cedar Falls along with the Kris Kringle tree farm.
"Because this farm was getting bigger and bigger, we geared everything to be very efficient and very fast," he said. "We plant 4,000 trees in two days with a crew of 10."
Seedlings come from Michigan, Ohio and Indiana and planting gets underway the first half of April. The rule of thumb is to plant 2 to 1, meaning of the 4,000 planted, about one-half will be salable. Drought, disease, insects or deer may get to the others, and some are earmarked for greenery.
They shape the trees each year and mark and tag those that have reached the applicable height for sale.
Keeping the weevils, Pine Needle Scale, spider mites or Zimmerman Pine Moth away are challenges, as well as weed control, fertilization and drought. 
They were fortunate this year to get timely rains in a state seeing extreme drought. "This was the garden spot of Iowa … We got rains when we needed them," Moulds said.
Savoring the holiday season
He gets excited this time of year as the fall air turns crisp and the holiday season arrives. Every day he'll take his new lab puppy, Max, on a stroll through the tree trail. "I try to walk two-three miles per day," he said. If it's snowy, he'll push the snowblower up the trail and clear it off for the walk.
It's a calm and peaceful scene, where you may glimpse a deer bounding through the trees, that has evolved over the years into an extraordinary spot beloved by many. 
Moulds estimates 90% of his visitors are repeat customers.
"It's a great tree farm," he said. "People do love this place."
And as for the secret to picking the best tree? Moulds said there really isn't one. Everyone has their favorite selection, and he welcomes new and repeat customers.
"It's all in the eye of the beholder," he said.
Want more news on this topic? Farm Bureau members may subscribe for a free email news service, featuring the farm and rural topics that interest them most!