Celebrity judges hungry to showcase Iowa chefs at 53rd annual Iowa Farm Bureau Cookout Contest at the Iowa State Fair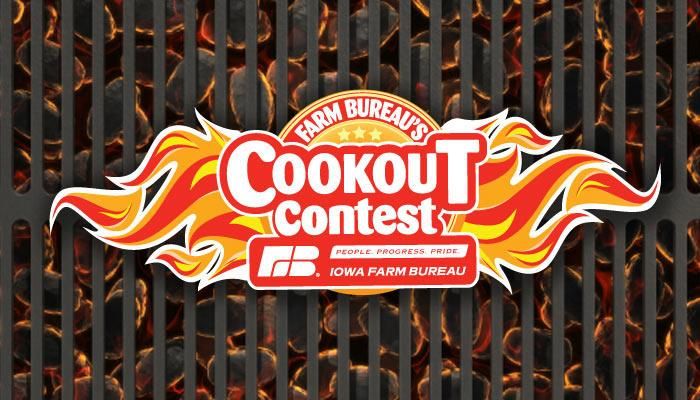 Americans consume 34 million tons of meat each year, according to a study from the Earth Policy Institute, so the 53nd annual Farm Bureau Cookout Contest is set to draw quite the crowd again when it heats up the Iowa State Fairgrounds with individuals coming from all corners of the state to vie for the coveted title of 'Iowa State Fair Cookout Champion.' Iowans who have won their county cookout competitions will head to the Grand Concourse, fire up their grills and stoke their smokers to put their rubs, marinades, sauces, and recipes to the ultimate test on Tuesday, August 16, as celebrity judges Ed Wilson and Susan Stapleton sample the competition.
Ed Wilson, Chief Meteorologist from WHO TV 13, an Iowa State Fair staple and Iowa Farm Bureau Cookout Contest judging veteran, happily returns for his third annual competition. "Like a lot of Iowans, I've always been a big fan of Iowa livestock farmers and all the work they do to bring those choices for us all at the meat counter; my family loves just about anything on the grill, so I also use this as a learning opportunity to pick the brain of some fun chefs and take home some smoker tips or a new grill recipe or two. My kids love to try something new!" says Wilson.
While Susan Stapleton, Des Moines Register Dining Reporter, may be a new judge at this year's cookout contest, she's certainly not new to the food and dining industry. The University of Iowa grad and Eldridge native is an expert in evaluating the grilled, smoked, rubbed, marinated, wood-roasted or barbequed best of what Iowa chefs have to offer. Stapleton's resume is a mile long with reviews and stories from culinary styles sampled across the United States.
Grilling and smoking meats is growing in popularity, not just in Iowa. According to the Heath, Patio, and Barbecue Association (HPBA), 37 percent of U.S. adults will purchase a new grill or smoker this year alone and Iowa Farm Bureau Bioeconomy Manager and cookout contest coordinator, Denny Harding says this is why the contest always brings crowds to the State Fair. "With the Spring 2015 Iowa Food and Farm Index showing that 4 of 5 Iowans eat beef at least weekly, in addition to a variety of other meats, I am once again expecting a large turn-out in individuals looking to sample these quality meats produced by Iowa farmers. Like me, State Fair-goers also like to snag some recipes, or steal some tips and tricks that they can take home," said Harding.
Another big draw; in addition to the title and the crown, the contest has cash prizes and once again, the winner of this year's youth division will get to take home a gas grill, donated by the Iowa Propane Gas Association (valued at $1,000). So, Iowans who want to spice up their Iowa State Fair Experience still have a limited time to get involved; three county cookout contests still yet to come each feature opportunities to enter in six different meat categories. For inspiration, here are last year's winning recipes!