Celebrity judges fired up to meet Iowa's 'Master Grillers' at 54th annual Iowa Farm Bureau Cookout Contest at the Iowa State Fair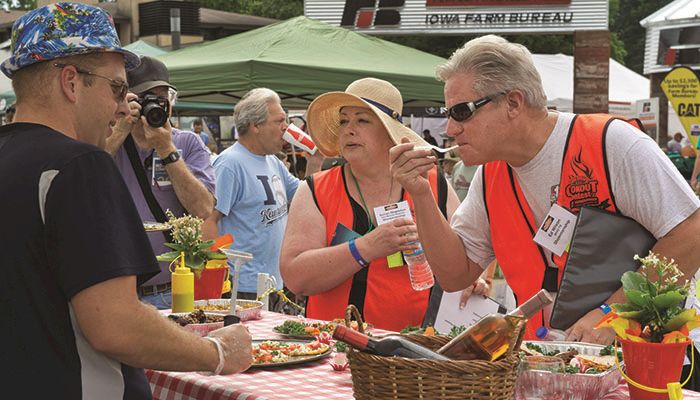 Pork, beef, chicken, lamb, shrimp, fish—in Iowa, family farms raise it all. On Tuesday, August 15, celebrity judges will get to sample the best of the best of these homegrown meats as amateur chefs from Iowa put their culinary skills to the test during the 54th annual Farm Bureau Cookout Contest at the Iowa State Fair.
As local county cookout champs compete using their secret spice blends, hand-crafted marinades and specialized grilling or smoking techniques, WHO TV 13's Ed Wilson, KCCI's Eric Hanson and Des Moines Register's Kyle Munson and Brian Taylor-Carlson will be making their rounds, visiting the chefs who are vying for the title of 'Iowa State Fair Cookout Champion.' Celebrity judges will join a team of food judging experts to name this individual as well as select a winner in each meat and specialty category. Winners receive cash prizes and the winner of the youth division will be the proud recipient of a $1,000-valued grill from the Iowa Propane Gas Association.
For WHO TV13 Chief Meteorologist Ed Wilson, this will be his fourth time judging the Iowa Farm Bureau Cookout Contest, but it will be a 'first' appearance at the Farm Bureau Cookout Contest for KCCI news anchor and feature reporter, Eric Hanson. Hanson, an Iowa farm boy and former 4-H'er, is familiar with Iowa's agricultural landscape and the hard work that goes into growing the food we eat.
Des Moines Register columnist Kyle Munson, also an Iowa native and rural Iowan, is known for traveling the state to share the life stories of inspiring Iowans. Register food and dining reporter, Brian Taylor-Carlson, is no stranger to the good eats Iowa has to offer, and he also claims to love grilling at all times of the year.
The fun isn't reserved just for celebrity judges. State fair-goers are invited to the Grand Concourse to take in the sights, samples and recipes from cookout competitors.
"Even though this is the 54th year of our cookout contest, the talents and creativity of fellow Iowans continues to amaze and inspire," says Iowa Farm Bureau Bioeconomy Manager and cookout contest coordinator, Denny Harding. "There is no better way to learn about affordable meat cuts and get new ideas and recipes for your family table than by engaging with this talented pool of fierce competitors. You don't want to miss it!"