Celebrating water quality progress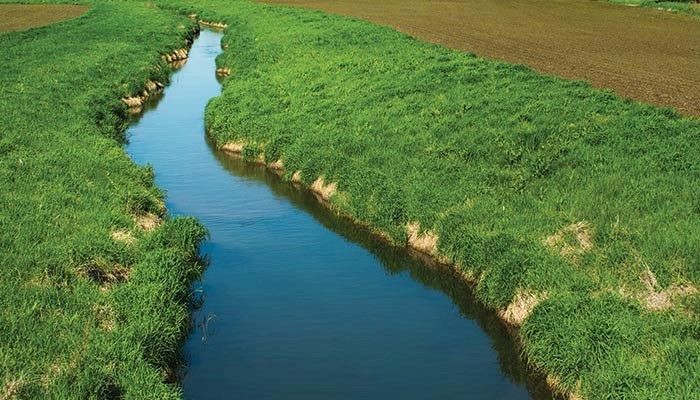 Iowa Gov. Kim Reynolds, along with state agricultural and conservation leaders, last week celebrated the five-year anniversary of the state's ground-breaking water quality initiative and vowed to continue building on its strong foundation.
"Using the strategy as our road map, we are going to continue charging forward with our efforts to improve water quality," Reynolds said at a ceremony held at an Iowa State University (ISU) research farm near Ames. "We are very excited about the future. We have the right plan, we have significant funding in place, and we have tremendous teams in place that are dedicated to working on this critical issue."
The science-based water quality initiative, officially called the Iowa Nutrient Reduction Strategy (NRS), was launched in 2013 to assist farmers, communities and industry in efforts to improve Iowa's water quality. The strategy is designed to reduce losses of nitrogen and phosphorus from both point sources, such as municipal and industrial wastewater treatment plants, along with non-point sources, such as farms and urban landscapes.
The key to the success of the Water Quality Initiative, said Iowa Agriculture Secretary Mike Naig, is that it encourages collaboration among farmers, communities, businesses and others to improve water quality. "We are very encouraged by the engagement we've seen across the state on water quality," he said.
Naig noted that there are many signs that farmers and communities are taking on the challenge of improving water quality.
The strategy also includes a comprehensive progress measurement component — called the "logic model" — to help track actions that will lead to long-term water quality improvements. It has documented that over the past five years, some 8,000 Iowa farmers, including nearly 4,600 first-time users, signed up to use a water-quality-focused practice. Those farmers invested more than $17 million of their own money to try cover crops, no-till, strip-till or a nitrification inhibitor on their land, he said.
Another signal of progress is the rising number of cover crop acres in the state, up 22 percent in 2017 at 760,000 acres, he said.
"I want to thank all of the farmers who are making a significant investment at this challenging economic time to implement water quality practices," Naig said.
There has also been significant progress by cities and industries about reducing losses of nitrogen and phosphorus, Naig said. Water monitoring systems have improved by utilizing "real-time" sensor technology for nitrogen and turbidity that allows for a much more accurate and precise accounting of statewide nutrient loads, he said.
Praise from EPA
Iowa's approach to improving water quality was praised by Jim Gulliford, Region 7 administrator for the Environmental Protection Agency, who also spoke at the fifth-year anniversary ceremony.
"Iowa got it right," he said. "They started with the science assessment to determine which practices farmers could use to reduce nitrogen and phosphorus loss. They built the strategy around that science with the ag community and also worked on the funding.
"That order (of) the progression is exactly what all states should be doing."
Both Reynolds and Naig highlighted the passage of Senate File 512, which provides more than $282 million for Iowa water quality efforts over the next 12 years. The measure, which was strongly backed by Farm Bureau, will offer the secure, long-term and dedicated state funding that is necessary to support Iowa farmers' efforts to advance conservation and water quality, they said.
Want more news on this topic? Farm Bureau members may subscribe for a free email news service, featuring the farm and rural topics that interest them most!