Celebrating a farm legacy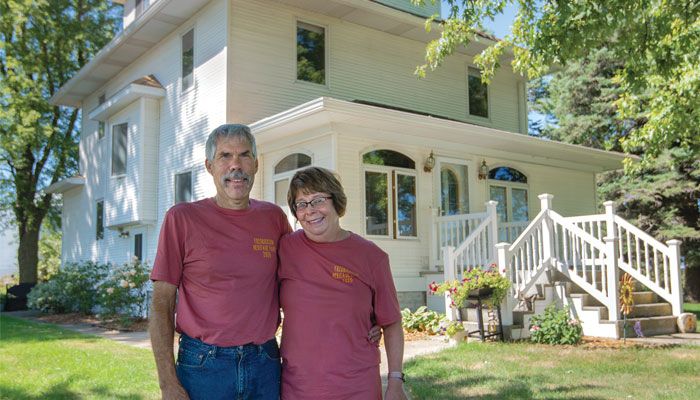 John and Dawn Fredrickson are celebrating their 40th wedding anniversary. Their house also reaches the century mark, and not to be outdone, the family's acres in Webster County join the elite list of Heritage Farms in Iowa, those farms passed through the same family for 150 years or more.
"Holding onto something this long, it's really a big deal, it's really special to our family," John said last week.
In a normal year, the Fredricksons would be honored at the Iowa State Fair along with other heritage and century farm recipients. That's not happening this year due to COVID-19, but John said if they waited 150 years already, he guesses they can wait one more.
"We want this to be a celebration, to see friends and get the family together, so we'll wait until 2021 for that," he said.
The Century and Heritage farm awards are co-sponsored by the Iowa Farm Bureau Federation and the Iowa Department of Agriculture and Land Stewardship.
John and Dawn were married in 1980 and moved out to the family farm the same year when his grandfather, Quintis Fred rickson moved to town.
John tracks his family back well before they bought the first 80 acres in 1870 from the Iowa-Missouri Railroad Company — all the way back to Sweden.
In 1870 Gustav Carlson bought the initial plot and built a house after immigrating to New York, then living in Illinois for a time. After a few months of living in Webster County, a property inspector informed Gustav that he had built his house on an adjacent 80-acre plot. He could tear down and rebuild on his own land or buy a second 80 acres from the railroad. By 1871, the Carlsons owned 160 acres of prime Iowa marshland.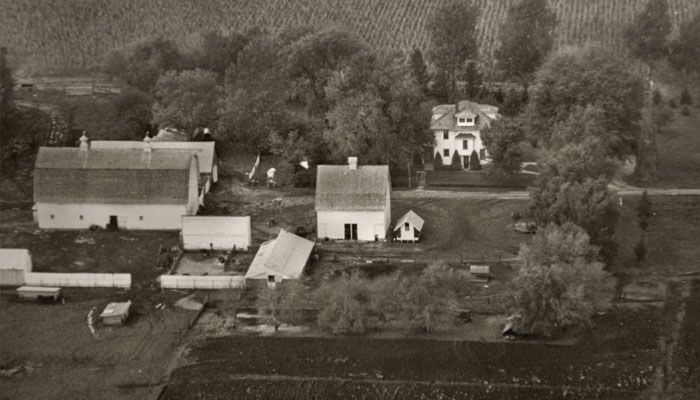 (Photo above: An aerial view of the Fredrickson farm from the 1950s. John Fredrickson tracks his family farm in Webster County back to the first 80 acres that Gustav Carlson bought in 1870 from the Iowa-Missouri Railroad Co. SUBMITTED PHOTO)
John explained that it took his ancestors many years to drain the region and turn it into the high-quality farmland it is today. Before the area was settled, it had a lot of wetlands and marshes, was treacherous to travel and had no roads or railroads came through until several years after the Carlsons homesteaded the farm.
The Carlson to Fredrickson line took ownership of the farm first to Gustav's brother, Carl Carlson. Carl was eventually joined on the farm by his nephew, Quintis Fredrickson.
Quintis and John's father, Duane, worked together for many years and built a lot happy memories into John's childhood.
"Growing up, I always loved going to grandpa and grandma's house," John said.

He recalled the variety of livestock kept by Quintis over the years, from chickens, horses and sheep, to milking shorthorn cattle and hogs. In fact, John said he remembers hearing stories about when the family lost their hogs to lungworms in the 1950s. The parasite got into the soil and killed off the animals each time a new herd was brought in.
"I think that's one of the big changes in my lifetime," John said. "It used to be you did a little of everything on the farm. Now we're so specialized."
John works exclusively in row cropping now, rotating corn and soybeans. His crops are mostly used for ethanol and animal feed production, instead of directly feeding the family or folks in town.
But it's also been a very good life on the family farm. John and Dawn raised their children, Morgan and Eric, in the same house his grandfather built. Now Morgan's daughter Macy, 5, gets to experience the same thrill John did of coming out to the farm, running around the backyard, down to the root cellar and out to the edge of the fields.