Calling all backyard chefs and grillers! Sign up and compete to win coveted Farm Bureau Iowa State Fair Cookout Contest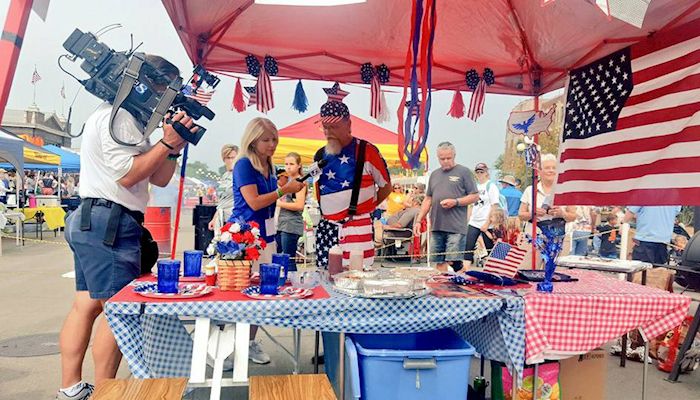 In 2018, Iowa Farm Bureau Federation (IFBF) turns 100 years old, and for more than half of the farm organization's existence, Iowans have come from all corners of the state to compete in the Farm Bureau Cookout Contest at the Iowa State Fair. State Fair-goers can join in the sights, smells and fun as Iowa's best backyard chefs take over the Grand Concourse on Farm Bureau Day at the fair, Tuesday, August 14th, to try and win this 55th annual culinary contest.
The contest brings together backyard grillers from across the state, who whip up their signature dishes in the categories of pork, beef, lamb, poultry, turkey and combo/specialty. Winners have advanced from their county contests, to compete for the top prize at the State Fair. (For a listing of upcoming county contests, check out https://www.iowafarmbureau.com/Article/Iowa-Farm-Bureau-Cookout-Contest). At the State Fair, chefs compete in each meat division as well as in showmanship and team to win cash prizes. In the youth competition for ages 13-18, the champ will receive a $1,000-valued grill from the Iowa Propane Gas Association. Contestant recipes will be judged by meat industry experts, Iowa-based chefs and local celebrity judges.
"One hundred years ago, Iowa Farm Bureau played an integral role in securing food during the first World War. During this time, items like meat were not commonly seen on the dinner table because it was often sent overseas to feed our soldiers," said Iowa Farm Bureau Bioeconomy Manager and cookout contest coordinator, Denny Harding. "Now, this year, economists say Americans will eat more meat than ever, and with the diverse way today's livestock is raised, Iowa farmers can provide far more choices for their customers to enjoy. The Cookout Contest is all about celebrating those choices, the affordability of meat and the many delectable ways we enjoy real meat products."
Some of last year's dishes include a pineapple flank steak, bacon-wrapped shrimp, gyro nachos and orange marmalade glazed pork chops. State fair-goers are invited to follow their nose to the Grand Concourse, between 9 a.m. and 11:30 a.m. on Iowa Farm Bureau Day at the Fair, to watch these amateur chefs at work as well as sample recipes. For more information on this event, visit
https://www.iowafarmbureau.com/Article/Iowa-Farm-Bureau-Cookout-Contest.