Building a conservation-based business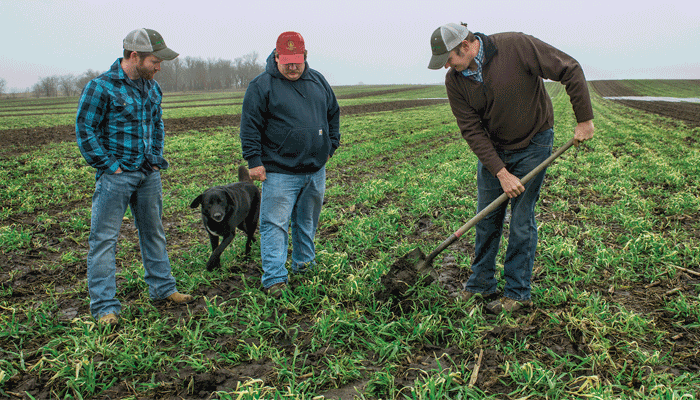 Sitting in a small office in a former soybean seed cleaning facility, Iowa Cover Crop owners Bill Frederick and James Holz ponder their role in helping reduce nitrates flowing into the Gulf of Mexico.
The two Greene County Farm Bureau members have seen their business take off as Iowa farmers increase the acres planted to cover crops each year. They started the company around the time the Des Moines Water Works filed a lawsuit against three western Iowa drainage districts over water quality concerns.
Frederick and Holz, who both raise corn, soybeans and cattle in the Raccoon River watershed, saw cover crops as a way to reduce nutrient losses from their farms and provide a visible sign of how farmers are working to improve water quality.
"I think we can work together and find solutions," said Holz. "Cover crops and clean water are something everybody can agree on. I get excited about that, just because there's so much written on the urban-rural divide. Cover crops can help bridge that gap."
Tip of the iceberg
Frederick and Holz say cover crop usage in Iowa has the potential to grow five or tenfold, especially if carbon sequestration benefits are considered along with water quality and soil health. 
"We are optimistic that we are at the tip of the iceberg," said Frederick. "There's so much room for growth."
U.S. farmers planted around 15 million acres of cover crops in 2017, an increase of 5 million acres from five years earlier, according to the USDA ag census. A survey of agricultural retailers and certified crop advisors shows that Iowa farmers planted more than 2 million acres of cover crops in 2018 and nearly 2.2 million in 2019. So there is clear room to grow more as farmers become more comfortable with the practice, Holz said.
"Iowa can do 10 million acres of cover crops just on rotation before soybeans," he said. "If this takes off, there's going to need to be more companies like ours."
When they started Iowa Cover Crop in 2014, Frederick and Holz aimed to "take the hassle" out of seeding cover crops. They are a full service provider, starting with helping their customers choose the right cover crop for their farm, ordering seed and following through to planting. 
Building capacity
They've grown from bagging seed with an auger and John Deere tractor in a corn crib on Frederick's farm to leasing a former soybean seed cleaning facility and warehouse in Webster County, where they moved 150,000 bushels through last year. 
They said the facility is a key part of the logistics needed to get rye and oats that are harvested in July cleaned, bagged and ready for planting just a few weeks later.
"It's such a short window in cover crop season. Everybody is fighting for cleaning space," said Frederick. "Ninety percent of our rye and oats are out by the second week of September."
Much of their rye cover crop seed is purchased from growers in northern states, where quality and germination rates are more consistent. However, they said Iowa Cover Crop purchases most of its oats from farmers in a 30- to 40-mile radius of their business, providing a viable third crop option for area farmers other than corn and soybeans. 
Frederick and Holz also plant cover crops on every acre of their farms, even on acres rotated to corn. 
"We're not scared," said Frederick. "We're getting some more studies showing there's a huge difference between first-year guys and veteran cover crop users. It's all just managing it properly."
Learning what works
Their experiences have helped them learn what works in central Iowa and pass that knowledge along to their customers.
"We talk a lot about what hasn't worked for us," said Holz. "The beauty of our seed shed is if we have leftover seed, we try it on our farm. We see what doesn't work. We can point guys in the right direction and tell them what they need to do to be successful."
Iowa Cover Crop won the 2021 Iowa Farm Bureau Grow Your Future Award, which highlights innovative agriculture start-ups in niche markets, agritourism, ag services or specialty products. It provides an opportunity for entrepreneurs to pitch their business and compete for cash prizes to expand their business. 
"From a small business standpoint, you can't buy that kind of exposure. That's pretty valuable for a young business," Frederick said of winning the contest.
"We get customers if they're aware of us," Holz added. "That's why this award is so important. It increases our brand recognition."
Carbon sequestration
While water quality was the initial selling point for cover crops, Holz and Frederick say carbon sequestration provides a new potential revenue-generating source with major companies paying farmers to offset their greenhouse gas emissions. Studies show practices pairing minimum tillage farming with a cover crop creates the potential to increase soil carbon at a rate of 500 pounds up to one ton per acre per year.
"I think conservation can be a profit center," said Holz. "Every company is coming out with an environmental score. Cover crops are going to be part of that." 
Want more news on this topic? Farm Bureau members may subscribe for a free email news service, featuring the farm and rural topics that interest them most!