Bringing FFA back to BCLUW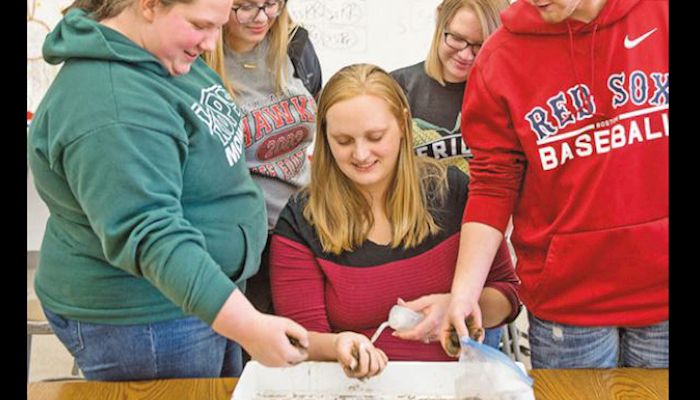 This school year brings a lot of firsts for members of the Beaman-Conrad-Liscomb-Union-Whitten (BCLUW) FFA chapter. It's the first year that the school has a chapter of its own and, subsequently, the first year that its FFA members can slip on their corduroy blue jackets with "BCLUW" sewn in corn gold.
And the students celebrated their first National FFA Week last week with a slate of activities to inspire future students to join their chapter. Students who wanted to be in FFA prior to this either went to Grundy Center or were a part of an online class.
The chapter started when first-year vocational ag teacher Tara Leytham saw that students were interested in having their own chapter.
"When Mrs. Leytham came here to start teaching ag classes (in September 2016), it was very apparent that she also wanted to start an FFA chapter, so we backed her up on that to really get it going," says Elizabeth Emley, the chapter's vice president.
Emley and other students worked with Leytham for about a year to get the chapter established. They came up with an officer team, planned activities to recruit more members and worked within their community to raise funds for the chapter.
The chapter started with about 10 members and has grown to 34 members.
Though a new teacher, agriculture isn't new to Leytham. She grew up on a cow-calf farm and also showed club lambs. She was a part of the East Marshall FFA chapter, but admitted that basketball took up a majority of her time there. "I definitely liked FFA but probably didn't get everything out of it that I would have liked to looking back as an advisor," she said.
She went on to play basketball at Kirkwood Community College while pursuing an ag education degree.
After Kirkwood and Iowa State, she found an opportunity to teach agriculture not only to high school students, but to elementary students as well. Leytham also works part-time with the Grundy County Farm Bureau's Ag in the Classroom program, where she helps teach agriculture to students in the four schools that make up Grundy County.
"Agriculture is something that is near and dear to my heart, so I love teaching it," she said.
Alexa Callaway, a senior at BCLUW and the chapter's president, says she's thrilled to have an FFA chapter at her school. She was one of the students who helped get the chapter established.
"Living in Iowa, I feel like since we are so close to agriculture, it is very important to have something like this offered at our school," Callaway said.
In its first year, Leytham said students are engaged and excited about agriculture. Twenty-two of the chapter's 34 members will participate in contests and activities at the district level.
Callaway and Emley say they're excited, too.
Tremendous growth
"Since we started the chapter last year, the growth has been tremendous, and we are so thrilled with what we have today," Callaway said. One of her favorite chapter events is the farmer harvest breakfast, where the chapter invites the community for a breakfast. It's a way to network with the community and help gain local support, she said.
For Emley, recruiting more students to join the school's FFA chapter is exciting.
"We do that in hopes that they will learn more about our chapter and our program, and hopefully that will spark some interest to add that to their schedules next year," she said.
A key to the chapter's success has been the support from the school district and its community, Leytham said.
"It's amazing. We haven't had an ag program here since 1994 (then Heartland FFA), so the community is excited to have a program of its own again," she said.
With the help of some grants that Leytham has been able to secure, a greenhouse is currently under construction as part of the school's ag program. An aquaponics system is also being built.
The chapter hopes to someday host a farm-to-fork meal, made with everything they produce in their greenhouse and with their aquaponics systems.
But the greatest thing being built, Leytham said, is the level of pride among the chapter's members.
"The level of pride that they show is awesome. Even parents are posting pictures of their kids in their corduroy jackets," she said.
Want more news on this topic? Farm Bureau members may subscribe for a free email news service, featuring the farm and rural topics that interest them most!