Branstad says he's optimistic about water quality funding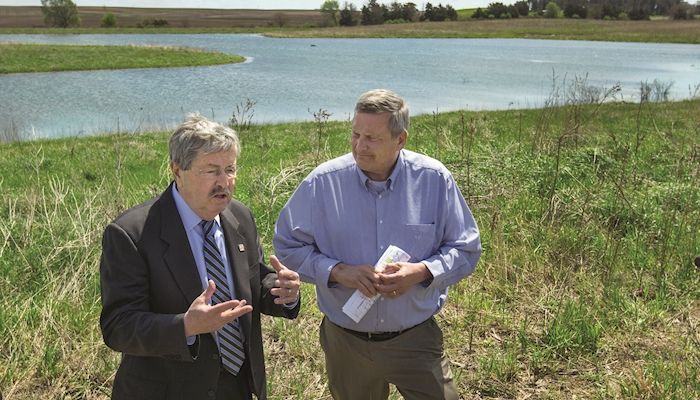 Iowa Gov. Terry Branstad said he's optimistic that Iowa will develop a long-term, sustainable water quality funding program within the next few years to supplement farmers' own efforts to improve water quality and reduce soil loss.
"I'm really optimistic that we'll get to a long-term sustainable solution on water quality funding," Branstad said last week during a press conference at the Iowa State Fair that focused on water quality and soil conservation. "Farmers are making a lot of progress, and they want to see the state stepping up to do its part."
Branstad noted that many major programs, such as property tax relief and education reform, required more than a single session of the Iowa legislature to be hammered out and passed. "Big issues like this always take some time to pass in the Legislature, and I'm hopeful it can happen in the next few years."
The effort to develop long-term state funding for water quality was a major topic in the Iowa Legislature during the 2016 session. Branstad said he expects more work on the effort in the 2017 session.
Summer policy topic
Iowa Farm Bureau delegates will discuss the organization's policy on long-term water quality funding during the 2016 Summer Policy Conference, set for Sept. 7 and 8.
During the last legislation session, Farm Bureau supported a measure, called House File 2451, that would have prioritized existing state funds to create a sustainable funding source to supplement Iowa farmers' own water quality investments.
That bill, which passed the Iowa House in a bipartisan vote but was not considered by the Senate, would have directed existing funds raised from gambling revenues toward edge-of-field and in-field infrastructure, as well as fees Iowans already pay on their water bills toward wastewater and drinking water facilities. The bill was projected to provide between $450 million and $500 million through 2029 to support Iowa's water quality initiative, officially called the Iowa Nutrient Reduction Strategy.
That state funding would supplement farmers' own considerable efforts on water quality and soil conservation. A recent poll Iowa State University showed that the state's farmers have invested as much as $2.2 billion to make those conservation improvements.
Branstad, Lt. Gov. Kim Rey­nolds and Iowa Agriculture Sec­retary Bill Northey praised the progress that farmers are making on improving water quality. "There is such a strong sense of community in Iowa and work ethic, and that's going to be a big part of solving a big issue, like water quality," Reynolds said.
Northey said he was very encouraged by Iowa farmers' response to the latest round of funding to offset a portion of the cost of cover crops and other conservation practices.
"We were concerned because we had already reached so many first-time users of cover crops and other conservation practices. And with the economics in farming today, with corn prices under $3 per bushel, we were concerned that farmers wouldn't want to try new things," he said.
"But we've had as much or more interest in the program than in any of the previous years."
More than 1,900 Iowa farmers from nearly every county in the state signed up for cost-share funds and pledged to put up their own funds to try cover crops and other practices to reduce nutrient losses and improve water quality, Northey said.
"The interest in the program tells me that farmers are taking the challenge to improve water quality seriously," Northey said. "They want to invest, and they want to figure out what works on their farms. And I think a lot of farmers who were in the investigative phase are now ready to try these practices on their own farms."
Want more news on this topic? Farm Bureau members may subscribe for a free email news service, featuring the farm and rural topics that interest them most!