Benton FFA stands out for its range of activities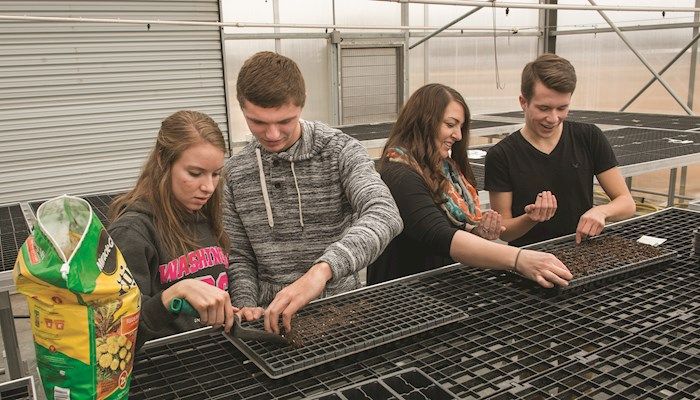 It's difficult for Benton Community FFA members to describe how their chapter stands out from others in the state. But upon discussing the activities they're a part of as an FFA member, it's clear that the sheer number of events the chapter hosts and the diversity of its members separates it from others in the state.
"Some chapters focus on CDEs (career development events) or other activities. We try to be a broad chapter and do everything we can do. Maybe we won't be the best at it, but we try to do as best as we can in as much as we can," said Carl Gerhold, officer-at-large for the Benton Community FFA chapter. Gerhold and his family grow corn and soybeans and raise cattle on their farm.
The chapter, which received a two-star rating from the National FFA Organization in October for its chapter involvement, takes steps to educate and include its increasingly-diverse mix of students in the Benton Community School district.
"We're a lot more diverse now than when I got here nine years ago," said Krystal Wright, the chapter's FFA advisor. "There are more non-farm kids than farm kids involved."
The chapter considers the events and activities which might interest not just the students who are raised on the farm, but also those students who don't have a farm background. That's important, Wright said, because she wants her students to find something that piques their interest in the FFA program.
"Especially since a lot of kids don't come from a farm, we want them to come into our chapter and find their niche and what they are passionate about," she said. "That's the greatest thing about FFA is that you can pick what you want to do. So by having diverse activities, it gives more people the opportunity to find something they're passionate about."
The diverse activities also remind students and potential members that FFA and agriculture is so much more than farming, Wright said.
"I try to talk about the leadership opportunities and the skills they can learn to take to a career, which doesn't necessarily have to be in agriculture," Wright said.
Living in Iowa, where agriculture touches every industry, Wright said it's important that students at least have an understanding of the opportunities.
"They might not be interested in production agriculture, but since they live in Iowa they could work for an agriculture company, maybe in HR (human resources) or IT (information technology)," she said.
Or, she said, students who might not live on a farm might discover that production agriculture is something they're interested in. That was the case recently when a student with a non-farm background saw a job posting in the agriculture classroom from a local dairy farmer looking for help. That student works for the dairy farmer and is even considering studying dairy science in college.
"He needed a job and that sparked an interest, which I think is great," Wright said.
The Benton FFA members are involved in a variety of activities — everything from visiting third grade students and teaching them about agriculture to a Veteran's Benefit breakfast in which the proceeds from the breakfast are donated to the local veteran's group.
Raising livestock
Carly Selken, FFA chapter reporter and a junior at Benton Community High School, said she enjoys not only working with elementary students and teaching them about where their food comes from, but also teaching students her age about livestock.
The chapter's spring livestock show is a perfect opportunity for that, she said. "It's open to anyone who wants to show. It's a good opportunity for students to be involved," she said. Selken and her family grow corn and soybeans and raise cattle on their farm.
FFA members not only have the opportunity to raise and show livestock for a show, they can also serve as a chairperson for the event, in charge of finding co-chairs and lining up judges and planning the event.
FFA members also have a variety of supervised agricultural experience (SAE) projects and participate in various contests. Members said the chapter's greenhouse allows them to learn more about plants. It also teaches students how to prepare the soil for planting, how to grow flowers and vegetables, and how to market the plants to its customers.
"It gives them hands-on experience for not only processes of raising something seed-to-finish, but also everything else that goes with it," Wright said.
Connecting with farmers
Benton Community FFA Chapter President Chase Kusel said the chapter works to connect not only students with agriculture, but also FFA members with its local farmers.
New in 2015, the chapter started a Feed Our Farmers event.
"The idea was that farmers raise crops and feed animals to feed us, so we wanted to give back to them," Kusel said. So the members identified farmers in the eight towns within the school district, and invited them to pick up a bagged lunch at their local elevator.
Kusel said it's important that the chapter helps educate the public about agriculture.
"I think it's important for all FFA members to get the word out about agriculture and where food comes from," he said. "A lot of people have no idea about agriculture, and I think it's our job to educate not only people in our community but other people as well."
Want more news on this topic? Farm Bureau members may subscribe for a free email news service, featuring the farm and rural topics that interest them most!