Benton Co. farmers recognized for caring for land, animals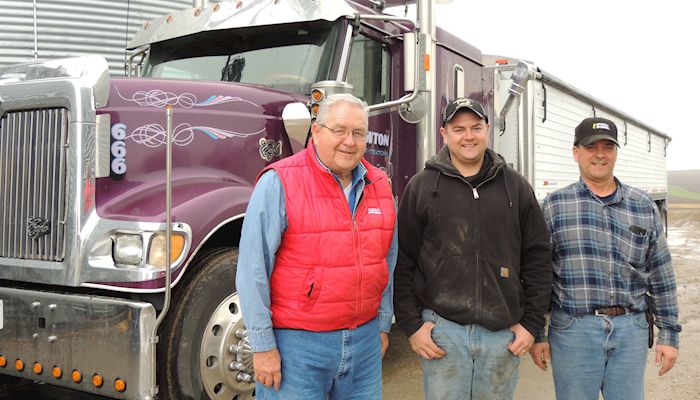 A family of Benton County Farm Bureau members with a passion for agriculture were recognized last week with the Wergin Good Farm Neighbor Award.
Don and Seth Newton, father/son operators, raise cattle near Luzerne and also grow corn and soybeans.
The Wergin Good Farm Neigh­­­bor Award recognizes Iowa livestock farmers who take pride in doing things right and go above and beyond as environmental stewards and animal caretakers.
The Newtons were nominated for the award by the dad and grandfather, Wayne Newton, who pointed out Don and Seth's work raising high quality beef while taking care of their land.
"These two are extremely conscientious regarding animal welfare and producing a high quality product for the consumer," Wayne said.
Don and Seth have a cow/calf herd and also finish cattle for market.
The family has always raised cattle, the Newtons said. Don came back to the farm in 1984 after graduating from Kirkwood Community College. Seth, the sixth generation on the family's farm, returned to the farm after earning his degree from Iowa State University.
Working with local landowners, Don and Seth also rent land to grow corn and soybeans.
"This father/son operation has always been very conscientious regarding the care of the land that they own or rent," Wayne wrote in his nomination. "Buffer strips, contouring, reduced or no tillage. The fertility of the farms continues to improve with the use of animal waste and best practices using commercial fertilizers."
Cover crop planting
The Newtons also use cereal rye as a cover crop on their fields.
"We've used the cereal rye as a feed source for a number of years," Don said. "Now we're using it more to protect the soil."
It also benefits the cow/calf pairs, Seth said.
"It makes for a great place to run pairs onto instead of them being on the mud," he said. "Once we saw the benefits of keeping the soil in place and how much better the pairs did on the rye, that's when we moved from using it for feed toward using it for the cow/calf pairs."
Other landowners in the area noticed the father and son working together and incorporating cover crops into their farming practices, the Newtons said. One landowner even offered her farm for rent to the Newtons because she wanted cover crops on her land, too.
Seth has been selling Cornelius corn and soybeans since 2012. It not only helps generate some income, it also helps him get to know other farmers in the area, he said.
Don and his wife, Kelly, have been working with Seth and his wife Ashley through the Iowa Farm Bureau's Take Root program to establish a succession plan. One thing that will stay the same for the Newton family is their willingness to help their neighbors, the Newtons said.
Recently, the Newtons donated a load of hay and the use of their truck to wildfire relief efforts. Don hauled the load of hay to Ashland, Kansas.
"We would do the same thing for our neighbors here," Don said. "If a neighbor needed hay, we'd be the first to pull in."
It's what neighbors in their community do, they said. Last year, after Don broke his leg, several people called to see how they could help on their farm.
"That's what agriculture is all about," Seth said. "We're all in this together. Our incomes are still out of our control between weather and markets, but at the end of the day, we're taking care of each other."
The Wergin Good Farm Neigh­bor Award, which was presented by the Iowa Department of Agriculture and Land Stewardship and Iowa Ag Radio Network, is made possible through the financial support of the Coalition to Support Iowa's Farmers. It's named in memory of Gary Wergin, a long-time WHO Radio farm broadcaster who created the award.
To nominate a family for the Wergin Good Farm Neighbor Award, go to www.supportfarmers.com or contact CSIF at 1-800-932-2436 or info@supportfarmers.com.
Want more news on this topic? Farm Bureau members may subscribe for a free email news service, featuring the farm and rural topics that interest them most!