Beating expectations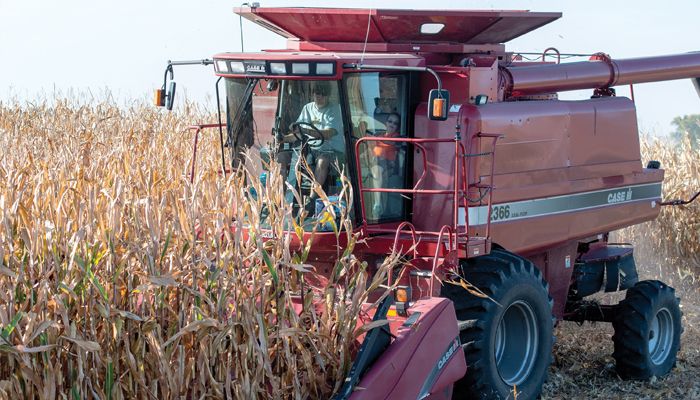 Paul Brozik was pleasantly surprised at the numbers flashing on his yield monitor as he began combining corn and soybeans last week on his north central Iowa farm.
In the early stages of harvest, corn yields were ranging from 190 bushels per acre on poor ground up to 230 bushels on good ground. Soybean yields registered at around 70 bushels per acre. 
"I'm not sure where those bean bushels came from, but we'll take them," said Brozik, a Hancock County Farm Bureau member. He had harvested about 50 acres of corn and 30 acres of soybeans before storms rolled in late last week.
Reports of better than expected yields were common following a summer of below average rainfall that caused steadily worsening drought conditions across much of the northern half of the state.
"Drought conditions just perplex me sometimes. Some of what we're seeing is not what we expected," said Mark Licht, Iowa State University (ISU) Extension cropping systems specialist. "On the soybean side of things, yields are surprisingly good. 
"I don't think we've heard enough yet on corn to have a good idea on what yields are doing, but on soybeans, people are telling us they're running average to above average. I think those rains in the last seven to 10 days of August probably helped us more than we expected."
Licht anticipates significant variability in corn yields depending on soil types, rainfall and drainage. He said he's heard of yield reports from two fields a few miles apart where one of the farms produced among its best yields ever while the other was disappointing.
Dry soybeans
Farmers were pushing hard on soybean harvest last week as the crop continued to dry extremely fast in the field. Reports of soybean moisture dropping below 10% were common as temperatures in the high 80s and breezy conditions caused the crop to dry down faster than normal while stems and even some leaves remained green, Licht said.
"We went from just maturing to harvest-ready really quickly," he said. "Once we fall below 13%, you've lost moisture weight. You're losing what they're paying you for."
Soybean market weight de­­creases about 1.15% per percentage point below 13%, according to ISU grain quality specialist Charles Hurburgh. When moisture is less than 10%, soybeans are brittle and more likely to split during harvest and handling.  
"I've heard of some folks with beans as low as 9%, but we're about perfect," Brozik said. Corn moisture has been variable with some low spots still green and over 30% moisture while the rest of the field is ready to go, he said.
Kevin Schechinger, an East Pottawattamie Farm Bureau member, said he was running into variable maturity in soybeans.
"There's a lot of green ones out there. They're coming out with an average of 10 to 11%. The wet ones are 14 to 15%, and there are spots that are 8 to 9%," he said. 
Harvest on pause
An inch of rain paused harvest late last week, but early reports indicate corn and soybean yields will be good, Schechinger said. 
"Upper 60s or better is what I'm hearing on beans," he said, estimating soybean harvest at 10 to 20% complete in the area. Very little corn had come out with moisture still above 20%, Schechinger said.
Soybean harvest was ap­­proaching the halfway mark for Lyon County Farm Bureau member Ross Kooiker, although he said they were navigating around patches in some fields that were still green.
"Most of the beans are fit and dry. The moisture has been running either side of 10 to 11%," he said. "So far, the yields are pretty good even on the lighter ground." 
Cattle farmers were working on earlage and high moisture corn last week, but not much dry corn had come out yet, Kooiker said.
"People seemed happy with silage appraised numbers," he said.
Timely rains help
Timely rains aided corn production in south central Iowa, reported Marion County Farm Bureau member Tom Smith. His corn silage came in between 180 to 220 bushels per acre, which he says is exceptional on his fields that include a fair share of rocks and clay.  
"This year, we've had corn in places that usually burn up," Smith said. "I think timely rains helped. We also didn't get any gully-washer rains early in the season, and the really hot days we had were plenty humid, which helped the corn get through it."
In northeast Iowa, Jerome Fulsaas said soybean yields were looking good as harvest commenced last week. 
"Beans are just getting fit," the Winneshiek County Farm Bureau member said, noting moisture was between 12 to 15%. "We've been really tickled with the way yields are looking. I've seen quite a few beans in the 60s." 
Corn was still green, but starting to dry down, he said.
"East of us, there's some tar spot issues," Fulsaas reported.
Corn and soybean harvest were both running strong in east central Iowa, said Josh Henik, a Linn County Farm Bureau member.
"It's probably a little bit more heavy on beans than the corn," he said. "They're getting dry. From the fields I've been in, you can start the morning at about 11% and they're down to about 9 to 9.5% by the end of the day."
Henik said most corn he's heard of was still around 20% moisture, but there was some as dry as 18%. Yields aren't bin-busting but are near average, which is better than many farmers anticipated, he reported. 
"The general sentiment I've heard from people is they're pleasantly surprised. Given how little rain we've had over here in some spots, there was some pessimism going into (harvest)," he said. 
Rainfall was about 10 inches below normal for the growing season, with 2 to 3 inches coming in September, when it was too late to help corn yields very much, Henik said.
"Corn is still standing really well," he noted. "Even the spots that were more moisture stressed and that looked a little tough, it's mostly the tops that are broke out of them. From the ear shank on down, they're standing pretty good."
Grain handling capacity could be­­come a bottleneck as harvest progresses after last year's derecho destroyed a significant amount of storage capacity in the area, Henik said. Grain bin crews worked all summer long to rebuild sites, but they are in various stages of completion, he said.
"People scrambled all year to get grain bins put up that blew down in the derecho. Some of those got up, some of them didn't," he said. "There's a lot of grain systems that are incomplete. They got the grain bin up, but they haven't been able to get the guy to hook up the (grain) leg or the air system or the electrician. That's probably going to be the biggest challenge for us right in this area." 
Corey Munson contributed to this article.
Want more news on this topic? Farm Bureau members may subscribe for a free email news service, featuring the farm and rural topics that interest them most!