Baudler wins virtual discussion meet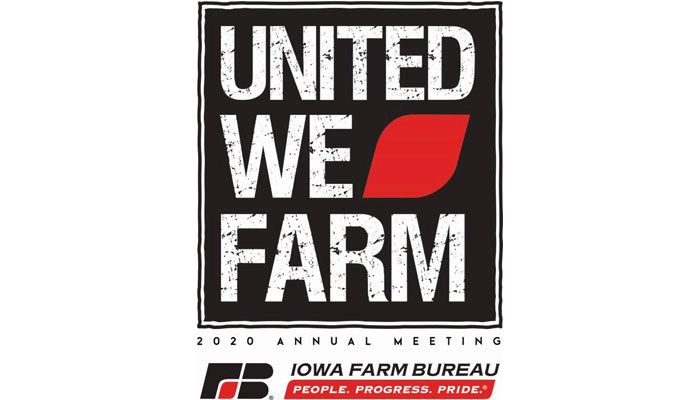 Adair County Farm Bureau member Beth Baudler earned first place last week in the Iowa Farm Bureau's (IFBF) annual Young Far­­mer Discussion meet. Shelby Smith of Story County was the runner-up, Krista Huntsman of Montgomery County placed third and Megan Kregel of Clayton County finished fourth.
The event, normally held during the IFBF annual meeting, was shifted to a virtual format this year with the seven semifinalists competing on a Zoom video conference due to COVID-19 restrictions on in-person gatherings.
The virtual format took some getting used to even though video conferences have become a way of life during the COVID-19 pandemic, said Baudler, who was competing in the discussion meet for the second time.
"The semifinal round was the hardest because you were just figuring out the speed to talk, not only fluency but the tone of your voice," she said. "Picking up nonverbal cues is much harder on a screen than when you're in the same room."
The question for the semifinal round centered on the investment and policy initiatives needed to provide reliable broadband access to farmers and rural residents, which was ap­­propriate for the first-ever virtual discussion meet. Baudler said she connected to the virtual contest from her office after deciding her home connection was too unreliable during a test run.
"I knew I had to have a Plan B," she said.
In the final round, the four finalists discussed solutions to enhance the vibrancy and ec­­onomic sustainability of ag­­riculture and rural communities.
A couple contestants had connectivity issues at times, but the event was a success considering the unusual circumstances, said IFBF Field Service Manager Ryan Steinfeldt.
"Overall, I was very happy with the way it worked and am glad we were able to hold the competition," he said. "It was important to let the competitors finish what they started back on Feb. 1 at the Young Farmer Conference."
As the winner, Baudler received a one-year lease on a CAT Skid Steer loader and a $1,500 award from Growmark. She will represent Iowa in the American Farm Bureau (AFBF) Discussion Meet being held virtually Jan. 10-13.
Prizes for second place were a Choice Hotels certificate, a $500 CAT gift certificate and a $500 gift card to a Fast Stop or local FS Cooperative from Growmark. Third place received a $500 CAT gift certificate, a YETI cooler from Farm Bureau Financial Services and an Adventureland package. Fourth place prizes were a $250 gift card to Fast Stop or local FS Cooperative from Growmark, Ad­­ventureland package and $100 from the IFBF Young Farmer program.
At the AFBF Discussion meet, the first place winner will receive a new Ford truck or vehicle and paid registration to the 2021 Farm Bureau Fusion Conference. The runner-up receives a Case IH Farmall 50A tractor. Third place receives a Case IH 40-inch combination roll cabinet and top chest, a $500 Case IH parts card, a $2,500 cash award from American Farm Bureau Insurance Services and $1,850 worth of Stanley Black and Decker merchandise. Fourth place receives a Case IH 40-inch combination roll cabinet and top chest, and a $500 Case IH parts card.