Batter up! Root for the home team at Pig Pen Park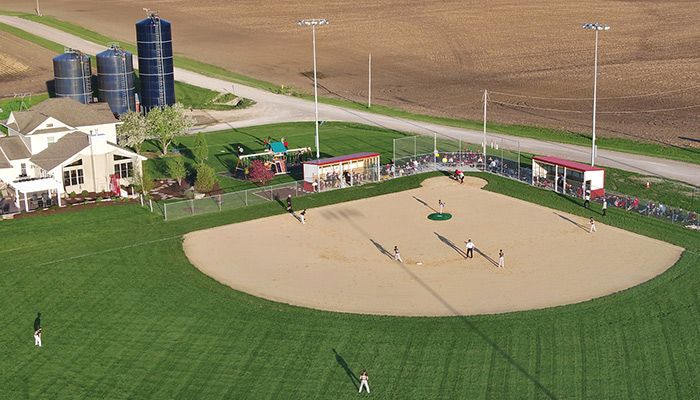 A gentle breeze caresses a warm summer night. The sky fills with pigment-rich hues as the sun sets over the Iowa cornfield. The crack of a bat against a ball echoes through the prairie stillness.
It's a baseball lover's dream.
For Tim and Erin Brenneman, their Pig Pen Park is all that and more.
"It's a backyard project that turned serious," says Erin. "It combines our love of the game with our passion for pigs. It may not be the Field of Dreams, but it's our family's dream."
The Brennemans are part of the multi-generation Brenneman Pork near Wellman. Erin Brenneman is a well-known blogger and ag advocate. An import to Iowa from Chicago, she shares her support for agriculture, livestock production and the people who pour their hearts and souls into feeding the world and preserving the rural way of life.
Farming, like baseball, is timeless. Also like baseball, farming requires teamwork, learning and improving skills and immersion in the environment.
Tim, Erin and their two sons, age 7 and 12, not only love farming, they love baseball. "We're Cubs fans," says Erin. And both boys are active on their local teams.
"There's just something about baseball. It's nostalgic. It's romantic. It's part of our family."
The Brennemans worked with the University of Iowa and hired professionals to build the field with proper soils and drainage so rain interruptions would be minimal. They utilized local contractors and suppliers for a clay/sand mixture and planted a drought resistant fescue blend of grass.
Games began in 2018. This year, they added lights to expand the field's hours of use.
"It was definitely worth it to be able to play at night," says Erin, who says the field is needed in the community, where ball field space can be in short supply. Teams of all ages and affiliations utilize the site, for competitive games and for fun.
For the Brennemans, Pig Pen Park is more than a baseball venue; it is a way to get people to the farm.
"We have a lot of pigs around us. We're right next to the main sow farm, the nursery and the feed mill," Erin says. "And in the middle of it all is our home, and the baseball field.
"I just love to look out and watch someone playing out there," she adds. "I want others to come and see it and enjoy it, and learn a little bit about farming while they're here."
Queck-Matzie is a freelance writer from Greenfield.

Return to The Iowa Dish