Bailey Family of Ringgold County Presented Iowa Farm Bureau Young Farmer Achievement Award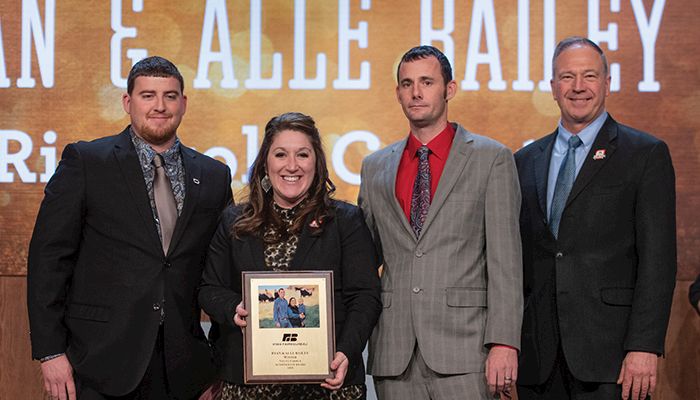 Kipp Fehr of Palo Alto County and Plate Family of Mahaska County Also Honored
Ryan and Alle Bailey of Ringgold County have been named Iowa Farm Bureau Federation's (IFBF) 2018 Young Farmer Achievement Award winners at this year's IFBF "Century Strong" 100th annual meeting in Des Moines, Dec. 3-5. This award honors Iowa farmers between the ages of 18 and 35 who demonstrate outstanding management ability on their family farms and have a positive presence in both Farm Bureau activities and their local community.
As fifth generation farmers raising grain and cattle, the Baileys agree there's no better place to grow up than on an Iowa farm. Because Ryan says legacy is very important to him, he and Alle have continuously worked to improve their family farm by converting old buildings on their land into areas where their cattle can have access to feed, seek comfort during inclement weather and have a designated place to give individual attention to cattle that need it. By working with nutritionists, veterinarians and with the use of genetics, the Baileys have seen health improvements within their livestock, creating a greater efficiency in getting cattle to market.
On the crop side, the Baileys run their own retail seed business. They offer drone crop scouting and agronomic solutions for their clients. On their own farm, they use precision ag to apply fertilizer where it is needed in the exact amount that is needed. They've also planted 50 acres of cover crops with a goal to increase these acres for cattle grazing. Their other goals include increasing their cattle herd size, finding ways to implement additional water quality practices and adopting new technologies for record-keeping.
"Knowing you're creating a food supply for the world, it brings intense meaning, and that's what really drives my passion," says Alle.
The two are active with the Ringgold County Farm Bureau and IFBF Young Farmer program. They are also active within the cattle industry, serving various positions with the Iowa Beef Industry Council, county cattlemen and Iowa Cattlemen's Association. In their community, they are involved in their church and civic groups.
As winner of the Young Farmer Achievement Award, the Baileys will have the option to lease a John Deere G-Series Skid Steer/Compact Track Loader (one year/1500 hours), 5-7 Series Tractor/Loader combo (1 year/300 hours) or take home a 590E Gator (valued at $9,500). They also receive a 90-day no payment, no interest (NPNI) John Deere Financial Certificate up to $5,000, and an all-expense paid trip to the 2019 GROWMARK annual meeting in Chicago. In January, the Baileys will travel to New Orleans where they will represent Iowa in the national Young Farmer Achievement Award competition at the American Farm Bureau Federation (AFBF) Annual Convention.
Kipp Fehr of Palo Alto County is the second-place finalist for the Young Farmer Achievement Award. Since high school, Fehr has grown his farm over time, acquiring land through beginning farmer loans and rental agreements. To continue expanding his farm, Fehr custom sprays other farms in the county and works at a local Case IH dealer. In 2013, he began using strip tillage, a minimum tillage method, to reduce soil erosion. He hopes to continue to improve his land and farm's bottom line with cover crops. In addition to serving on his county Farm Bureau board, Fehr has been involved in Farm Bureau policy and lobbying trips. He will be receiving parts on Site Bin (valued at $3,000), a 90-day NPNI John Deere Financial Certificate (up to $5,000) and a $500 gift card to Fast Stop or local FS Cooperative from GROWMARK.
The third-place finalists for this award are Sherwin and Kristin Plate of Mahaska County. They will receive a John Deere 23-foot safe, a 90-day NPNI John Deere Financial Certificate (up to $5,000), a $1,000 Granger gift certificate and Yeti cooler from Farm Bureau Financial Services. After serving four years in the United States Army, Sherwin came home to the family farm where he and Kristen and their three young children grow grain and raise hogs. The Plates also grow their own cover crop seed which they plant on 750 acres of their no-till corn and soybeans. Sherwin serves on the county Farm Bureau board, and Kristen is a recent IFBF Ag Leader graduate. They are both active with their local church.