As supplies surge, pork industry hustles to build demand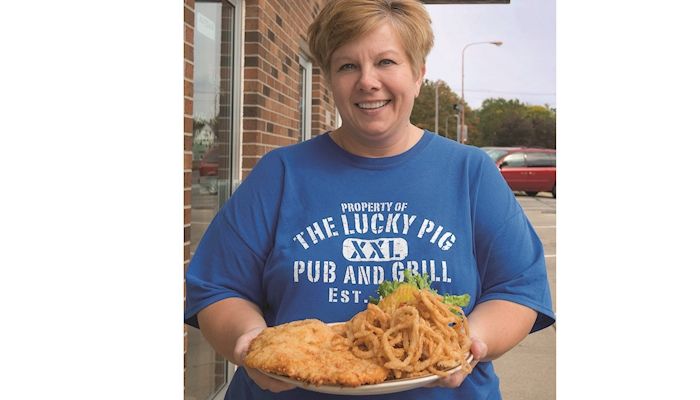 As a record level of pork supplies hits the market, the pork industry continues to look for ways to build demand and ultimately sell more pork — not just during October Pork Month but throughout the year.
The U.S. Department of Agri­culture's (USDA) latest quarterly hogs and pigs report showed record inventories. It marked the fourth straight report in which market hog inventories set a new record for the respective quarter.
While the report shows that farmers have bounced back after the porcine epidemic diarrhea virus (PEDV) took its toll on U.S. pig herds, larger supplies means lower prices, says Steve Meyer, vice president of pork analysis for Express Markets Inc. Analytics. And that's likely to continue, he said.
"The prices are equally astonishingly to the low side, but I will warn you that this fall could be worse. We are in a situation where supply will be right against packing capacity," Meyer said.
New processing plants are slated to open in 2017, but it will be too late for current supplies, he said.
"Fourth quarter slaughter will run at capacity from early November on­­ward and will be above capacity for several weeks in December," he said.
Supplies to export
However, those who work to sell pork internationally and domestically say they're optimistic. Strong supplies mean opportunities to sell more pork to export partners around the world, said Becca Nepple, vice president of international marketing for the National Pork Board.
The pork checkoff partners with the U.S. Meat Export Federation (USMEF) to conduct market development and promotion around the world.
In some markets, the groups work directly with importers or processors. In other markets, the pork checkoff and the USMEF conduct promotions through advertising campaigns and social media aimed directly at consumers to promote U.S. pork at their local markets.
In 2015, the checkoff budget for international trade efforts was nearly $7 million.
And they've seen their work pay off, Nepple said.
USMEF data shows pork ex­­ports accounted for 24 percent of total production in August, up from one year ago. For January through August, exports accounted for 25 percent of total pork production.
"The China and Hong Kong regions have dominated the growth in U.S. pork exports for the first half of the year due to a market access opportunity into China for our exporters," Nepple said.
USMEF data shows that exports to China and Hong Kong were up 76 percent in volume between January and August compared to the same time in 2015.
Nepple said she and the groups have been working to regain market share that was lost in 2015 to competitors, such as Canada and the European Union.
Scaling trade barriers
Though there is plenty of pork to sell, there are barriers to trade that must be resolved to sell more pork to export partners, Nepple said. "The most frustrating (barriers) can be non-tariff/non-scientific roadblocks that are typically driven by politics," she said.
Logistical challenges — like the West Coast port slowdown last year — also threaten exports, she said.
She said her team is working to open up market access to countries that could become a larger share of the export market.
"We are going to see more product coming on the market in the next few years, so the focus on exports has increased," she said. "We need to work to gain and maintain market access around the globe as well as promote more volume."
TPP is critical
One of the biggest opportunities for the pork industry, Nepple said, is the Trans-Pacific Partnership (TPP). The deal would open up or expand trade between the United States and 11 other countries.
Jarrod Sutton, vice president of domestic marketing for the National Pork Board, said a larger supply of pork products is really a tribute to U.S. pig farmers who have worked to rebuild pork supplies from 2014 when PEDV devastated some herds.
"Producers have been able to implement some of this expansion since 2014 based on existing capital, which is really pretty incredible," Sutton said.
Coupled with producers' desire to grow their herds and bounce back from PEDV, is the global demand for U.S. pork, Sutton said.
"Pork producers are really, really good at what they do, and they're envied here by producers around the world. We have the safest and the most consistent quality of pork that the world has ever known.
"So there's a growing global demand for U.S. pork," he said.
Sutton said he and his group knew that larger pork supplies were coming, so they've worked with suppliers, foodservice partners and retailers to promote and sell more pork.
"We've been seeing this expansion happening in the industry for several months, and we've been making preparations for several months," Sutton said.
Working with retailers, suppliers and foodservice partners, Sutton and his group work to sell more pork through the U.S. grocery and foodservice sectors.
He said features like Arby's smokehouse pork belly sandwich and an expansion of McDonald's breakfast hours draws consumers to eat more pork.
More pork on the market means a greater opportunity for stores and restaurants to feature pork products. "If you've been thinking about putting pork on the menu, now's the time to do it," he said. "It's a low-cost product, and consumer demand is there."
Large supplies of meat
Crowding the meat case, however, are large supplies of beef and chicken products, Sutton noted.
So it's important that Sutton and his team work with store managers and meat case managers to help them understand the business of buying and selling pork, he said. Consumers often look at pork as a less-expensive alternative to beef, he reminds the store managers and others he works with.
His group has been working with Kroger, the second-largest retailer behind Wal-Mart, to feature and sell more pork products. Radio spots, in-store specials and even videos help attract customers' eyes toward pork in the meat case.
Sutton said partnerships with state pork associations also help sell more pork in the states.
Kelsey Sutter, marketing and program director for the Iowa Pork Producers Association (IPPA), said promotional activities and partnerships with restaurants help sell more pork in the state.
Top tenderloin
The IPPA's best breaded pork tenderloin contest also creates a focus on the product during October Pork Month. The contest attracts consumers not only to the winning restaurants, but also those that make the top five.
The Lucky Pig Pub & Grill restaurant in Ogden won the IPPA's tenderloin contest in 2014. Since then, patrons visit the restaurant to try the state's best tenderloin, says Randy Russell, who became the restaurant's new owner in July.
"Our tenderloins are a major attraction, having won the contest," Russell said. The restaurant offers other pork products as well, he said. "I am still amazed at the people that drive from many miles away to try our pork products," Russell said.
More than the contest, though, Sutter said she works to sell more pork products to support Iowa's pig farmers, especially during times of lower prices. "We want to do whatever we can to support them during this time," she said.
Sutton said he's optimistic. "At the end of the day, we have to sell our way out of this (larger supply situation)," he said. "But I'm optimistic. We're creating more product for those who love it, and we're going to move the product."
Want more news on this topic? Farm Bureau members may subscribe for a free email news service, featuring the farm and rural topics that interest them most!