Agritourism adventures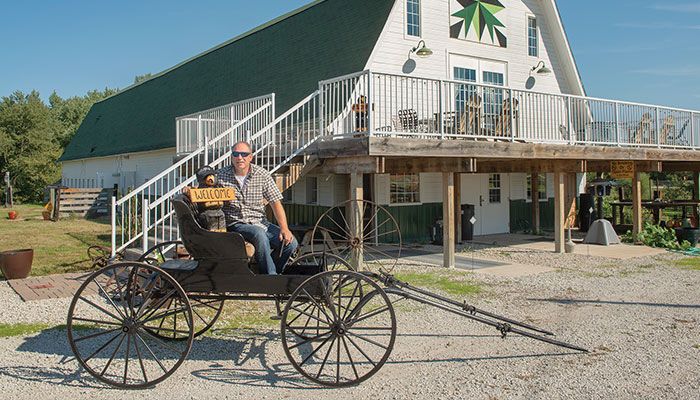 For Iowans who want a rustic country wedding inside an historic barn, with mason jar lights, barn wood backdrops ­— and cows photobombing the bride and groom, then North River Adventures is their dream destination.
"We've got a little bit of everything, to give the experience," says Warren County Farm Bur­eau member Max Steigleder, owner of North River Adventures in Carlisle, a few miles southeast of Des Moines.
The Steigleder family launch­ed their agritourism business in 2012, after renovating a 1930s-era dairy barn and planting their first corn maze.
Today, North River Adventures attracts up to 600 visitors on gorgeous fall weekends, inviting local families to play, explore, relax and reconnect on the farm.
The Steigleders also grow corn and soybeans, in addition to raising a few cattle for visitors to see. Steigleder's son Jason lives on the farm with his family, and his other son Jordan coordinates the party barn business.
Steigleder says his family decided to open their farm to visitors as a way to earn a little extra income. It also gives them an opportunity to work together as a family on a fun, seasonal side project during the typically stressful harvest season.
"It's something different. You know, farming isn't always the most fun thing," Steigleder says. "So when you are around people — and we get people of all ages, they are out here having fun. They aren't usually around agriculture at all. So it's just a whole different deal."
The Steigleders, long-time farmers in the area, purchased the farm that's now home to North River Adventures about 10 years ago.
Starting with the barn
Steigleder also owns and operates a construction business, so the family's first big project on the farm was to renovate the historic dairy barn.
They straightened the leaning barn and replaced the termite-damaged siding and floors. They added a commercial kitchen to sell fall treats and a patio for visitors to unwind and watch the cows in the feedlot.
In addition, the Steigleders plant a corn maze each year with help from an out-of-state agritourism company that specializes in using GPS to create unique mazes.
Over the years, the family has added fun farm games including rubber duck races, a jumping pillow, a corn pile for playing in, pumpkin bowling and a corn-maze scavenger hunt. Visitors can also buy pumpkins and mums for fall decorating.
"The way corn prices are, we knew that agritourism was popular, and as close to Des Moines as we are, it was a good fit," Steigleder says. "And with my sons (coming back to the farm), we needed to find our niche."
The party barn rentals spun off as a side business that wasn't part of the family's original plans for the farm. Friends and visitors kept asking to rent the barn for weddings and parties.
Now, the North River Adventures' party barn is booked solid in the spring and fall with weddings.
"I was wondering if this would be just a fad and maybe it would die out, but it doesn't seem to be," Steigleder says. "It seems like a lot of couples today want to have a barn wedding."
Keeping it authentic
Steigleder says his family strives to provide an authentic barn wedding experience. The upstairs hayloft remains uninsulated, revealing the exposed wood beams and columns, with white lights strung from the rafters. A corner bar is made from old barnwood, and an outside patio offers a perfect spot for photos — with the cows as a backdrop.

In fact, when there's a break in the music and conversation, you can hear the cows mooing from outside. "Oh, people love it," Steigleder says.
Steigleder notes that some agritourism businesses build new pole barns to tap into the barn wedding trend, offering wedding coordinators and party packages costing thousands of dollars. However, his family's goal is to keep the costs affordable for couples who want a true barn wedding, he says.
North River Adventures also hosts corporate retreats, youth group outings and other get-togethers. Steigleder says the family has learned that it's best to narrow down the corn maze's visiting hours to fall weekends, especially since it coincides with their crop harvest.
"We spread the work over different family members," Steigleder says. "It's definitely different than what we normally do, but it's still fun. And we don't need another job," he adds with a laugh.
Want more news on this topic? Farm Bureau members may subscribe for a free email news service, featuring the farm and rural topics that interest them most!