Ag education is thriving at Dordt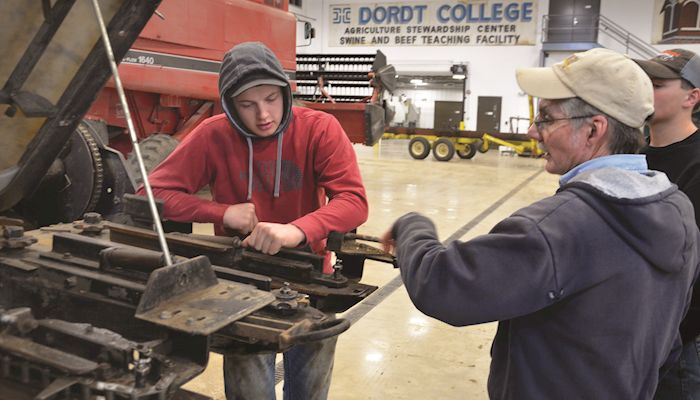 Located in the heart of one of Iowa's most prolific farming counties, Dordt College's agriculture program is thriving. Enrollment in ag programs at the small, private northwest Iowa college has boomed from 69 students in 2005 to nearly 170 students today, reports Gary De Vries, chair of the Dordt ag department.
"You know you're in the ag world when you're in Sioux County," he says. "We lead Iowa in a lot of different areas so if you want to study ag, this is a good place to come."
And with a 100 percent job placement rate, Dordt is sending its ag program graduates to good jobs in Sioux County and beyond.
"There's more opportunities than we have students," says De Vries. "Our graduates are all over North America."
Dordt's agriculture majors are also finding their way to Sioux Center from all over the country. De Vries notes that nearly half of the school's agriculture majors are from outside of Iowa — places like Washington, California, Michigan and Canada. Agriculture fits nicely with Dordt's reformed Christian educational mission, operating on the principle of wisely caring for and using God's creations, De Vries points out.
"We have students specifically looking for a Christian ag college and finding us," he says. "Some people assume that means specifically a certain style of ag, but Christian values can permeate every style of agriculture. It doesn't put us in a corner."
The college is making significant investments in facilities and designing its curriculum to meet the current and future needs of ag students and employers.
A new ag center
Last fall, Dordt opened its new 26,000-square-foot Agriculture Stewardship Center, which contains several classrooms, a large meeting space, welding and electrical training labs, and a high bay where students can learn how to service and repair large machinery.
"As we grew, we needed more space to accommodate students," explains De Vries. "We were starting these programs, and we needed a spot for them. We needed a shop. We needed a welding lab. We needed a spot where these kids could manufacture something."
Instructor Tom Colarossi says the spacious 8,000-square foot high bay shop allows multiple students to work on machinery projects at the same time. Classes are divided into small groups to complete jobs ranging from basic maintenance and service tasks to more complicated welding or repair projects depending on their skill level.
"It gives them a chance to get their hands dirty and take the fear away," says Colarossi. "They've all seen things already that they've never seen before. We haven't run into anything yet that we haven't been able to figure out. In that regard, it's been a good learning experience."
In addition to college events, the Ag Stewardship Center's open meeting space is designed to host community and business group functions or educational events with seating for 175 people. Three adjacent classrooms are equipped with state-of-the-art technology.
"We're hoping that some community or commodity groups would see that as a possibility for a workshop or some kind of meeting that our students can also be a part of," says De Vries.
The facility, located two miles north of the college campus, is sited on Dordt's 200-acre farm, where students raise livestock and grow row crops, small grains and produce. Long-term plans include adding a high-tunnel greenhouse, a monoslope cattle building, "flex building" and hoop barn to the site.
Tapping area jobs
Sioux County's flourishing livestock sector provides plentiful job opportunities for students during school and after graduation, De Vries points out.
"Livestock does a lot," he says. "It adds quite a few layers of opportunities for folks to work in the area. The communities around here are all growing."
On the crop side, Dordt typically conducts 12 to 15 field trials each year looking at regional production issues like fungicide applications, weed control, planting dates, rootworm resistance and cover crops. Students help harvest the plots, collect and analyze data, and publish report summaries.
"We're looking at lots of things," says De Vries. "We're trying to answer questions that producers have, so we cooperate with the Northwest Iowa Research Farm, agronomists from ISU Extension and some local seed dealers (to find out) what we should prioritize for the (upcoming) year."
Seven areas of study
Students can choose from seven study areas in Dordt's four-year ag program — animal science, plant science, ag education, ag missions, ag biotechnology, general ag and ag business. There is also an option for a two-year associate agriculture degree.
In addition, the college has launched a two-year, Associate of Applied Science program called Pro-Tech that offers students two-year degrees in manufacturing technology or farm operations and management. The hands-on program combines internship experience with classroom activities to get students ready for careers that are in high demand in Sioux County's robust agriculture and manufacturing-based economy. The city of Rock Valley alone has 18 metal manufacturers, using more raw steel on a per capita basis than anywhere else in the United States.
"Those manufacturers are looking at us (asking) how can we get more folks ready to go," says De Vries. "The factory doesn't look the same as it did 20 years ago. Our idea is: come two years to college and you've got a faster track into middle management positions in manufacturing. We're not just giving you some skills, but we're trying to develop the person to become one of those leaders on the floor."
Want more news on this topic? Farm Bureau members may subscribe for a free email news service, featuring the farm and rural topics that interest them most!