Academy raises awareness of safety risks on farms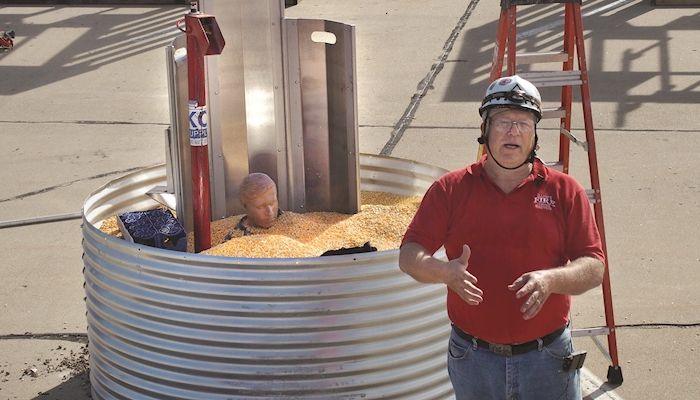 It only takes 14 seconds for a person working inside of a grain bin to be pulled under the surface of the corn pile. With more than 60 percent of the grain in the United States being stored on farms, there's a greater chance that farmers and farm workers may be tasked with checking the condition of the grain inside the bin. But with that chore comes the risk of a grain engulfment.
"In a split second, you can be buried in that grain," said Dave Newcomb, a farmer and an ag rescue program manager for the Illinois Fire Service Institute.
Newcomb used his more than 30 years of experience working with fire and personal rescue teams to educate a group of agents, staff and policyholders at Grinnell Mutual Reinsurance Company last week as part of a farm safety academy.
Newcomb shared his experience of responding to calls for grain bin rescues on farms. He explained that larger grains bins — some 60 feet in diameter — pose a great risk for farmers and farm workers.
"There are bigger bins on farms today, so there's more time spent in the bin," he said.
While it may be necessary to enter a bin to check grain quality, Newcomb said farmers and their employees should understand the risks of working inside bins and treat it as a two-person job.
He said grain bin manufacturers such as Sukup are designing bins that have anchors at the top of the bin so farmers can attach safety harnesses. However, he said, farmers with older bins may not have that option. They should contact their bin manufacturer to explore options for retrofitting those bins, he said. Also, farmers should lock out the power source to the augers moving grain before entering the bin.
Newcomb said grain bin rescue tubes have been a great tool for rescue teams. However, with a larger percentage of rescue teams made up of volunteers, it can be a challenge for everyone to complete the training in how to use the tubes.
Preventing accidents
Injuries or deaths related to farm-related accidents have risen in Iowa within the past few years. According to the National Institute of Occupational Safety and Health, 374 farmers and farm workers died in the United States from work-related injuries in 2012. In 2014, there were 307 farm and farm worker fatalities in Iowa, Nebraska, and Illinois alone.
This is a trend that Grinnell Mutual officials say they want to help reverse. The first-ever farm safety academy for its agents and policyholders covered the basics of grain bin safety, electrical safety, children's farm safety, anhydrous ammonia and LP gas safety, farm employee safety, farm machinery and guarding, and fire safety.
"Our core business is still the farm business, so anything we can do to improve farm safety is fantastic," said Larry Jansen, president and chief executive officer at Grinnell Mutual.
The company has partnered with the University of Iowa Children's Hospital to promote the safe use and operation of all-terrain vehicles (ATVs), but wanted to do more, said Kurt Eaves, vice president of direct underwriting and production at Grinnell Mutual.
"We hold a lot of academies for our agents and our mutual members, but we've never held an academy focused on safety. Being a large insurer of rural properties, we felt that there was an opportunity in the promotion of farm safety," Eaves said.
Want more news on this topic? Farm Bureau members may subscribe for a free email news service, featuring the farm and rural topics that interest them most!