ANF Food Drive Set For Open Iowa Football Spring Practice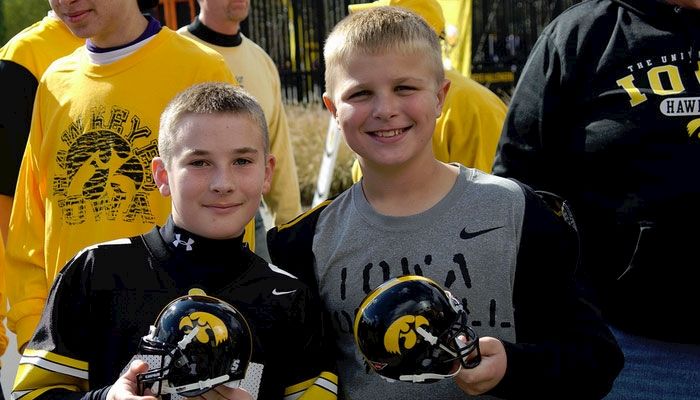 Fans of the University of Iowa's football team planning on attending the 2012 Iowa Football Spring Practice presented by Coke Zero Saturday, April 14, are invited to join forces with the UI Athletics Department, the Iowa Farm Bureau, and UI Dance Marathon on the first annual ANF Food Bank Drive at historic Kinnick Stadium.
Fans of the Hawkeyes are invited to bring non-perishable food items with them to the annual open practice of the Iowa Hawkeyes or to make a cash donation. To encourage donations, the first 1,000 fans who make a donation of cash or canned food items will receive souvenir ANF items.
Also, five lucky fans who make donations will also win a pair of tickets to the Hawkeyes' home game Oct. 20 against Penn State when the UI teams with the Iowa Farm Bureau to stage the second annual ANF Day at Kinnick event. Fans interested in registering to win simply need to bring with them a postcard that provides their name, telephone number and email address.

"Iowa farmers lead the nation in livestock and crop production and they're proud that their hard work and innovation brings more food and more choices for all Americans. That's why it's unacceptable to have a 30 person increase statewide in the number of families who visit food banks," said Craig Hill, president of the Iowa Farm Bureau Federation.
"That's why IFBF is proud to support the America Needs Farmer Food Bank drive at Kinnick Stadium in Iowa City. We hope Hawkeye fans and all Iowans will show that they believe in taking care of their neighbors and friends in need."
Food items collected will be provided to the Johnson County Crisis Center, which distributes more than 60,000 pounds of food monthly and is currently facing a critical shortage in both food and other donated items like baby items and hygiene products.
"This food drive is happening at a great time for The Crisis Center and we are grateful for the collaboration with the University of Iowa football program and the Hawkeye Nation of fans. Our Food Bank has seen a 25 percent increase in demand for food assistance so far in 2012. We can't keep canned fruit and soup stocked on our shelves. Families who've used up their savings while trying to find adequate employment are turning to us for help now. Some folks aren't able to make ends meet while gas prices are so high.

Thankfully we'll have extra food to distribute due to this tremendous effort," said Stefanie Bell, Food Bank Coordinator for The Crisis Center.
All cash donations will be directed to the Iowa Food Bank Association. The IFBA is a collaboration of the eight Feeding America food banks that serve all Iowa's 99 counties. Together, the food banks serve over 1,000 non-profit organizations serving ill, infant or needy individuals across the state.
"The current economy has brought higher mortgage rates, medical and fuel costs to more Iowans at a time when they're finding it tough to find a full-time job with benefits. It all adds to the problem of hunger in Iowa. But, we want Iowans to know that it's so easy to help our neighbors in need. Every one dollar donated can help us gather $15 dollars of food donations," said Jordan Vernoy, director of the Food Bank Association of Iowa.
Donations will be accepted beginning at 10 a.m. on April 14 on the west side - the press box side - of historic Kinnick Stadium near Gates E. Volunteers for the Iowa Farm Bureau, the Johnson County Crisis Center, and the UI Dance Marathon will accept donations until noon.
The west grandstand and south grandstand will be open for spectators. Gates A, B, E and F will open at 11 a.m. There is no admission charge.
Herky's Locker Room - the official team store of the Iowa Hawkeyes -- will stage its annual clearance sale on the southeast concourse from 8 a.m. to the conclusion of the football team's practice. Fans interested in that activity will enter at Gate M. The sale will move into the east concourse in the event of rain.
Herky's Locker Room will also have a second sale location inside the Krause Family Plaza. That location will also be open from 8 a.m. to the conclusion of the football event.
Parking will be available in all University parking lots adjacent to Kinnick Stadium. Fans with recreational vehicles will be able to park Friday after 7 p.m. Please note: Normal daily parking rates will be in effect in the two parking ramps adjacent to the UI Hospitals and Clinics.
Fans are reminded that Iowa City ordinance prohibits the consumption of any alcoholic beverage on UI and public property which includes UI parking lots and parking ramps. As in the past, this ordinance is in effect on the day of the annual open-to-the-public spring football practice.