An outreach trailblazer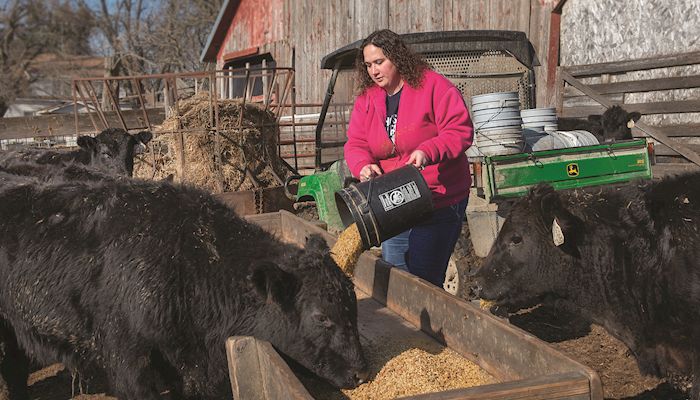 Before Beth Baudler starts her day feeding livestock on her farm near Fontanelle in Adair County, she thinks about how she can best serve her customers.
"When I wake up in the morning, it's how can we serve my customer today," Baudler says.
As a cattle specialist, her customers include farmers who rely on her to help make decisions about cattle nutrition. She manages the brokering of ethanol byproducts, formulates rations, sells minerals and supplements, and coordinates product deliveries.
But as a farmer, an advocate for agriculture and a community volunteer, her customers, she's found, are people who want to know more about agriculture.
"What we're trying to do is put a face to somebody who consumers can trust to ask questions about agriculture. I think people are looking for information and just want to know information about where their food comes from," Baudler said.
In recognition of her leadership and dedication to agriculture, Baudler will receive the 2018 Young Farmer Leadership Award. The award honors Bob Joslin, past Iowa Farm Bureau (IFBF) president from 1986 to 1987, who was a strong supporter of young farmers. Baudler will receive the award at the IFBF annual meeting Dec. 3-5 in Des Moines.
Baudler was part of the 2016 Iowa Farm Bureau Ag Leaders class. That's where she got her start in ag advocacy at the Farm Bureau level.
Consumer outreach
As part of an outreach component of that class, Baudler orchestrated an effort to assist people of all ages in gaining a greater understanding of agriculture in Adair County during the Fourth of July celebration in Greenfield. She built partnerships within the community and secured space, supplies and financial support to develop and implement a new interactive experience at the event: Ag Adventure.
There, she worked with others to develop 10 ag-related stations covering content from livestock production to farm safety and conservation. She recruited 80 volunteers to help with the event, which drew in more than 600 participants.
The event, which rotates be­­tween three different towns, has grown with additional partners and sponsors.
Deb Hall had witnessed Baudler's leadership potential early on through various day camps and activities. Hall recruited her to be a part of 4-H, then the Speak Out For Agriculture (SOFA) group which Hall started to encourage young people to take an active role in sharing the story of agriculture.
"What she (Hall) helped me see is that you need to find a need. You find a community need and expand on it," Baudler said.
It was the Fourth of July activity, Hall recalls, when the roles switched.
"Before it was me saying, 'Hey Beth, why don't you give this a try?' … But now Beth is saying, 'Hey Deb!' So our roles really began to switch here, which was really a neat thing," Hall said.
The success and outreach of the Ag Adventure spurred offshoots of the program, including classroom projects that continue to grow today. Baudler has secured a grant that will provide funding to put on more versions of the event at other community celebrations.
Baudler has been active on the Adair County Farm Bureau board, where she's currently serving as the board secretary.
Baudler is also a part of the Adair County Ag 4 All (formerly Ag Works) team. It's a collaboration of the Adair County Farm Bureau and other farm organizations in the county aimed at promoting agriculture. With Beth's leadership, the group is now a nonprofit organization.
Social media activities
Baudler's impact on agriculture and her community not only shines locally in schools and at town celebrations but online as well.
Baudler got involved with the Who's Your Iowa Farmer Facebook page earlier last year and she currently works in a team to generate positive agricultural content for the page. The page features Iowa farmers, telling stories about livestock and crop production while also highlighting ag events, showcasing agriculture projects and engaging with consumers.
All the while, Baudler continues to build a team of volunteers and grow partnerships that help sustain and grow that work, Hall says.
"What I see Beth doing is really creating more leaders," Hall said. "She's really building this volunteer base, empowering people, getting them involved so these projects can be sustainable."
On the farm
In addition to her volunteer activities, Baudler is the owner-operator of a cow-calf herd and also has a small sheep flock. In addition, she raises hay, oats, corn, soybeans and cattle in partnership with her father and grandmother.
Baudler is responsible for processing and overseeing the breeding and nutrition program.
As a cattle specialist for Iowa Gold, Baudler works with farmers to decide on the right nutrition program that helps them boost nutrition while working to improve their bottom line.
"Beth is very strong in her desire to help people," said Merrill Neary, who served as a mentor for Beth as she began her career. "She has the ability and the talent to improve everybody around her—people she works with in business, livestock, farming or personal life—everything. And that's a rare talent," he said.
Baudler says she's proud of the events and outreach she's helped establish and grow. The best part, she says, has been partnering with other volunteers and sharing in those successes.
"Leadership is never just one person. Leadership is figuring out a goal for a group and helping to move that goal forward in the best way possible. It's always more fun to celebrate with a group than to celebrate as an army of one," she said.
She encourages other young farmers to find their mentors then build their communities.
"When you pull on those strengths and all come together as a community and a group, really cool things happen," Baudler said.
"As young farmers, find that group of people to work together with; share the successes, the struggles. Work together. Find that group of people that you can truly make a difference with. That's ultimately the great success," she said.
Want more news on this topic? Farm Bureau members may subscribe for a free email news service, featuring the farm and rural topics that interest them most!