A winning recipe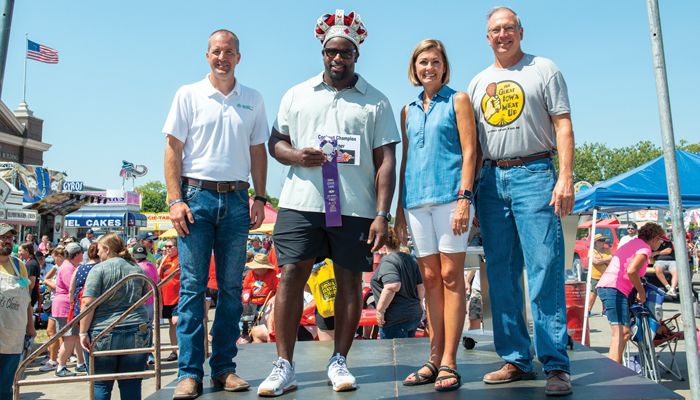 Rashawn Parker of Boone is the 2021 Iowa Farm Bureau Cookout Champion, winning both the beef and showmanship categories on his way to the crown.

"This means all the long hours in the garage, when my wife was putting the kids down and I'm still out there trying this recipe or that recipe, was worth it," Parker said after the competition on Aug. 17.

For his winning dish, Parker offered judges a picanha steak, a cut popular in Brazil and Portugal, but little known in the U.S.

"I wrapped my beef in tallow and just let it rest. I take my time and focus on not getting in a hurry," Parker said. His beef smoked for 6.5 hours at 250 degrees Fahrenheit, which helps create a moist, flavorful dish.

To get to the statewide competition, Parker first won at this year's Boone County Cookout Contest, held during the Boone County Fair in July.

For his win at the state competition, Parker received $200, the champion's crown and a trophy. He also received $150 for winning the showmanship division and an additional $150 for winning the beef division. 

Winning tradition
This is the 57th year of the Iowa Farm Bureau Cookout Contest, held annually on Farm Bureau Day at the state fair.

"The annual (contest)… is a great way to showcase the diversity of Iowa livestock production and celebrate some of Iowa's best backyard cooks," said Iowa Farm Bureau Federation President Craig Hill. "We know Iowans love real meat raised on Iowa farms, and this contest provides a unique opportunity for consumers to learn and ask questions, witness the preparation of some incredible recipes and celebrate the diversity and importance of Iowa agriculture."

A great experience for all
This year's cookout featured 43 entries across eight categories: beef, combo/specialty, lamb, pork, poultry, turkey, team and youth.

Malorie Ort, 15, of Fort Dodge took second place in the youth category for her stuffed pork loin. "For me, cooking is a lot about the memories of working with my dad," she said. "This process has really taught me about patience."

For Justin Coats of Sac City, 2021 was his second trip to the state cookout. After sweeping all three of his county's meat categories, Coats brought Tomahawk steaks to the state beef competition. "I think beef is really where it's at from a flavor standpoint," he said. "Plus, your body really needs that protein."

Jake and Allison Lambrecht of Bennett brought spare ribs and a custom-built smoker to the competition this year.

"I really like spare ribs be­cause they present well and have a nice pullback from the bone," Jake Lambrecht said. 

He and a friend build and customize smokers from used 55-gallon drums. His barrel smoker is rustic looking with copper handles and the original label still visible on the outside.

Representing farmers
Iowa Gov. Kim Reynolds sampled many of the entries and assisted with handing out awards at the end of the cookout. "We've got county winners from all across the state here today," Reynolds noted. "They really showcase the best of the best here in Iowa."

And while not all contestants are farmers themselves, they all prefer meat raised and cared for by farmers here in the U.S.

"I'm so grateful to our farmers and producers," Reynolds said. "They are such an important piece of our economy, and I'm grateful for what they do each and every day to feed not only the country but the world."

The winners
First-place winners, county contest represented and their categories were Shannon Glaser, Adair County, lamb; Elmer Totten, Hamilton County, pork; Hank Loyd, Fayette County, poultry; Theresa Jones, Grundy County, turkey; and Jeff Whitson, Benton County, combo/specialty. All category winners won $150. 

Second-place finishers, county contest represented and their categories were Steve Heaberlin, Warren County, beef; Robert Jones, Grundy County, lamb; Hudson Sallee, Benton County, pork; Duran Barlow, Hamilton County, combo/specialty; and Malorie Ort, Hamilton County, youth. All second-place category winners won $100.

Winners in special categories included youth first place, Hudson Salle of Benton County, and team, the Gilbert FFA of Story County. Sallee received a gas grill valued at $1,000 and $150, courtesy of the Iowa Propane Gas Association. The team winners from Gilbert FFA received $200.

Prize sponsors for the Farm Bureau Cookout Contest include Iowa Farm Bureau, Farm Bureau Financial Services, GROWMARK Inc., Iowa Propane Gas Association, Iowa Pork Producers Association, Iowa Beef Industry Council, Iowa Turkey Federation, Iowa Poultry Association, and Iowa Sheep and Wool Promotion Board.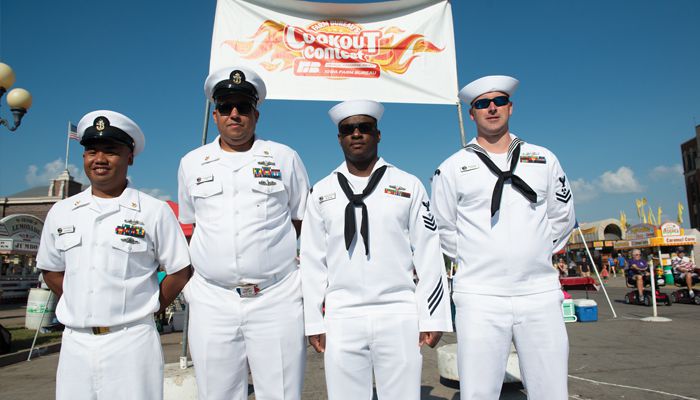 (Photo above: Crew members of the USS Iowa, a nuclear-powered submarine now under construction, pitched in to help judge the Iowa Farm Bureau Cookout Contest at the Iowa State Fair. The crew members, from left, are Joel Ingalla, Ethan Landers, Marquez Williams and Mathew Holt. PHOTO / CONRAD SCHMIDT)