A growing comfort level with cover crops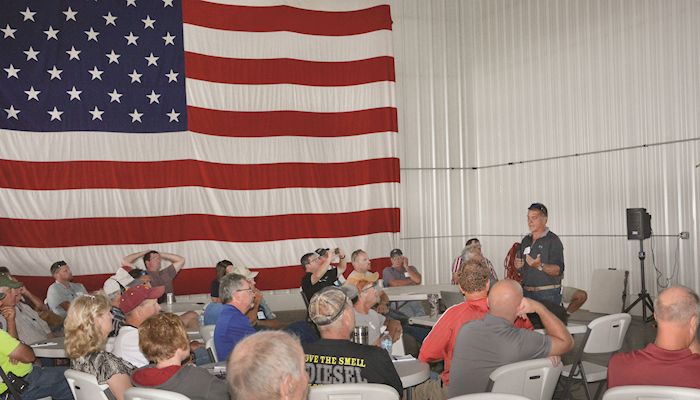 Planting cover crops, a conservation and water quality improvement practice that was rare in Iowa fields just a few years ago, is becoming a routine late summer and fall practice all over the state, according to farmers at a cover crop information session last week in northeast Iowa.
Cover crops are helping farmers improve soil health, reduce erosion, manage moisture on their fields and control weeds, according to farmers at the informational meeting near Arlington in Fayette County.
As Iowa farmers gain more experience with cover crops, they are finding ways to be more effective. And farmers are working to reduce the cost of both planting cover crops in the fall and terminating them in the spring, the speakers said.
"I really think that more farmers are getting into the comfort zone with cover crops," said Kevin Glanz, a Delaware County Farm Bureau member from Manchester, who started planting cover crops six years ago. "It's really become pretty normal for a lot of us."
Iowa farmers are overcoming some of the early concerns they had about planting cover crops, said Tim Recker, a farmer and excavator from Arlington.
A big change
"It's really a psychological change for farmers to have something green on the land in the fall and again in the spring before planting," said Recker, who led the cover crop information session that was sponsored by the Iowa Corn Growers Association, the Iowa Department of Agriculture and Land Stewardship (IDALS), the Iowa Seed Association and the Oregon Ryegrass Growers Commission. "But I think that people are getting over that and are making cover crops just part of what they do."
While it's tough to get a handle on the exact number of Iowa acres that have been planted to cover crops, the total has clearly risen sharply in the past few years.
A report earlier this year by the U.S. Department of Agriculture's Natural Resources Conservation Service (NRCS) estimated that farmers planted more than 600,000 acres in cover crops in fall 2016. That total has grown steadily from only about 10,000 acres of cover crops statewide in 2009.
The sharp rise in cover crop acreage is a clear signal that Iowa farmers are taking on the challenge of improving water quality, state agriculture and conservation officials say.
Water quality practice
Cover crops are a key tool in Iowa's water quality initiative, which is officially called the Iowa Nutrient Reduction Strategy. Research by Iowa State University for the water quality initiative showed that farmers planting cover crops could reduce the loss of nitrogen from their fields by more than 30 percent and cut phosphorus losses by nearly 30 percent.
Mark Mueller, a Bremer County Farm Bureau member from Waverly, said one of his key goals in adopting cover crops, along with other conservation practices, is to reduce soil loss. Cover crops, he said, are improving soil health and the land's ability to absorb rainfall, which reduces erosion.
Recker, a Fayette County Farm Bureau member, said the increased water infiltration from cover crops and other conservation measures has helped better absorb big rainfall events, which have become more common in Iowa. "It's reducing soil loss and helps you to get into the fields quicker after a rain," he said.
Glanz said cover crops can also help farmers during dry periods. "We often get a lot of rain in the spring, and the residue from cover crops can help keep it there when you need it in July and August," he said.
Farmers speaking at last week's session said cover crops are also helping control weeds.
There has been some concern about insects, particularly army worms, that migrate from cover crops to the primary crop, Recker said. But, he said, early treatment with insecticides has proven very effective at controlling insects in cover crops, he said.
Reducing costs
Farmers are also finding ways to reduce the cost of planting and terminating cover crops, the speakers said.
Many have found cheaper ways to plant cover crops and have been able to reduce seeding levels and still get adequate coverage, the speakers said. Others are experimenting with crimpers that can terminate cover crops without herbicide applications, they said.
"Just like farmers always do, we are looking for better ways to make cover crops work," Recker said. "There's no one right way. It's going to be different on every farm."
Want more news on this topic? Farm Bureau members may subscribe for a free email news service, featuring the farm and rural topics that interest them most!