A conservation legacy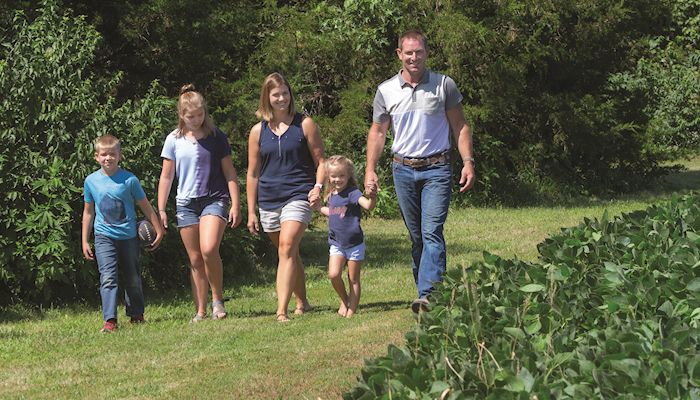 Miles of terraces, water­ways and filter strips help keep the soil where it belongs on Jarad Weber's farm nestled among the rolling hills between the Des Moines and Mississippi rivers in southern Lee County. He also uses cover crops, rotational grazing, variable rate fertilizer application and a range of other practices to make the most of the resources on his family's Century Farm.

"You've got to do what works for you and what works in your area," says Weber, the 2019 Iowa Conservation Farmer of the Year award winner. "I think any conservation is good conservation. We tried a ton of stuff, and we've had pretty good success with what we've done."
Weber says he developed his conservation ethic by working alongside his dad and uncle at a young age, learning how water flows across their land and what it takes to keep the soil in place.
"This thing got started a long time ago, way before me," says the 39-year-old Lee County Farm Bureau member. "I think it's important for me to do my part to conserve it and teach my kids. If you can keep that dirt where it's supposed to be, then you've got it there to farm it."
The Conservation Farmer of the Year award, co-sponsored by the Iowa Farm Bureau Federation and the Iowa Department of Agriculture and Land Stewardship, will be presented at the Conservation Districts of Iowa annual meeting in Ames Aug. 18-20. As the 2019 award winner, Weber will receive free use of a John Deere 6E Series utility tractor for up to 12 months or 200 hours of use. The prize, valued at more than $12,000, is sponsored by Van Wall Equipment of Perry and John Deere. Weber's tractor will be delivered by Sinclair Tractor in Houghton.
Weber and his wife, Hollie, a school teacher, have three children — Aubrey, 11; Kellen, 8; and Kristen, 4. His brother Levi also works full-time on the farm, along with part-time employee Skyler Wright, who helps manage a 75-head cow-calf herd.
Cattle part of the plan

The cattle are a key piece of the farm's conservation plan, Weber notes.
"Down here, you can't just farm corn and soybeans on all of it," he says. "We've got some alfalfa mixed in. We've got cows. It's just a way to use all the ground we have."
Weber is aiming to increase his cow herd by utilizing rotational grazing, dividing his pastures and timber ground into several small paddocks and moving the cows more often. He has installed drinking water stations to bring clean, fresh water to the cows, allowing the pastures to be subdivided and keeping cows out of stagnant ponds during the summer.
"It's a few extra steps, but the benefits are worthwhile," says Weber. "We've got grass all year long now. We haven't had rain since July 6, but if you rest (the pasture), it'll come back."
On his crop ground, Weber has installed more than 5,400 feet of terraces with financial assistance from state and federal cost-share programs. He also no-tills some ground and has installed waterways, filter strips and field borders to protect water quality.
Installing a bioreactor

This fall, he is planning to install a bioreactor, which will filter nutrients out of drainage tile water. He credits the Lee County Natural Resources Conservation Service (NRCS) staff for helping identify conservation projects that would benefit his farm and finding funding sources to offset some of the costs.
"It seems like it all happened at once, but it's just a little bit at a time, and then it starts rolling along and it snowballs," Weber explains. "Now, we're kind of in the middle of something really cool, and it feels like we're just getting started."
Cover crops are another key practice on Weber's farm, providing a range of benefits including weed control, improved soil organic matter and an additional forage source for his cows. But they also come with challenges, especially in a wet spring like this year.
He ended up planting soybeans into a waist-high cover crop this year after the rain prevented him from terminating it as scheduled.
"I planned on spraying (the cover crop) when it was a foot tall," Weber notes. He was pleased the cover crops held the soil despite the heavy rains.
The adjustments are par for the course in farming, where even the most well thought out plans can be disrupted by nature, he notes.
"I feel like we do more adjusting than planning. This year we've been scrambling from the get-go," says Weber. "I think we learn more in a challenging year than in a normal year. Everything works in a normal year."
Farming mostly rented ground, Weber emphasizes com­­municating with his landlords and treating their ground like it's his own.
"They need to know what you're doing, and they want to know what you're doing," he says. "You're looking at something as important as their kids."
Regional winners

Other 2019 regional conservation award winners are Nathan Anderson, Cherokee County; Nate Voss, Kossuth County; Nedved Family Farms, Hancock County; David and Tyler Wynthein, Fayette County; Dennis and Cheryl Crall, Adair County; Lucas Bayer, Poweshiek County; and Larry Carson, Clarke County.

Want more news on this topic? Farm Bureau members may subscribe for a free email news service, featuring the farm and rural topics that interest them most!