A Celebration Of 'People, Progress, Pride' brings Iowa farmers to Des Moines for 2019 Iowa Farm Bureau Annual Meeting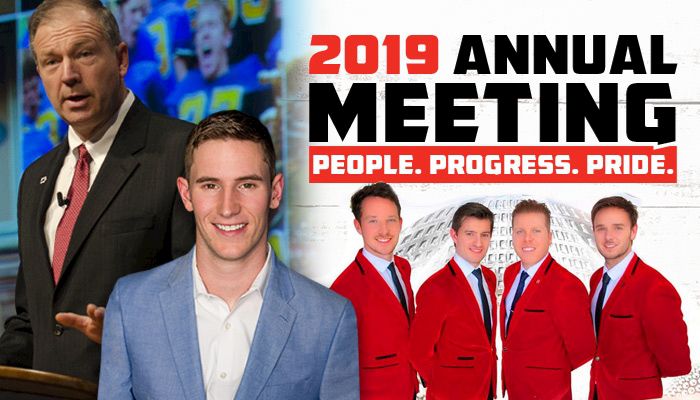 A harsh and lingering winter, springtime floods, market swings and trade roadblocks all hit Iowa farmers in 2019, making this year more challenging than any other in recent memory. Yet Iowans know it is the nature of Iowa farmers to weather the slings and arrows of hard times and persevere. Getting through hard times takes 'People, Progress and Pride,' which is the theme for the 2019 Iowa Farm Bureau Federation's (IFBF) Annual Meeting, Dec. 3-4. This will be the 101st gathering of members for the state's oldest and largest general farm organization.
IFBF's Annual Meeting officially kicks off Tuesday, Dec. 3, at the Community Choice Credit Union Convention Center in downtown Des Moines with educational seminars on crucial topics, such as Farm Family Stress Management and Communication, how to ensure crop fertility while improving the environment and what's impacting the farm community now and in the future. Awards for outstanding leadership at the county Farm Bureau level will be showcased during a special luncheon.
Young Iowa farmers will put their communication skills to task as they compete Tuesday afternoon for the title of 2019 Discussion Meet champion, the winner of which will advance to the national Discussion Meet competition held in Austin, Texas during the American Farm Bureau Federation (AFBF) convention in January 2020. On Dec. 3, three young farmers will also be recognized for their exemplary leadership both within agriculture and their local communities. An energetic night of entertainment by The Jerseys wraps up the evening.
On Wednesday, IFBF members will honor the year's hard work and accomplishments as President Craig Hill takes the stage around 9 a.m., followed by nationally-recognized author, Chris Norton, with the keynote address. "We are looking forward to this young man's inspirational message. He's got quite a story; as former Luther College football star, we all remember when he received a devastating spinal cord injury during a game. He was told by doctors he'd never walk again. Yet, with the support of his fiancé, family and friends, he not only walked across the stage to get his college degree, he walked his new bride down the aisle. Today, Norton and his wife, Emily, are parents to five adopted children and he travels the globe, speaking about the importance of perseverance and the importance of a life dedicated to helping others. His book, speeches and life continue to inspire all who meet him. We are lucky to have him join us this year," says Hill.
Educational seminars on day two include opportunities in livestock and non-traditional crops, led by Iowa Farm Bureau members who raise fruits and vegetables to sell direct to consumers as well as a hemp grower from Oregon. There will also be an update from Iowa State University researchers, the Iowa Department of Natural Resources and the Iowa Department of Agriculture on the progress being made with Iowa's Nutrient Reduction Strategy and what future steps are needed as farmers continue to take on the challenge of improving water quality.
For more information, a detailed agenda or to register to attend the 2019 IFBF Annual Meeting, check out www.iowafarmbureau.com/annualmeeting.