2023 Market Study Tour: England & Scotland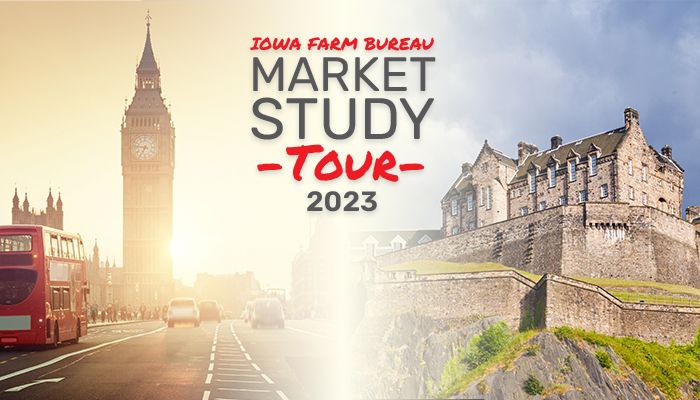 England & Scotland Market Study Tour with the Royal Highland Ag Show
June 17 - 24, 2023 
The Iowa Farm Bureau Federation is offering its members an opportunity to participate in a Market Study Tour to the United Kingdom, June 17 – 24, 2023.
 Approved applicants will leave Des Moines by air and travel to London, England. The tour will explore agriculture and cultural sites in Scotland and England - in addition to meetings with agricultural groups such as The Port of Tilbury, US Foreign Ag Service, and other stakeholder groups.
 This trip will show attendees the impacts Brexit has had on the UK. After the United Kingdom held a referendum on its membership of the EU, the UK implemented Brexit on January 31, 2020. This relationship between the UK and rest of Europe continues to play out and the 2023 Market Study Trip will provide an opportunity to gain additional insight. The goal of the trip is to get a better understanding of the impacts of Brexit on US-UK trade and relationships, potential future impacts on UK-EU relationships and our US-EU relationships.
Agenda:
Day 1 (Saturday, June 17)
Depart Des Moines for an overnight to London, England
---
Day 2 (Sunday, June 18)
Arrive early morning with your local guide for a (full day) sightseeing tour of central London - featuring views of the Houses of Parliament, Big Ben, Westminster Abbey (entrance included), Buckingham Palace and the Tower of London. You will also enjoy a lunch river cruise on the Thames River.

---
Day 3 ( Monday, June 19)
This morning meet with US FAS to discuss current Brexit policies, future trade opportunities, etc. You will also meet with other ag associations and stakeholders for a round table discussion. Enjoy lunch at the hotel and then venture out to the Port of Tilbury. As London's major port, it is also the largest multi-modal port in the SouthEast, and 3rd largest port group in the UK. Sitting on the north bank of the Thames, just 22 nautical miles east of central London, it is perfectly placed to handle cargo for London.


---
Day 4 (Tuesday, June 20)
Depart London this morning and continue into the county of Lincolnshire, an area with a strong agricultural heritage. Lincolnshire is the UK's largest producer of potatoes, wheat, cereal and poultry, and is the second largest producer of sugar beet. There will be free time for lunch, followed by a visit to a local family-run farm (which is approximately 1,800 acres) producing sugar beet, cereals and potatoes. We'll then visit another farm in the cattle business and ontinue north to the Doncaster area.


---
Day 5 (Wednesday, June 21)
Journey north through the border region of Scotland - including a visit to a farm with sheep, beef and wheat. The Cheviot sheep, originated from this part of the UK, and are one of the country's best known sheep breeds. Continue north through the countryside to Glenkinchie Distillery, the lowland home of Johnnie Walker. At the distillery, you will learn the process of making this special whisky, along with a tasting. Afterwards, continue into Edinburgh. On arrival, there will be a guided panoramic tour featuring the Old and New towns, the Royal Mile and entrance to Edinburgh Castle in this historic city that was developed in the 15th century.

---
Day 6 (Thursday, June 22)
This morning we leave Edinburgh for an excursion to Stirling for a visit to Stirling Castle, one of Scotland's grandest castles. It sits atop a volcanic rock hill between the lowlands and highlands of Scotland. En route we will meet with the National Farmers Union for a presentation and discussion. Afterwards, we will visit with some local producers in the highland cattle business before returning back to Edinburgh.

---
Day 7 (Friday, June 23)
Full day visit at the Royal Highland Ag Show. This four-day event had its first show in 1822 and just celebrated its 200th anniversary! (May include a possible meeting with the Angus Society.) Return to your hotel. In the evening, we will enjoy a 4-course banquet and Scottish show at the Round Stables, Prestonfield - featuring music, bagpipes, fiddles and traditional dancing. 

---
Day 8 (Saturday, June 24)
Depart the hotel for Edinburgh airport and your flight back to Des Moines - arriving the same day
---
 This itinerary is subject to change without prior approval. Please note, that if a last-minute cancellation occurs – a replacement event or activity will be arranged.
---
Costs and Application/Participant Requirements
Participant Requirements:
Selected participants must be Iowa Farm Bureau members in good standing. 
Participants will be asked to share what they learn on the market study tour through a minimum of four presentations or outreach events in their local communities after the study tour. 
Participants will be notified by January 4, if they are selected.
Costs:
Each attendee will be required to pay $2,500* to attend. Spouses or significant others may be considered for participation in the trip and charged full cost of the trip (estimated at $5,500). 
*Costs are based on per person with double occupancy room.  If a single occupancy room is desired – participant will be charged an additional $825.
Trip costs include:
International airfare
Accommodations
Transportation
Full-time guide 
Payment Schedule:
January 15, 2023 - $500 Non-Refundable Deposit Due
April 1, 2023 - Remaining Balance Due  
The deadline for applications is December 31, 2022.  
For questions on the UK Market Study Trip, contact Meghan Lacquement at 515-225-5402 or by email at mlacquement@ifbf.org.
To apply, click the button below.
Apply now