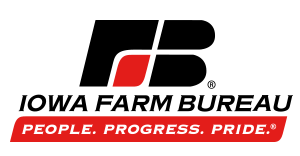 Join the Iowa Farm Bureau Today
Why Farm Bureau?
Iowa Farm Bureau has worked to create a vibrant future for agriculture, farm families, and Iowans in all 99 counties for more than a century!
Join our cause, as we continue to defend and promote agriculture in 2024, and take advantage of exclusive benefits and services for farmers and agribusiness professionals by becoming a Farm Bureau member today!
THREE REASONS TO JOIN Farm Bureau
Join Farm Bureau today for $60 per year or less (member dues based on county of residence) and watch your membership work for you!
You'll benefit from Farm Bureau members' united advocacy efforts on legislative and regulatory issues, programs and resources to better your farming operation, exclusive savings and more!
Savings to farmers through Farm Bureau's legislative success REDUCTION IN PROPERTY TAXPAYER BURDEN Based on shift of school infrastructure cost from property tax funding to sales tax, property tax replacement payments, ag land/family farm and homestead property tax credit, removal of mental health costs from property taxes.

Savings on 500-acre farm:

$1,504

Savings on $150,000 home:

$428

Savings on $500,000 business:

$642

---

SALES TAX EXEMPTION ON FARM MACHINERY
Based on new machinery purchase plus average repairs, parts and utility costs.

---

ASSESSMENT OF FARMLAND ON PRODUCTIVITY FORMULA
Based on the uniform school levy, plus the lowest rural Iowa tax levy for a 500-acre farm. Many farmers save a higher rate.

---

AVAILABILITY OF WATER QUALITY & CONSERVATION FUNDS
Includes increased cost share funds farmers can receive for qualifying projects.

Avg. Funding Per Farmer:

$1,485

Free or discounted rates on educational programs, workshops and webinars for members



ACRES OF OPPORTUNITY CONFERENCE
Learn from seasoned farmers and other experts about niche crop and livestock opportunities, March 11 in Ames. This conference sold out last year. Use this link to register (free for members; $55 for non-members).

MANAGING 2023 FARM MARGINS WORKSHOPS
Learn how to navigate through the continued pressure of tight operating margins by registering for a workshop near you. The series begins in February. It's free for members; $50 for non-members.

"TAKE ROOT" FARM CONTINUATION PROGRAM
Prepare your farm for generations of success with local workshops that go beyond typical farm succession training. Workshops are free for Farm Bureau members; $55 for non-members. See where we're hosting workshops in January.

AGRIVISOR SERVICES 
Members have free online access to AgriVisor, a top-rated market advisory and educational service  – a $235 annual value.

RISK MANAGEMENT EDUCATION
Innovative, market-based risk management educational programs and webinars critical to farming operations.


Savings only available to Farm Bureau members

ACTIVE&FIT DIRECT
Join a participating gym and access an online library of more than 8,700 on-demand workouts for $28/month with no long-term contracts. Nearly 200 Iowa gyms (in 57 counties) participate in the program, including YMCA, Anytime Fitness, Snap Fitness, Planet Fitness, etc. TRAVEL SHERLOCK
Use exclusive hotel discounts guaranteed to beat public booking sites like Priceline and Expedia. Save up to 30% more than you can on public booking sites.

JOHN DEERE
Save $50 

–

$1,700 on Gators, mowers, Series 1 

– 

5 tractors and more. (Minimum 30-day membership and valid email address required.)

FORD TRUCKS
Save $500 on the purchase or lease of new qualifying Ford trucks - Ranger, Maverick, F-150 and Super Duty (F-250 to F-550). (Minimum 30 day membership required.)

MORTON BUILDINGS
Exclusive member savings of $500 

– 

$1,000 on Morton buildings and sheds. (Morton Standard line not eligible)

HOTEL DISCOUNTS
Save up to an additional 20% off the "best available rate" at participating Wyndham Hotel locations (19 brands) or 20% off published rates at participating Choice Hotels (12 brands) .